Farewell, Tariq Aziz
Written by: Mahnoor Fatima
Posted on: June 18, 2020 |

| 中文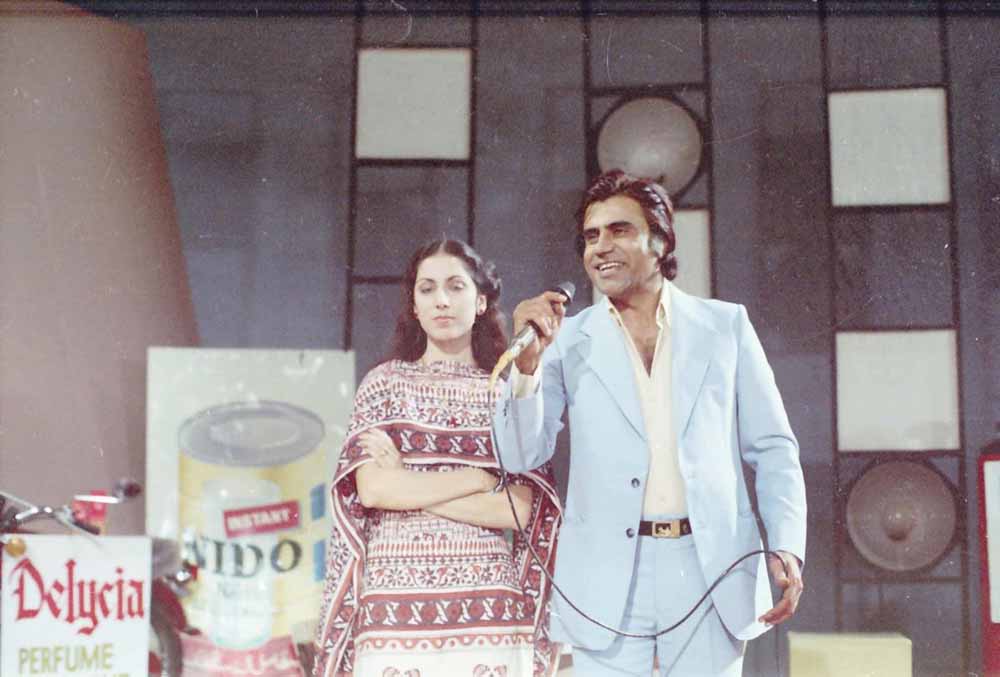 "Dekhti aankho aur suntay kaano ko Tariq Aziz ka Salam (For those who are watching and those who are listening, Tariq Aziz sends you his greetings)!"
So spoke Tariq Aziz in his unmistakable baritone voice, which had become a staple in every Pakistani household. His articulate words were matched by the kind and accessible manner in which he spoke to the audience, and people at home. At the end of each show, he threw his hands in the air, at which the crowds would burst into applause.
Aziz was born in 1936 in Jalandur, British India, and his family migrated to the town of Sahiwal after Pakistan gained Independence. In the 1960s, he had joined Radio Pakistan, where he became famous for his crisp, recognizable voice.
In November of 1964, the state television channel Pakistan Television (PTV) broadcasted its first-ever transmission, with Aziz at the helm as the first male presenter. He was one of PTV's most respected personalities, who was also versatile enough to interview, compere, and recite poetry during the channel's golden days.
Along with television work, he made his film debut in "Insaniyat" (1967) as the foil to Waheed Murad and Zeba's romantic love story. Other films that followed were the Nigar-Award-winning "Salgirah" (1969), "Haar Gaya Insaan" (1975) and more. In the span of his life, he starred in 42 films, most of which were in Urdu.
In 1974, Aziz's show "Neelam Ghar" (Auction House) became Pakistan's first game show that was broadcast from Karachi. It became an instant hit, and would go on for four more decades, becoming the longest-running TV show in Pakistan. Later in the 90s, he changed the name to the "Tariq Aziz Show", which would finally become "Bazm-e-Tariq Aziz".
Neelam Ghar's arrival came to PTV at a time when there were few options for entertainment. The show had segments for trivia, debates, interviews, and poetry competitions (bait-baazi). Viewers at home would watch as he asked audience members about random items in their bags, or items in their kitchen. They would answer Aziz's questions at home, to test their skills and general knowledge.
On the show, he would list the prizes and sponsors before asking the audience a question. Those who answered correctly would gleefully listen to Aziz announce the name of the prize, as opposed to letting them know they had won. Soon, he became known for his iconic line, "Yeh water cooler aap ka hua!"
Perhaps the key to his success was in his respect for his co-hosts and audiences alike. He would introduce his female co-hosts before himself, and would treat his audience members as equals. Though not without his flamboyant charms, he spoke with an eloquence and reverence for Urdu that has since rarely been replicated in the game shows currently shown on television networks.
But Aziz did not limit himself to serving the people only through entertainment. He joined the Pakistan People Party (PPP) as a fervent supporter of Zulfiquar Ali Bhutto, and the left-leaning progressive idealism that inspired many in the 1970s. He was also a member of the National Assembly between 1997-98 under Pakistan Muslim League – Nawaz (PML – N).
Aziz was awarded the Pride of Performance by the Government of Pakistan in 1992. As a poetry enthusiast, he also wrote books, including one on the teachings of Allama Iqbal and another on Punjabi literature named "Hamzad da Dukh".
After The Tariq Aziz Show ended, Aziz was not able to enjoy the same kind of fame or work he had enjoyed in the 1960's and 1970's, due to the emergence of new, private TV channels. However, Aziz would guest star in other programs, giving audience members a glimpse into the heyday of Aziz's game show days.
In recent years, he organized telethons for charity purposes, and allegedly vowed to donate a considerable amount of his earnings to the Government of Pakistan. A life-long diabetic, he passed away on the 17th of June at the age of 84 due to a heart attack.
Tariq Aziz was one of the icons of PTV and one of the founders of the entertainment industry in Pakistan. His magnetic charisma was matched with the dignity he gave his audience, no matter where they came from or how they spoke. It is difficult to think of what television in Pakistan would sound like without his unique baritone voice, and we can only hope to replicate his dedication to the country and the people of Pakistan.
To watch the PTV's first broadcast, click here.
You may also like: