Chinatown, San Francisco
Written by: Shahida JJ - Posted on: February 21, 2014 |

Comments | 中国 (Chinese)
Google Translation: اُردو | 中文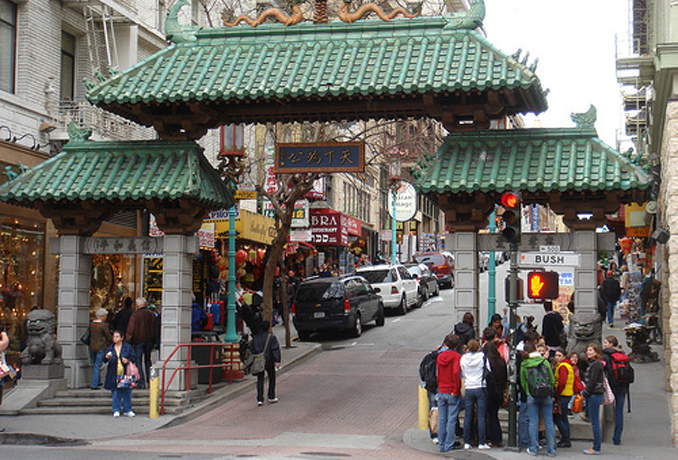 Gateway Arch (Dragon Gate)
San Francisco Chinatown is the largest Chinatown outside of Asia as well as the oldest one in North America. It is one of the top tourist attractions in the city.
San Francisco - SFO - is a very beautiful city, located on the Western coast of the U.S. on the Pacific Ocean. The weather is spring like all year around, with fragrant flowers blooming throughout the year.
A visit to San Francisco is not complete without a visit to its China Town - said to be the largest outside of Asia.
I am in SFO, and spent 3 hours walking and exploring SFO CHINA Town
January 15, 2014
Severe blizzards and snowstorms have plagued the East Coast of the U.S., breaking all records, while the West Coast has unusually warm weather - call it Global warming/climate change - with sunny skies and temperatures in the upper 70s F. No snow on the Sierra Nevada and very poor skiing for the ski enthusiasts. Severe drought conditions prevail - breaking all previous records.
Location and some History
Chinatown is located in downtown San Francisco, and covers 24 square blocks, lying within an area roughly 1 mile long by 1.34 miles wide.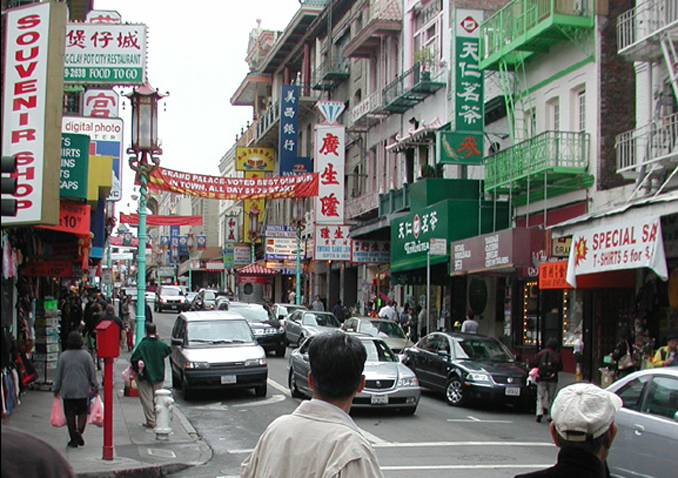 China Town Main Street
The main Gateway Arch (Dragon Gate) is located on Grant Avenue at Bush Street, the only authentic Chinatown Gate in North America. Unlike similar structures which usually stand on wooden pillars, this iconic symbol conforms to Chinese gateway standards, using stone from the base to the top, and with green-tiled roofs in addition to wood as basic building materials. The Gateway was designed by Clayton Lee, Melvin H. Lee and Joe Yee in 1970.
San Francisco's Chinatown was the port of entry for early Hoisanese and Zhongshanese Chinese immigrants from the Guangdong province of southern China during the 1850s. The population was predominantly male because U.S. policies at the time made it difficult for Chinese women to enter the country. They worked as shopkeepers, restaurant owners, and hired workers. Many found jobs working for large companies, most famously as part of the Central Pacific on the Transcontinental Railroad. Other early immigrants worked as mine workers during the 1849 Gold Rush.
China Town was completely destroyed in the 1906 earthquake that leveled most of the city.
Chinatown is an enclave that continues to retain its own customs, languages, places of worship, social clubs, and identity. There are two hospitals, numerous parks and squares, a post office, and other infrastructure.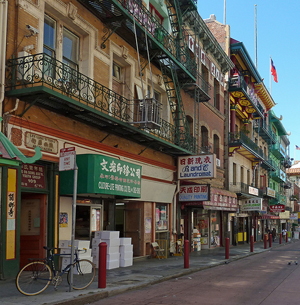 Shops and homes in China Town
Chinese-style buildings and the narrow bustling streets give China Town its character.
Visitors can easily become immersed in a microcosmic Asian world, filled with herbal shops, temples, pagoda roofs and dragon parades. While recent immigrants and the elderly choose to live there because of the availability of affordable housing and their familiarity with the culture, the place is also a major tourist attraction, drawing more visitors annually than the Golden Gate Bridge of SFO.
Fame of Chinatown
Chinatown restaurants are considered to be the birthplace of Westernized Chinese cuisine, including food items like Chop Suey and Dim Sum. And the Fortune Cookie making factory is located there.
Noted Chinese American writers grew up there such as Russell Leong, and The Joy Luck Club author Amy Tan.
Chinatown has served as a backdrop for several movies, television shows, plays and documentaries, including such hits as The Maltese Falcon, Big Trouble in Little China, The Pursuit of Happiness, The Presidio, Flower Drum Song and The Dead Pool.
Actor Bruce Lee was born at San Francisco Chinese Hospital.
My Day in China Town
Union Square SFO has all the top designer stores- SAKS Fifth Ave, Neman Marcus, Barney's, Bloomingdales, Cartier, Hermes, Prada, Burberry, Banana Republic, and many more; in close proximity to Banana Republic on Grant Road is the green entrance gate to China Town.
I have visited China Town scores of times over the years when visiting SFO. And I love to explore its different shops on each visit. They are loaded with everything imaginable, all kinds of merchandise, all made in China. Jewelry stores carry all kinds, colors and sizes of pearls, made into beautiful artistic jewelry; precious and semi-precious jewelry. Antique art and crafts items there include everything from paintings to enormous stone carved statues and figures in pink, green and beige marble, beautiful furniture and collector pieces of antique crockery. China Town shops are a treasure trove of anything and everything.
They carry all kinds of stitched silk dresses, children's dresses, and hand bags. What I didn't find was silken fabric in rolls as we get in Pakistani Chinese fabric shops.
Sales persons here are mostly women, speaking good English and extremely polite and pleasant. Most are U.S. born, but speak to each other in their own variety of Chinese language.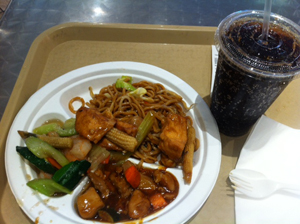 Lunch - Three dishes plus chow mein and Diet Coke in $10
Entered a store and purchased a few items, began a conversation with the sales lady - her name was Jenny (her Chinese name is different). She came to San Francisco from Canton 6 years ago; she spoke fluent English and said she had learnt at school in Canton. She visits her extended family in China after a few years. A most pleasant young lady.
There are numerous restaurants and eating places, serving different kinds of Chinese food, adapted to the Western/American taste. Very popular fast food, for people ON THE GO - healthy nutritious meal, and very reasonably priced. I had my fast food lunch at the food court, consisting of noodles, a chicken and a veggie dish, with a soft drink, that cost me $10 in all.
After my three hour walk about in China Town, exploring all shops on the main road, chatting with the sales ladies and taking lots of photos, I walked down Grant Ave to Union Square, the posh city center. It was a beautiful sunny day. I sat on a bench to rest and indulged in my favorite pastime- people watching. People - from all walks of life, young and old, speaking different languages, local and foreigners were there and passed by - in San Francisco City.
I sat and opposite me at a short distance was an elderly lady dressed in Red. She sat in her walker chair, holding a long-stemmed yellow daffodil and enjoying the bright sun; and she was doing what I was doing - people watching.
Will speak more about this later, Wait for that!
Click to view picture gallery
RELATED STORIES:
You may also like: