Korean Cuisine at Udon House - Che Won
Written by: Abbas Hussain - Posted on: June 13, 2014 |

Comments
Google Translation: اُردو | 中文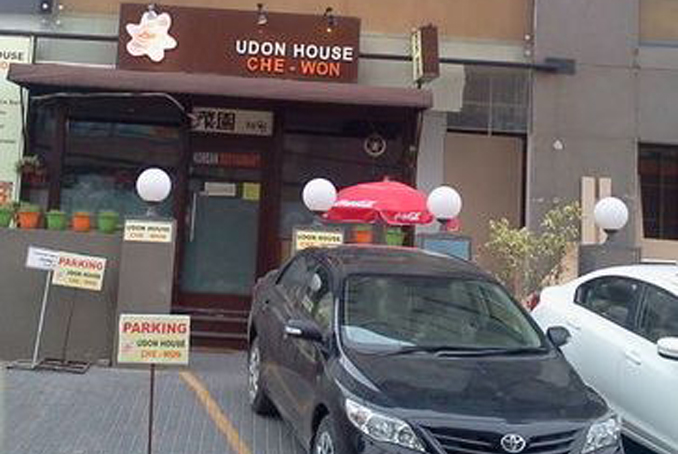 Udon House - Che Won
Lahore is a city of foodies. Apart from the rich and diverse local cuisine, Chinese food has always been popular in the city among the masses. In fact it has been adapted to the local pallet with dishes such as Chicken Manchurian being one of the trademark dishes of fusion cooking unique to the Subcontinent.
With the passage of time, Thai food was introduced in the city. Many restaurants began incorporating Thai dishes in their menu and a few went for entire menus dedicated to this cuisine, which was embraced by the lovers of spice, a quintessential element of Pakistani food, which thus gave it a sense of familiarity. Japanese food soon followed suit, but only in two 5-star hotels which catered to a certain niche.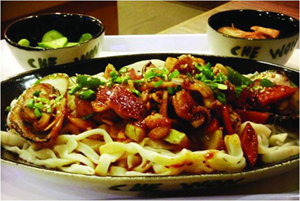 Spicy Seafoood at Udon House
Korean food is a branch of Oriental cuisine that has been quite alien to our region. There are some who even fall victim to naïve conceptions, such as those assuming that Korean food consists mainly of spiced rodents!
Udon House/ Che-Won, located at the ground floor of Hotel – One, near Lahore's bustling Hussain Chowk, might be a humble eatery from the looks of it but the culinary offerings are truly something to write home about.
The restaurant is structured like a canteen with limited seating, a counter behind which the chef cooks in front of the guests, a big screen television and a fridge full of soft drinks. The ambience gives it a certain character of intimacy and simplicity and so does its basic cutlery consisting of green tea mugs and metallic chopsticks. For a no-fuss, casual meal that is packed with healthy ingredients and rich, authentic Korean flavours this restaurant is the go-to place.
A Korean couple, Mr. and Mrs. Kim started this venture as a passion project.
''My wife and I were bored since we felt that there was a dearth of activities for both of us to pursue. We decided to open this restaurant as a small project and it gained popularity mainly through word of mouth.''
The Pakistan Food Forum, an internet forum which has acquired immense popularity among Facebook users in Pakistan, had a large part to play in marketing this restaurant. Pleased customers flooded the forum with raving reviews of the restaurant and the clientele consequently surged, with food lovers queuing outside to try out the one-of-a-kind restaurant.
The restaurant owners underline that quality figures on the top of their priorities even if it adds to the restaurant's overhead costs. "We get the best quality ingredients from leading stores. Our soya sauce is imported, for instance, and our seafood is also bought from reputable retailers. We use brown sugar since white sugar is processed with chemicals. Our food is also free of MSG salt since that is detrimental to health."
The restaurant offers a variety of dishes which consist of chicken, beef, seafood and vegetarian options.
The beef bulgogi is cooked in light soy sauce, onions and capsicum and has a mild tinge of sweetness to it. Served with sticky rice, this item really brings out the flavor of beef without masking it with an overwhelming taste of spices.
Spicy bulgogi, on the other hand, is cooked in a red, Korean chili paste that has a dose of spice in it for those who would find the regular bulgogi bland.
The spicy chicken and seafood have the same base, as the spicy bulgogi- the red Korean paste which is made by the chefs at the restaurant.
The black curry beef has thin shreds of beef cooked in the most comforting concoction of thick, dark sauce, potatoes and chopped green vegetables. This forms a divine combination with the soft noodles which, smothered with the sauce, are a recipe for a food coma.
Kimchi, which is a Korean pickle consisting of cucumber, radish and cabbage is served as a complimentary starter before the meal. This item forms a key constituent in the Kimchi soup which is simmering with spice and has chunks of tofu and kimchi floating in it.
Rice balls may not sound too appetizing but they are embedded with flavours of fresh vegetables, meat and rice and are the perfect entrée or if consumed entirely by a single person, a refreshing main course.
Mr. Kim asserts that in Udon House the food is prepared along the lines of home-cooked Korean food, the kind that his mother used to make at home. He is quite happy with the fact that the restaurant only has 3 large tables, inside and two outside, and has no plans of expanding as yet. 'I don't have the time or inclination to take that kind of pressure where I have to serve around forty people at one time. I like to supervise everything relating to the kitchen and with the way things are at the moment, I am able to look into the details in this small set-up''. Running this restaurant is a mere hobby for Mr. Kim who owns a textile firm and is also a part of the Korean Presidential Advisory Council.
Mr. and Mrs. Kim are quite the power couple, working together tirelessly to serve delicious, wholesome food. The two operate in shifts and whoever is free from their respective duty, looks after the affairs of the house especially their two little ones, Terry and Yerry.
All in all, Udon House turned out to be a delightful dining experience.
You may also like: