Damon Kowarsky's Garden City: Artistic Passion in the Truest Form
Written by: Sadeem Shaikh - Posted on: October 24, 2014 |

Comments
Google Translation: اُردو | 中文

(Photography by Madiha Shekhani)
The culturally-rich city of Lahore was host to another engaging art exhibition this year, with Garden City scheduled to be held from 17th – 29th October, 2014. The event itself was set up in a small gallery room inside a house off Main Market, Gulberg, by renowned curator Zahra David. This simplicity in stage setting and décor set in well with an aura of friendliness and warmth. Present at the event were also the First Secretary of the Australian High Commission, Michael Gregory and his wife Nicola Guihot, the former tasked with inaugurating the show.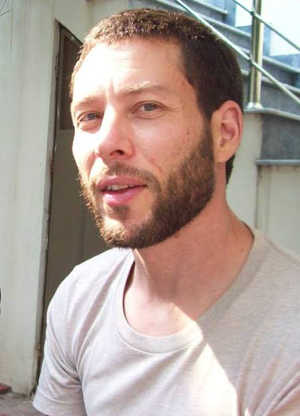 Damon Kowarsky
It may just as well be said that the core concept of originality in art, especially in the South Asian context, has simmered down and faded away over the course of the last few decades. Bearing this grim reality in mind, one would rightly be forced to consider otherwise after observing the works of Damon Kowarsky, a young and up-and-coming artist from Australia. In the Australian Secretary's address to the audience, he mentioned how since 2005, Garden City is Kowarsky's 9th solo exhibition in addition to others that have been shown in Japan, U.S.A and Singapore, amongst other countries in the world. A remarkable achievement in such a short span in time, he has also worked with several exemplary artists all across the globe, such as Kyoko Imazu from Japan. Kowarsky also joined hands with Pakistani artist Atif Khan on a work of 20 etchings, which were exhibited across Pakistan as well as in Philadelphia and Melbourne.
The Garden City exhibition reflected meticulous attention to detail and devotion on the part of Ms. David. The event lasted approximately one and a half hours, with free refreshments and snacks provided to visitors. Close to 16 beautifully-painted etchings were at display in a well-lit room leading in to a porch, where some of the visitors had made themselves comfortable on couches, engaging in casual dialogue about the magnificence of the paintings.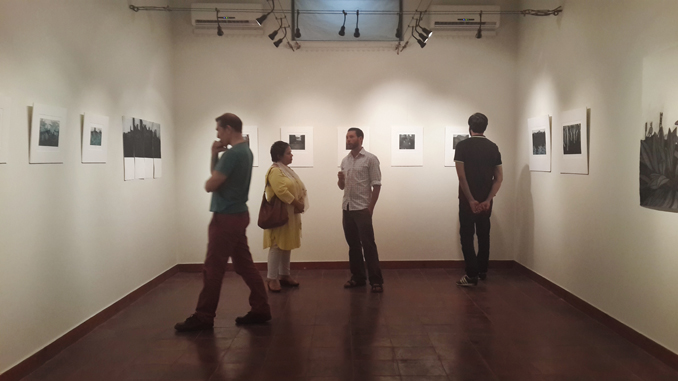 (Photography by Madiha Shekhani)
These paintings featured landscape views of high-rise buildings, forests, monumental places and mountains from a wide range of cities in South Asia, as well as one of San Francisco Bay in the U.S.A. Mr. Gregory commenced the event with a statement that summed up Kowarsky's dedication to his work, explaining how all of his work is 'original, unique, vibrant, thoughtful and detailed'. This was clearly visible in the etchings of Ayutthaya city, Thailand, and the cities of Kyoto and Tokyo in Japan. Portraits of Asghabat, Turkmenistan and Quarry Bay, Hong Kong were also put up for display. The latter was completed when the artist recently spent time at the Guanlan Original Print Making Base in China. In his personal explanations of these works, Kowarsky favored travelling around the city of concern and locating a suitable spot overlooking the landscape of the area he was particularly interested in drawing. 'I go to places, I see things I like and I just draw them', the Australian exclaimed with glistening eyes, when asked about the foundations of his work.

What stood out as favorites for Kowarksy were the charcoal drawing of Neela Gumbad, Lahore, and a print of Embarcadero on San Francisco Bay. The former drawing had been made twice from the same spot, once in 2007 and again in 2012. When asked about the reason for this repetition, the author joyfully narrated his fondness for comparing similar works over time, just to see how things have changed in the world, how his talent has developed and most importantly, what his fans would see different in the two portraits. On the other hand, the idea of the Embarcadero came natural to him when in 2009, Kowarsky found a near perfect view of the landscape and just decided to sketch for passion.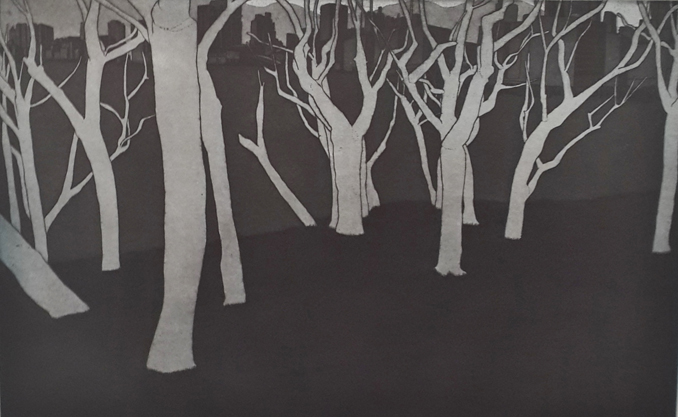 (Photography by Madiha Shekhani)
The exhibition has been scheduled for nearly two weeks on a daily basis, and the artist hopes that he gets to share his efforts with a lot more people.
You may also like: