Urban Montage
Written by: Aleeza Rasool - Posted on: July 01, 2014 |

Comments
Google Translation: اُردو | 中文

As ladies, both old and young start searching for the latest and trendiest Eid wear, designer houses around Lahore have commenced exhibiting their Eid collections. One such exhibit was the Urban Montage, a multi-designer exhibition organized by Iqra Tahir, Shahana Rashid and Sidra Tahir at the Sukh Chayn Wellness Club in Gulberg over this past weekend.

The exhibition showcased clothing, bags and jewellery from several new designers, including fresh graduates from the Pakistan Institute of Fashion Design and the STEPS Institute of Art, Design and Management. Labels on the list included names such as Nau Ren, Mona, Chaandi, Parizaad, Ajayeb, Saman Faizi, Creations, Enna Enum, Mamoon Sheikh, SI Creations and Documenting Pakistan. The clothing on display was a disparate mix of casual, party and formal wear. Some designers had even displayed their latest bridal wear for the interested buyers. To complement, Chaandi's stall offered a beautiful variety of artificial Indian jewellery, which was hardly seen devoid of customers.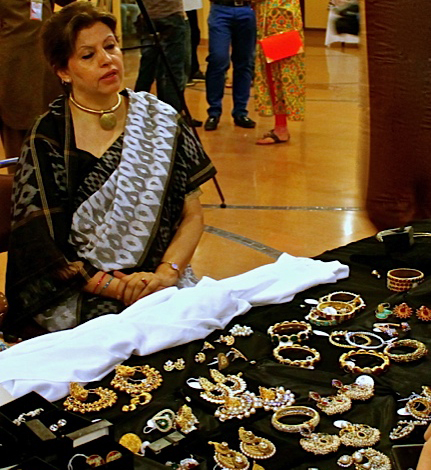 A unique collection of bags was also on display by the name of Documenting Pakistan. The designer had used facets of Pakistani culture such as themes from truck art, popular sayings and images of national heroes and leaders for designing her bags. Ajayeb by Nabiha Khan, a recent graduate from PIFD, also showcased a fantastic collection of bags. The theme for her work was 'Night time'. Accordingly, she had developed textures and colour mixtures that were reflective of the various elements of the night.
Unlike any other exhibition in Lahore, something unique about Urban Montage was the catwalk and concert arranged by the organizers. According to one of the event's managers, Mr Hamza Tariq, a catwalk within the exhibition was a new concept. Models such as Rafay Mughal, Abdullah Sultan, Saman, Qirat etcetera were to take part in a catwalk wearing the designers' collections within the hall. A concert had also being organized for the entertainment of the buyers and visitors to the exhibition.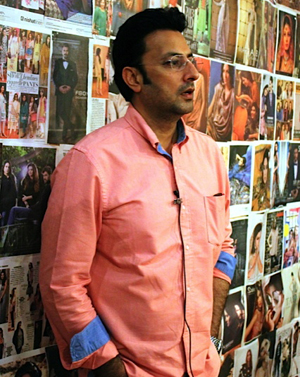 Babar Ali
As is usual of events widely publicized and advertised, Urban Montage was peppered with numerous representatives of the media capturing footage, interviewing designers and asking visitors for their comments about the work on display. Babar Ali, a famous Pakistani film actor was also seen at the event, appreciating the various collections on display. He stated that events such as Urban Montage are beneficial in that they provide young and emerging talent with a platform for showcasing their creativity and bolsters their confidence to produce better work in the future.
However, Urban Montage did not turn to be out as promising an exhibition as expected. For an event of its size, it was overly publicized. The collections were meager and the layout of the entire event was badly planned in that the large space available to the organizers had not been used efficiently. There were large empty spaces and gaps within the hall, which made it look unfulfilling and inadequate. Therefore, it would be our sincerest advice to the organizers of Urban Montage that they hire experienced personnel to handle the layout and organization of all their future endeavors for good presentation, which is vital for success especially within the fashion industry.
All images provided by author
You may also like: