Come Clean for Earth Day
Written by: Zahra Belal - Posted on: April 21, 2014 |

Comments
Google Translation: اُردو | 中文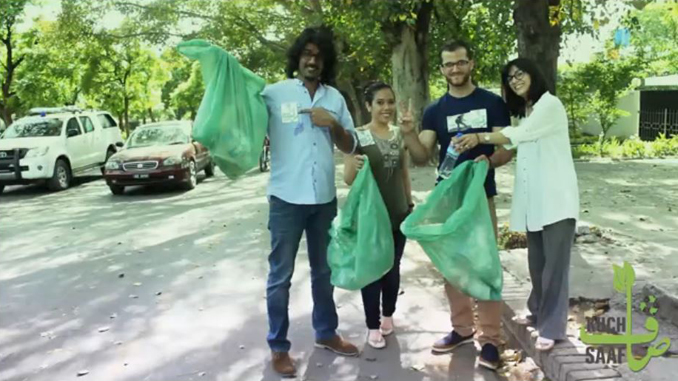 When the "Kuch Saaf" team went on an anti-litter car drive at the traffic signal between F6 and F7, folks thought they were out to collect money. Given this, the reactions were predictable: many looked stoically straight, trying to ignore their existence; while others brought down their windscreens to hand them loose change or apologize for its lack.
Without giving a thought to what aspects of their appearance could exude such a false idea of their mission, the team went about their work with an indomitable perseverance and spirit that not even the hot afternoon sun could mar. The loose change was of course laughingly waved away. Pointing to their big, green bio-degradable bags, they asked people to come clean (no pun intended) with the trash in their cars. While people rummaged around for the trash, the team utilized the time by educating them about not littering and using bio-degradable bags. "Don't be a litterbug" was the clear message sent home in a fun, sassy manner.
Wrapped up in a matter of two hours, the team returned to the office with immense feelings of accomplishment and a thirst to do more. Thus, a catchy video log of the car drive was made and put up on the Kuch Khaas facebook to reach a wider audience. The response was instant and overwhelming: fans gushed with appreciation, gratitude and support for the initiative.
Yet there were also some who wondered about the utility of this campaign, objecting that it is on a tiny scale and geared towards one of the cleanest parts of one of the cleanest cities of Pakistan. Many residents of cities like Rawalpindi, Faisalabad and Karachi challenged the Kuch Saaf team to come and clean their cities. Tulin Azim Khalid, the head of the Kuch Saaf team, responds to this by stating plainly: "We are not claiming to be a team that will physically go to every part of Pakistan to clean up or that our car drives will be collecting garbage and trash wherever it is piled up: even if none of those people had trash to give us, they will now have something to think about".
To put it simply, the 'Kuch Saaf' campaign of 'Kuch Khaas' is to inspire people. "We want to make people think about their habits of littering, and we do this by going out there and talking to them", Tulin emphasizes. "It all starts with raising awareness and making people responsible for their habits." This is why the little campaign is symbolic of little doable steps that people can take to clean their cities: by changing their habits as well as inspiring others to change theirs through little activities like the Kuch Saaf car drive.
The Kuch Saaf campaign itself also started out by inspiring co-workers at the Kuch Khaas office with a "Mind Your Butt" campaign. "As you walked around the office, you would often find cigarette butts dotting corners and pathways," Tulin recounts. "Hence we put up signboards and messages around the workplace to make them think twice before littering their cigarette butts." Such was the impact of these in-house campaigns that it not only cleaned up the workplace but also made it easy to recruit volunteers for the anti-litter campaign outside office, establishing the "Kuch Saaf" team. "Now everyone at the office wants to come with us on our car-drives!" Tulin adds laughingly.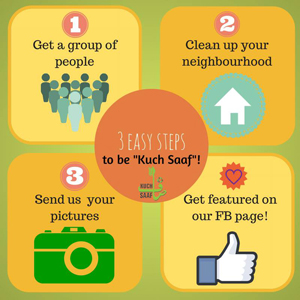 The moral is to never underestimate small favours which on their own may not seem much but can collectively make a major difference. This is why Tulin responds to people asking the team to come to their cities for the campaign with: "The idea is that you get inspired to start your own clean-up initiative in your neighbourhood". To encourage individual efforts, the Kuch Saaf team requests people to record their initiatives in the form of a video or pictures and send it to them; they will showcase them on their Facebook page to recycle the message online!
The Kuch Saaf intends to go bigger on Earth Day, both inside office as well as outside. Activities range from educating their colleagues to turn off unnecessary lights at the workplace to going on an anti-litter hike on Trail no. 3 to another anti-litter car drive, this time in Blue Area, Islamabad. To encourage replantation during spring, the team would also be giving out tree saplings which people can go plant in teams. Inspiration has truly begun!
You may also like: