Tierce - A Vibrant Display of Miniature Paintings and Prints
Written by: Ismail Umar - Posted on: October 28, 2014 |

Comments
Google Translation: اُردو | 中文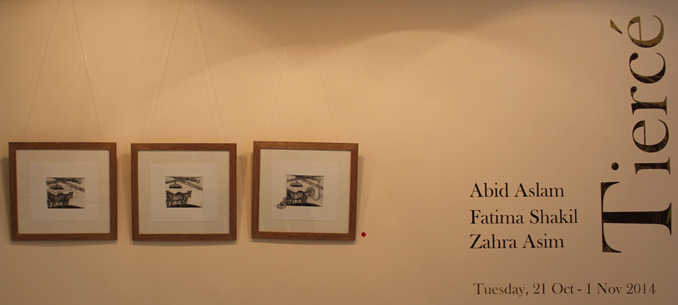 "Tierce" Reflects the Brilliance of Contemporary Miniature Art in Pakistan
The Khaas Gallery in Islamabad is currently hosting an exhibition that displays the works of three promising artists; Zahra Asim, Abid Aslam, and Fatima Shakil. Titled "Tierce", the exhibition primarily features miniature painting and printmaking, and is a reflection of the brilliance of contemporary miniature art in Pakistan. The painstaking effort and attention to detail is highly evident in the work of each artist.
Fatima Shakil is a miniature painter from the National College of Arts (NCA), who currently resides and works in New York City. Her work in this exhibition involves a skillful amalgamation of painting and printing. She uses miniature symbols to create powerful, dreamlike, illusory visuals. Fatima creates a parallel between the life of a zebra and her life in New York. She tries to demonstrate through her images that, just like a zebra, she blends in with the environment, i.e. with people from various ethnicities, while still possessing her individuality.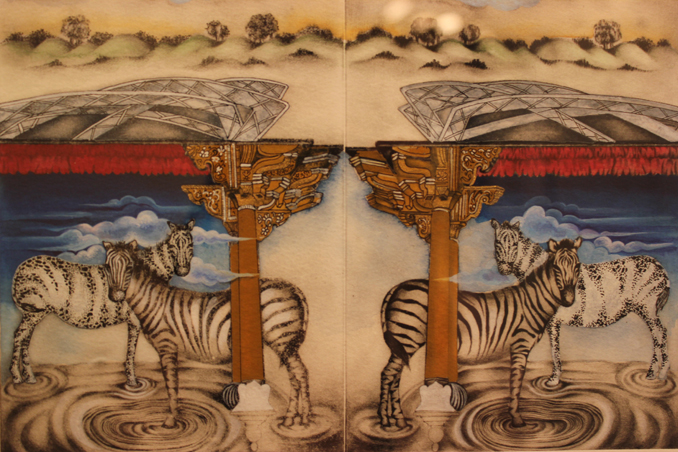 Fatima Shakil Uses Miniature Symbols to Create Dreamlike Visuals
Zahra Asim, another specialist painter from NCA, presents a series of ten paintings, titled "Fading Reality". These are in the form of mini-snapshots which depict narrow, congested personal spaces in an ordinary setting. Having spent her childhood in an old and congested house in the centre of Lahore, she uses her personal experiences and memories to recreate crowded interiors in old spaces and to convey the feeling of claustrophobia. Her work is intricate and meticulous, with great attention to detail.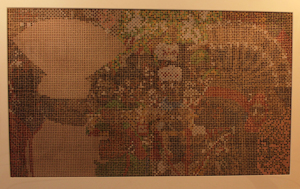 "Entertainment" by Abid Aslam
Last but certainly not the least, Abid Aslam employs the "eyelet" technique; he creates an image using tiny rings found in shoes, which resemble metallic punch-holes in appearance. These rings are placed at carefully calculated intervals to create the illusion of a real image. Inspired by impressionism, Abid's works present a subtle commentary on the recent political turmoil in the country, and a critique of contemporary media which has turned the situation into a form of entertainment. Aslam's work is also highly intricate and methodical, and his thoroughness is clearly evident.
"Tierce" is expected to continue at the Khaas Galley till 1st November.
You may also like: