Who is Afraid of Green?
Written by: Ismail Umar - Posted on: November 15, 2014 |

Comments
Google Translation: اُردو | 中文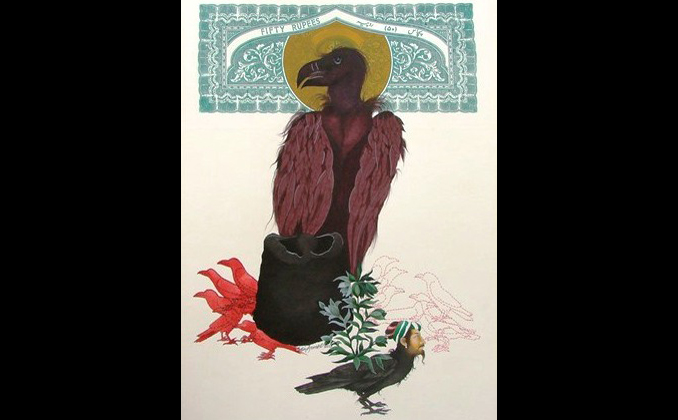 Sobia Ahmed's works provide a bold commentary on the unspoken truths of today's world
The Khaas Gallery in Islamabad is currently hosting an exhibition of paintings by the ruminative and introspective artist, Sobia Ahmed, who currently teaches miniature art at the National College of Arts, and whose work has appeared in a number of international expositions.
The exhibition, titled "Who is Afraid of Green", involves a thought-provoking observation of the decline of Pakistani culture and ideology. The artist attributes this decline to the strong influence of the west and its constant interference in Pakistan's sociopolitical structure. She skillfully links the past and present of Pakistan by using direct and indirect symbolism to demonstrate how the historical subjugation of this region by the British has impeded the growth of Pakistani ideology and culture. "I have attempted to draw out these similarities between the past and present political scenario through the interplay of symbols that characterize the current predicament of Pakistan", she comments on her work.
Sobia believes that our constant dependence on outside forces and our failure to create an autonomous ideology has resulted in the supremacy of western imperialism in the post-colonial era. It has also led to internal rifts and divisions based on religion, sect and ethnicity.
The artist uses abstract symbolism in her work that makes each of her paintings stand out in its own distinctive way. Some of her pieces employ overt symbolism that gives a historical context, such as the Jinnah cap or the national flag. However, other pieces contain more subtle symbolism: the crows and vultures in her paintings represent the dark existence of western powers preying on the vulnerable state of Pakistan, and the dark foliage growing on the national flag symbolizes how national identity is slowly fading away.
By juxtaposing myth and reality and by linking together the past traditions and contemporary challenges of our nation, Sobia's innovative depictions provide a bold commentary on the unspoken truths of today's world.
The exhibition will continue at the Khaas Gallery till 24th November.
You may also like: