Bubblelicious: The New Iced Tea!
Written by: Aiza Azam - Posted on: March 28, 2014 |

Comments
Google Translation: اُردو | 中文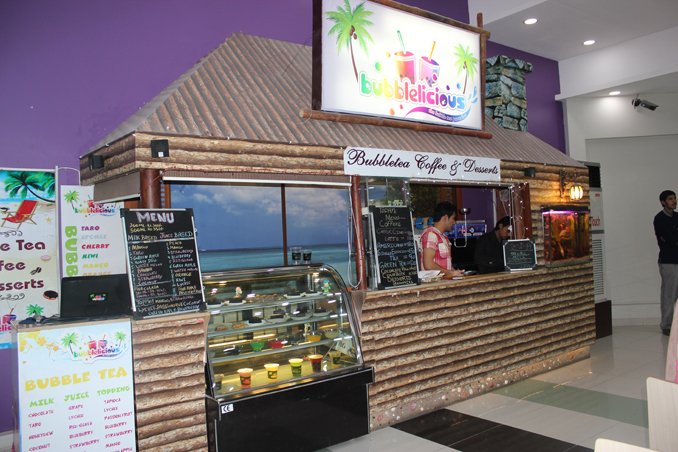 Bubblelicious
Bubble Tea is still a relatively new concept in our bit of Asia. While there are a few outlets in Lahore and Karachi, and a place or two in Islamabad that includes the drink on its menu, it has some way to go before it latches onto the regular foodie's interest.
Bubblelicious, an outfit at the Centaurus Mall, is doing its bit to bring this unusual drink to mainstream consciousness. Having been launched last summer, Bubblelicious is the brainchild of brothers Sheharyar Khan and Umaryar Khan, who own the business with their partner Mohib Ilahi. Loyal consumers of the drink while studying in the UK, they felt a venture back home would have definite potential. "We wanted to open up a dedicated outlet which would expose people to all varieties of Bubble Tea and all the possibilities you can play around with!" explains Umar.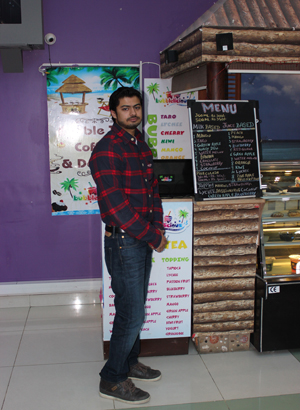 Umaryar explains the menu
Bubble Tea itself is a drink that originated from Taiwan in the 1980s, an accidental invention that caught on like wildfire. It has either a milk base or a juice base, contains a hint of tea, and is supplemented by either chewy Tapioca pearls or juice filled Bobas, tiny spheres that pop when you chew them to release a burst of flavor. Think of the milk based variety as a form of light milkshake and the juice based kind as syrupy juice. All three items come in a variety of flavours. At Bubblelicious, you get milk tea in eight flavours (including Chocolate, Honeydew, Mango, Piñacolada, Watermelon and Green Apple), juice tea in nine (such as Strawberry, Blueberry, Grape, Guava and Peach) and almost a dozen varieties of Bobas (if the Tapioca is too chewy for your taste, try some of their fruit flavored ones like Lychee, Passion Fruit, Cherry, or Kiwi Fruit).
All their ingredients are brought in from Taiwan, but there was strenuous research work done before they launched; importing countless samples from all over Taiwan, they tried each one with their family and friends until they found that authentic flavor they were looking for. Then, they developed their flavours adapting them to local tastes. Before the launch, they trained their staff rigorously, not just in preparing the drink (the staff tasted the tea the brothers themselves made to get the right idea of flavor), but also in customer service. "We swear by the mantra of 'The customer is always right'," says Umar. And their service is truly exceptional. The customers choose their own combination of how each drink is put together, so while it's being done, the staff will have the customer sample the order being prepared as many times as the customer needs, tweaking it constantly to ensure that everything is exactly as the client wants it, including level of sweetness and temperature; also, he is offered various samples of each item to see if it's what he wants to incorporate in his personalized drink. Quality control is strictly maintained as well. Umar shares that while the concept is still relatively novel, it has steadily been picking popularity.

So on your next visit to Centaurus, give Bubblelicious a shot! It'll chase that hot day right away and leave you satisfied.
You may also like: