Rustic Charm of Village Life Takes Over the Capital
Written by: Amna Javed - Posted on: December 25, 2014 |

Comments
Google Translation: اُردو | 中文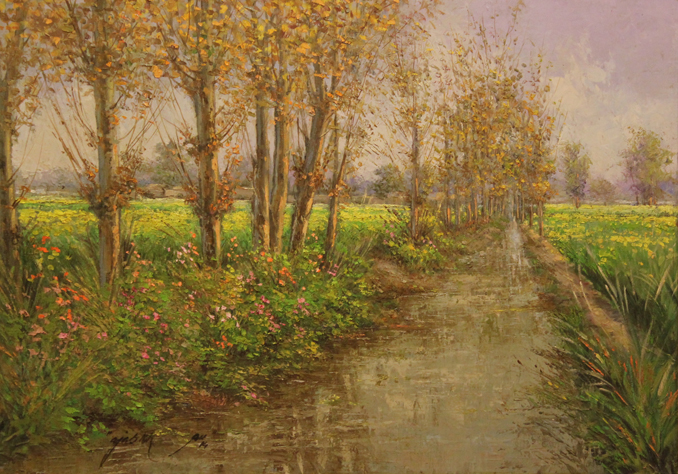 Ajab Khan's paintings are a reflection of his love for his hometown, Dera Ismail Khan
Picturing the cherished landscape of his hometown, Ajab Khan seizes the mysticism of nature and puts on canvas Pakistan's beautiful countryside. His first solo exhibition opened at Jharoka Art Gallery on Tuesday, 23rd December. Lt. General Asif Yasin Malik inaugurated the exhibition and remarked that the artist's collection was all about celebrating his land, culture and people.
Ajab Khan, hailing from the remote area of Dera Ismail Khan, brings the charm of the countryside to city dwellers through twenty-four oil-on-canvas landscapes. The depth and detail in each piece of art truly illustrates the artist's enchantment with nature. In conversation with Youlin, Mr. Khan commented, "Living in harmony with nature is a source of artistic inspiration and creativity for me."
The paintings currently at display mark a spectacular play in color and contrast. Khan has masterfully stroked the pale color of sand, the mighty cover of sunset, and the green and yellow fields. The detail in his work manages to capture the imagination of the viewers and transports them to the original place, as one visitor commented, "Each one of these pieces magically takes us to the original place which inspired it."
Khan's paintings are a reflection of his love for his hometown, Dera Ismail Khan. The scenes produced on his canvas are reminiscent of the local culture and everyday life of the village that arouses feelings of tranquility and calmness. His paintings remind one of how the countryside is detached from the commotion of the urban centers. The artist stated that he dreams of a peaceful world for everyone through his paintings.
The gallery curator, Nahida Raza, showered tremendous praise for Ajab Khan's works and highlighted the elegance and delicacy with which he had painted.
Delving into the current situation, Khan pointed out that he had chosen this time of distress to showcase his work in order to bring some respite from the grief that engulfed the entire nation a week ago. "My paintings are a message of hope in these distressing times. The best contribution an artist can make is through his work. The colors in my paintings speak for themselves," he added.
The exhibition will continue at the Jharoka Art Gallery till 31st December 2014.
You may also like: