LA PETITE CHAMBRE (Switzerland)
Written by: Aiza Azam - Posted on: March 20, 2015 |

Comments
Google Translation: اُردو | 中文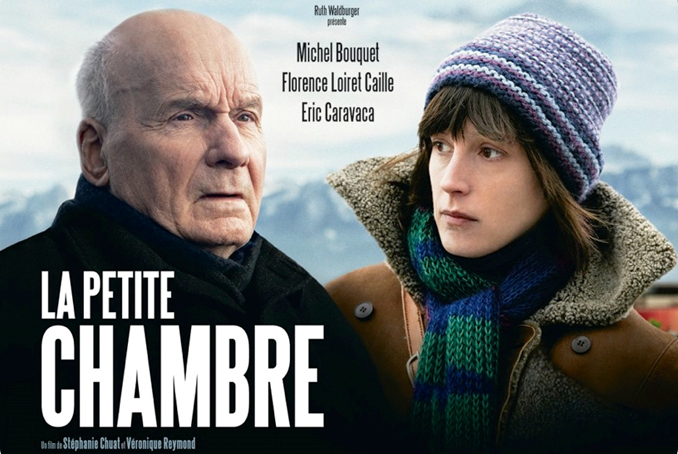 La Petit Chambre (The Small Room) was shown at the PNCA on the second day of the film festival, part of the ongoing Francophonie Festival. Set in Lausanne, Switzerland, against the backdrop of the exquisite Alps, the film is a drama about two people trying to come to terms with loss and adjusting to a changed reality neither of them wants.
Rose (Florence Loiret Caille) is a home care nurse who has just returned to work after giving birth to a stillborn child in her eighth month of pregnancy. It is a loss she has not fully processed, attempting to bury it and going stoically ahead with her old work routine, even as what has happened colours every thought and action she goes through. Her inability to communicate her grief even to her husband manifests itself in the tension between them, and Caille brilliantly conveys the sense of a woman who is completely at sea in terms of how to deal with what has been dealt to her.
Edmond (Michel Bouquet) is an elderly man who stubbornly refuses to give in to the frailty and needs induced by old age, fighting to hold on to his independence. He is difficult with his worried son, who is due to move imminently to the States and remains unable to convince his father to move into a nursing home. With Rose, his caregiver, he is more receptive to her ministrations, but vacillates between grumpy old man and petulant child. Bouquet quickly endears himself to the audience which is sympathetic to Edmond's desire to live the way he pleases, as summarized in a confession to Rose: "I don't want to die in stages."
When Rose's husband takes off for New York to cast the winning bid for a contract (partly to escape the stranglehold of tension in their domestic life), and Edmond returns from the hospital after a bad fall to find his son has stripped down his apartment to make it safer without consulting his father, Rose brings Edmond to stay at her place. Edmond has the care he needs from Rose, and he fulfills her need to look after someone who depends on her. Both maintain a conspiracy of silence from the husband and the son, to stave off a change in the situation they have created.
During this time, Edmonds stumbles upon the nursery for Rose's child, which she insists on keeping in the same state of preparedness as before, and deduces what has happened through a set of photographs. Rose feels pushed to talk about what took place. Her gut wrenching narration of facts to Edmond, clinical in delivery, but each sentence pregnant with terrible emotion, is the most arresting part of the entire feature.
To discuss the events that transpire next would be to reveal the ending. But La Petit Chambre is a drama worth seeing, and even revisiting.The only unfortunate part of the evening was the abysmally small audience, a mere handful scattered around the auditorium, less than half of which were Pakistanis.
To blame is the fact that the festival has been poorly advertised and not many people are even aware it is taking place. A shame, considering the cross cultural treasure on offer to anyone for free.
You may also like: