Gull brings a khaas 'Musing on the Self'
Written by: Mirza Salam Ahmed - Posted on: October 02, 2014 |

Comments
Google Translation: اُردو | 中文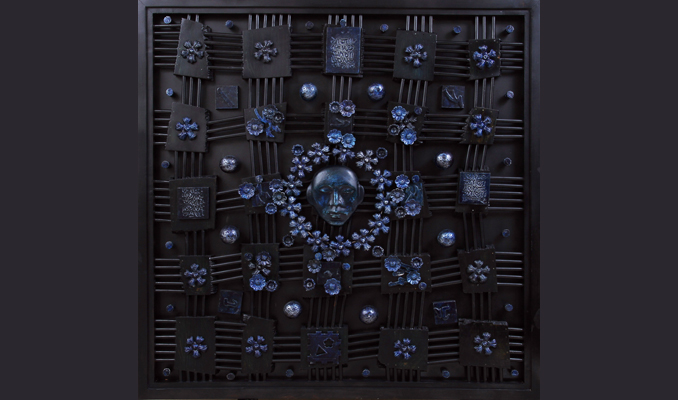 "Paradise"
Stepping onto the old worn steps of the Khaas Gallery, the feeling of the beginning of a special journey was immediate. The superannuated ambiance almost gave out a ceremonial vibe. It was a perfect setting for Mr. Abdul Jabbar Gull to take his pilgrims on a thought-rail on 'musing on the self'.
Gull, a man born in Mirpur Khas, has a huge cult-following in the United States, Canada, England, India, Bangladesh, Malaysia, UAE and South Africa. His travels have broadened his vision and given him the unique ability to visualize a thought process. The power of deliverance through his sculptures, a passion Gull discovered within himself, once again captivated many souls at the gallery.
As I moved around the vicinity admiring Gull's work, I noticed that standing in front of his artwork gave away a unique feel – as if being watched by its creator. It felt as if Gull was asking for a narrative on his artwork. As I jumped from one piece to another I noticed that Gull's unique love for carving on walnut and rosewood, his abstract sketching and his sublime integration of brass and aluminium wasn't the greatest reason for my admiration of his work. As I turned my head around I saw the audience 'musing on the self' and at that moment I realized – the creator had achieved his goal.

A huge three-piece sculpture mounted on the wall was positioned right in front of the gallery's opening in a way that no eye could leave without gazing at it with curiosity. I had decided to save it for last and wasn't disappointed by my decision. The three circular-shaped sculptures dispersed with floral patterns were centred from left to right with an old Italian coin, the face of a man and an American coin. I started musing by myself and lost track of time. A voice brought me back to land; and to my surprise it was Gull who stood in front of me, enquiring about my thoughts on his piece. Astonished, my mind produced many thoughts at once, but not an intelligible one for me to share.
"This specific image shows how the ordinary man is stuck between culture and religion and the superpowers in this world". The simplicity of his statement yet the strong impact delivered by this relic took over me. Finding my tongue once again, I asked Gull what he thought about art and he said, "Art is all about the thought process and how it brings change."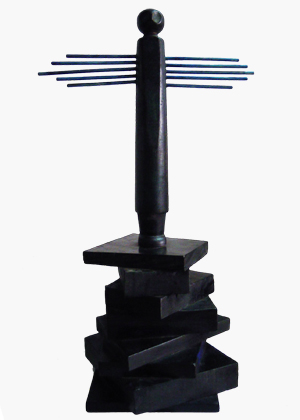 "Winged Thought"
My mind was just absorbing this newfound wisdom but before it had settled, Gull spun me around and swooped down upon famous "Winged Thought" whilst rearranging it to show me how a thought could be birthed into a force and how that could begin a butterfly effect. "This is the expression of a thought in a moment and how that thought becomes a force and how that force brings forth change," Gull said with the help of his interactive sculpture.
Gull's art truly captures the stream of thought. It leaves the mind wandering, yet at peace with new angles on reality. It keeps a man thinking, something that would certainly bring Gull a lot of joy, knowing that the creator has reached the brain and touched the heart of yet another soul.
Gull's sculptures remained a part of the exhibition till 30th September at the Khaas Art Gallery.
All images provided by the Khaas Art Gallery
You may also like: