Moeen Faruqi's Paintings Take the Capital by Storm
Written by: Ismail Umar - Posted on: December 03, 2014 |

Comments
Google Translation: اُردو | 中文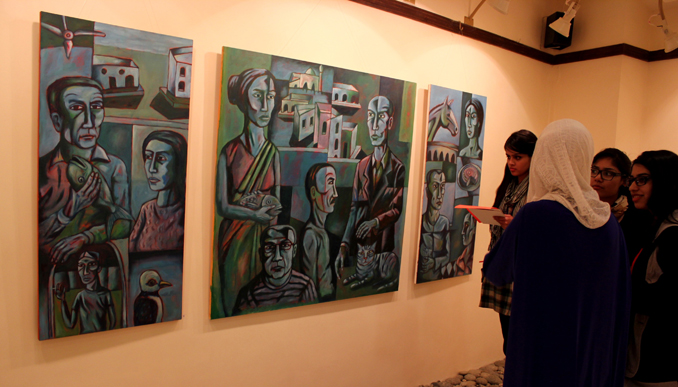 The paintings attracted art enthusiasts from all over the capital
The Khaas Gallery on Tuesday hosted an exhibition of paintings by Moeen Faruqi, an exemplary artist and poet from Karachi who needs no introduction. Faruqi has had numerous solo and group exhibitions all over Pakistan as well as around the world, earning him worldwide acclaim and appreciation. His latest collection, titled "The Blue Room & Other Stories", features 16 acrylic and oil on canvas paintings that explore human interactions and relationships in urban settings.
The artist presents a subtle critique of social gatherings in metropolitan cities such as Karachi and Lahore. He tries to capture the feelings of estrangement and alienation that are increasingly experienced by members of urban societies. He infuses great depth into his subjects, each one narrating a powerful story. Faruqi effectively uses natural expressions and vivid symbols to denote hidden feelings of estrangement from oneself and one's society. He also incorporates animals such as cats and birds into his paintings, which further highlight his message.
"These paintings are about modern people and their relationships in urban settings", Faruqi told Youlin Magazine. "Even the animals such as the fish and the cats are like human characters. I'm basically trying to explore human relationships though these paintings". Faruqi said that his art is open to interpretation, and that he wants viewers to develop their own subjective understanding of the message in his paintings.
The exhibition attracted art enthusiasts from all over the capital, including groups of young art students as well as experienced artists. The picturesque depiction of narratives and the vibrant colors in Faruqi's paintings were quick to grab the interest of viewers, who admired the painstaking effort invested in each painting.
"The Blue Room & Other Stories" will be on display at the Khaas Gallery till 15th December.
Click to view picture gallery
You may also like: