Zulfiqar Ali Zulfi's Realist Paintings Grace Tanzara Gallery
Written by: Ismail Umar - Posted on: February 07, 2015 |

Comments | 中国 (Chinese)
Google Translation: اُردو | 中文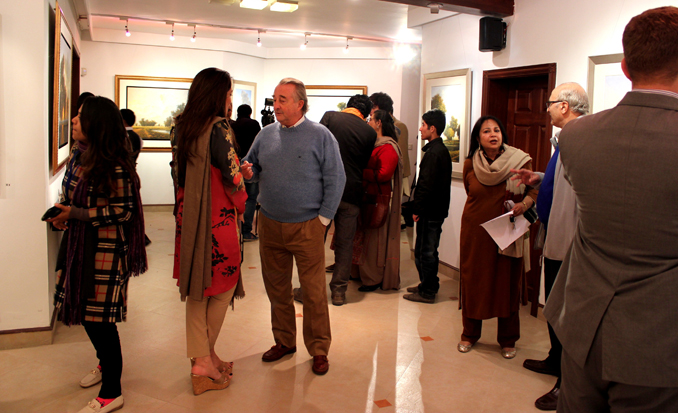 Zulfi's paintings had the Tanzara Gallery brimming with art enthusiasts
The Tanzara Gallery on Friday opened an exhibition of paintings by the celebrated artist Zulfiqar Ali Zulfi. The collection features 34 oil-on-canvas paintings which magnificently capture the contrast between the tranquility of rural Punjab and the vibrancy of urban Lahore. The opening was attended by Argentine ambassador H.E. Rodolfo Martin Saravia, and attracted a large number of art enthusiasts, most of whom were already well acquainted with the artist's work.
Zulfiqar Ali Zulfi is a Lahore-based artist with a Master's degree in Fine Arts from the National College of Arts (NCA). He has done more than 60 group and solo exhibitions in Pakistan and abroad, and his paintings can be found in public as well as private collections in various parts of the world. He has served as Deputy Director Programmes at the Alhamra Arts Centre for a number of years. He is also the recipient of the President's Pride of Performance Award.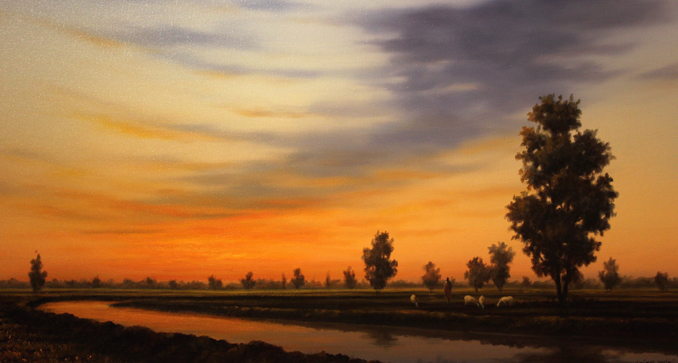 The artist depicts the serenity of the countryside through the use of multicolored clouds, clear rivers and open fields
Zulfi is a realist painter whose artworks gain inspiration from a direct observation of nature. He specializes in oil painting, and is a maestro when it comes to recreating gorgeous landscapes and bustling cityscapes. "My specialties are landscapes and cityscapes; my area of expertise is oil painting; and my area of interest is light and shade", he comments on his work. The presence of beautiful trees, multicolored clouds, clear rivers and open fields depicts the serenity of the countryside, while the existence of carts, pedestrians and architectures provides an accurate representation of urban life. The artist uses vibrant images and striking colors to capture the viewer's gaze, and provides an incredibly realistic portrayal of different seasons and times of day.
Noshi Qadir, curator of Tanzara Gallery, praises the artist's works: "Zulfi is a realist painter, but his paintings, be they landscapes or cityscapes, are more than an imitation of what is seen. He has the magic of capturing the essence of the vignette that he replicates on canvas. Beyond realism, he understands his subject matter well – be it a rustic scene, or an urban setting, misty horizons, or cattle out in the open fields, the artist renders such images with amazing dexterity."
Zulfi's paintings will be on display at the Tanzara Gallery for two weeks, till 20th February.
You may also like: