Review - Ghar Aaya Mehmaan
Written by: Ismail Umar - Posted on: September 29, 2014 |

Comments
Google Translation: اُردو | 中文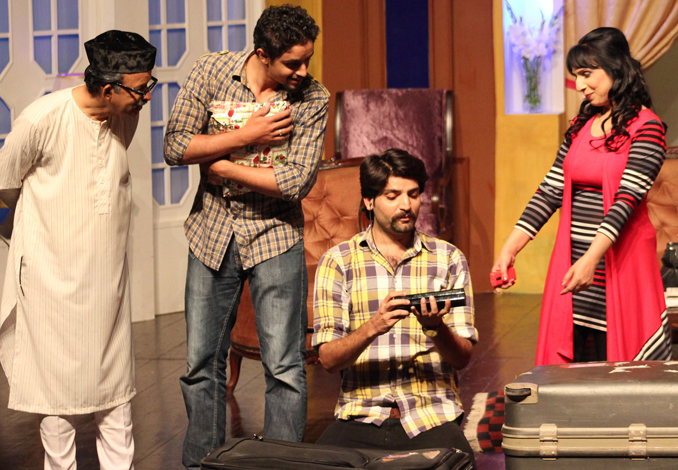 Majeed is unaware that his relatives are after his money
The Pakistan National Council of Arts has always been an advocate of innovation and creative expression on the stage. Their latest presentation is a humorous play directed by Nabeel Iqbal Awan and written by the distinguished poet, writer and lyricist, Amjad Islam Amjad.
The chief guest at the event was an art enthusiast from Japan. He had a surprisingly good command over Urdu, and he explained that he has been a proponent of art exhibitions and theatrical performances in Islamabad for the last seven years. It was heartening to see foreigners pouring in to watch a play that was almost entirely in Urdu.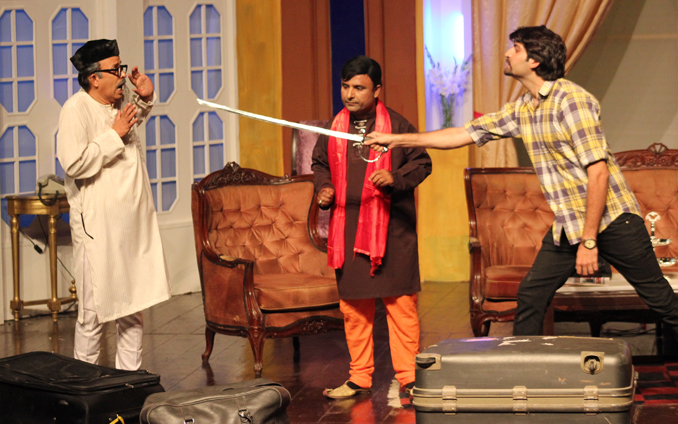 As the name implies, Ghar Aaya Mehmaan is the story of Majeed, a man who comes from England to his uncle Agha's house in Pakistan to meet his relatives. Agha is a materialistic and miserly fellow whose existence revolves around the accumulation of money. His tightfisted nature can be seen in the fact that he drinks no more than one cup of tea a year in order to save money. So naturally, he becomes greedy when he finds out that his nephew Majeed is actually a millionaire and has a number of successful businesses in England. In fact, all of Majeed's relatives, including his cousins and uncles, start to drool over his wealth and try to find ways to win him over. In particular, his two uncles, Agha and Kamali, are after his assets and want him to marry their daughters. Although the play is light-hearted and comical, there is a serious and thought-provoking message at the end; but we won't ruin that for you.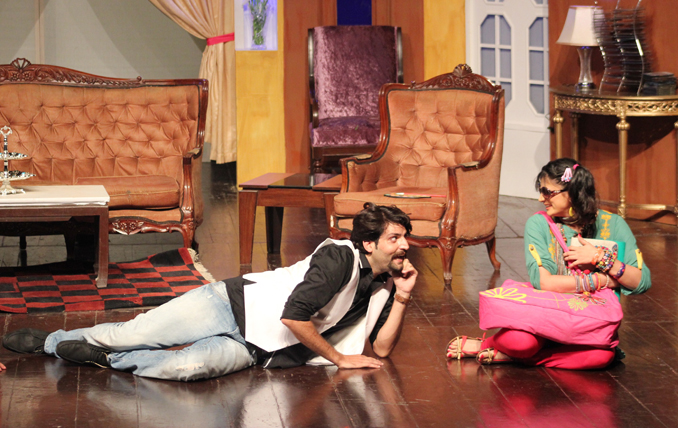 The most fascinating character in the play is that of Majeed himself. He is a miraculous survivor of a recent air crash, which impairs his mental stability. The incident turns him into a highly eccentric and unpredictable man. This unpredictability and fickleness of Majeed's character is what drives the story and makes it unique and interesting. Several times a day, he whimsically grabs a sword and whirls it around inside the house, inadvertently sending all those around him into a state of panic. He also unwittingly assumes the role of famous people and characters from different eras and regions around the world, real as well as fictional, including Spiderman, Akbar the Mughal emperor, a Punjabi film hero named Maula Jatt, and of course pop sensation Michael Jackson. His character is diverse and exuberant, and there is never a dull or boring moment with him on stage.
Kudos to the cast and crew for making this play possible and entertaining audiences in such a difficult political climate, especially with the Dharnas taking place a mere five minutes away from PNCA, and making daily conveyance to and from the theatre a major source of difficulties for the entire team.
Overall, this is a great effort put together by a group of talented and hardworking individuals. The humor tends to become over-the-top in some instances, but it never interferes with the spirit of the play and does not get in the way of your enjoyment. So if you're looking for a way to laugh, let loose and be amused, go watch Ghar Aaya Mehmaan.
All photographs taken by author
You may also like: