A.S. Rind's Stylized Paintings Come to Tanzara Gallery
Written by: Ismail Umar - Posted on: December 12, 2014 |

Comments
Google Translation: اُردو | 中文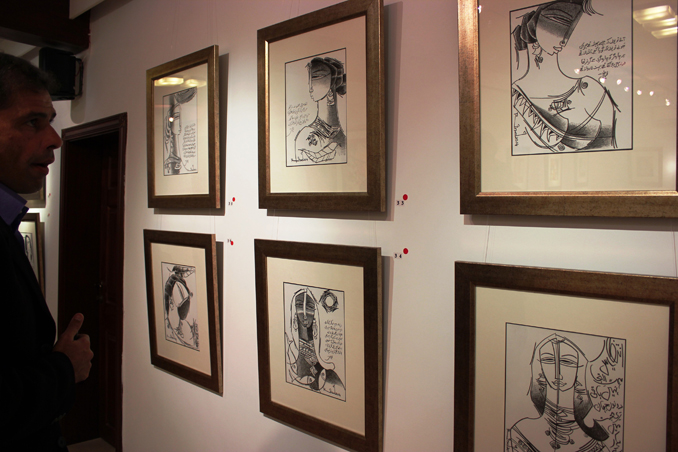 The artist is renowned for his stylized representation of women
An exhibition of figurative paintings and drawings by the celebrated artist A.S. Rind opened at the Tanzara Gallery in Islamabad on Thursday. Rind's experience with painting goes back almost 40 years. He has had numerous solo and group exhibitions in Pakistan as well as abroad, and his artworks can be found in public as well as private collections worldwide. His latest collection consists of 40 acrylic-on-canvas paintings and 10 charcoal drawings. The exhibition attracted a host of art enthusiasts from around the capital, including Cuban artist Liudmila López Dominguez and the Deputy Head of Mission of the Swiss Embassy, Roger M. Kull.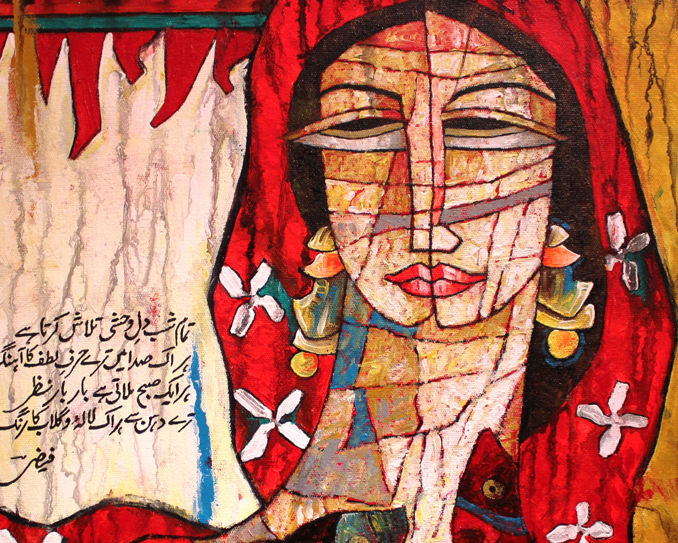 Faiz Ahmed Faiz's poetry adds further depth to Rind's paintings
Rind specializes in figurative painting, trying to capture the exquisiteness of the women of his hometown, Rahim Yar Khan. "His works carry a strong cultural influence of his area. His paintings are certainly and deeply influenced by regional aesthetics, splendor, colours and motifs," said the gallery curator, Noshi Qadir, while commenting on the artists' paintings.
Rind is renowned for his stylized representation of women, giving them long necks, sensual features and voluptuous figures, and adorning them with ethnic jewelry. He often adds motifs such as fish, parrots and roses. In some pieces he also infuses verses from Faiz Ahmed Faiz's poetry, which enhances the splendor of his paintings and adds further depth to them.
"Rind's canvases reverberate the rich traditional legacy of the Rajisthani desert", said Noshi Qadir. "He exhibits a natural exuberance in his paintings by using a rich palette and a strong focus on design and pattern, which bring about pictorial richness to his work".
Rind's paintings and drawings will be on display at the Tanzara Gallery till 20th December.
Click to view picture gallery
You may also like: