The Hot Spot, Lahore
Written by: Jalal Hussain - Posted on: May 24, 2014 |

Comments
Google Translation: اُردو | 中文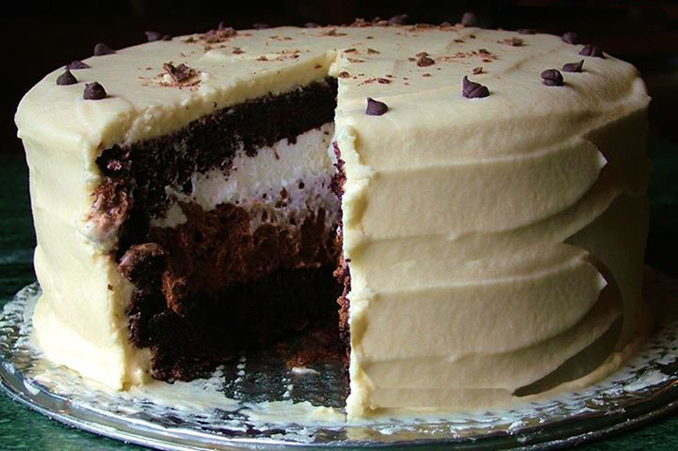 Vanilla bean squidy cake
Hot Spot needs no introduction. We all have been there at some point in time, in some city or another. Hot Spot opened first in Islamabad as an ice-cream parlour boasting of its home made ice creams. It has expanded and has been serving its delightful treats in Lahore and Karachi as well.
Lahore currently has three outlets: R Block in DHA, LUMS and Gaddafi Stadium, Gulberg. Hot Spot in all three cities has the same basic interior: wooded booths and its walls famously laden with movie posters. The movie posters are by far the most interesting aspect of their interior, and include ones from Hollywood and Lollywood. And it doesn't stop at that, as the walls are plastered with quirky signs all over the place. Topping it all off is the juke box, to eat your dessert to your own tune. In general, the interior is very basic, the lighting just bright enough, but it all blends together well.
The Hot Spot is a self service dessert parlour. They have their menu displayed in coloured chalk on black boards. It offers not only a wide range of desserts but also ice cream shakes, smoothies and main courses. At the counter they display part of their wide range of desserts: cupcakes, cookies, Mississippi Mud-pie and Squidgy cake to name a few.
After serious consideration of how much I could eat, I ordered Lemonade and the Vanilla Bean Squidgy cake. A strange combination as it is, the lemonade always helps me wash down dessert. I was served within 5-7 minutes of placing my order.
The Vanilla Bean Squidgy cake was a disappointment. As scrumptious as it looked in the strategically dim lit fridge, it wasn't even half as good to taste. The Vanilla Bean Squidgy cake is a layered chocolate cake with a heavy cream centre. It has cream cheese icing topped with chocolate chips. The sandwich is a rich chocolate cake, evenly moist in texture and mild in flavor, not too sweet. The filling is a sweetened, thick vanilla cream, almost about an inch and a half worth of. The filling due to its density is quite heavy to taste and heavier yet to digest. It was more curdy than leveled, which was a definite negative. However, the cream cheese icing was not only too sweet but lacked the smoothness expected from such an icing. I could feel the powdery sugar in every bite. Furthermore, the chocolate chips used were sub standard, where the chocolate, upon biting into it, would stick to your teeth. The icing altogether rather than balancing the dessert ended up withdrawing the real taste.
The lemonade is never a disappointment. It's slushy, not too sweet with an underlying piquancy. It's always the perfect accompaniment to sweet and savoury, alike.
It's always a safe choice to opt for the brownie with a side of French vanilla ice cream. Their brownie NEVER disappoints. For years that is the one product that tastes as amazing as it always has. More about that on another visit.
You may also like: