The Inward Journey - Recent Works by Talat Dabir
Written by: Ismail Umar - Posted on: October 24, 2014 |

Comments
Google Translation: اُردو | 中文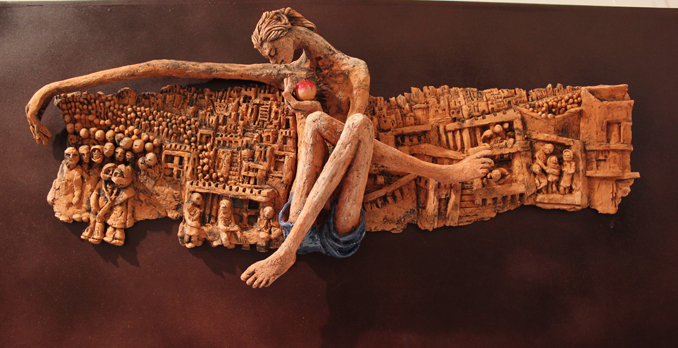 Talat Dabir redefines sculpture with her exploration of the human form
The Tanzara Gallery in Islamabad is displaying the latest works by Talat Dabir, a prolific artist who needs no introduction. Although art in Pakistan is rapidly expanding and evolving, Dabir remains widely recognized as one of the most innovative and imaginative sculptors in the country. In the four decades of her career, she has won several awards and honors, including a gold medal and first prize at Islamabad's National Exhibition in 1994. Her art has been extensively displayed in Pakistan as well as abroad, and can be found in private and public collections worldwide. The current exhibition, titled "The Inward Journey", is indeed a special one as it marks the return of Dabir's work to Islamabad after almost two decades.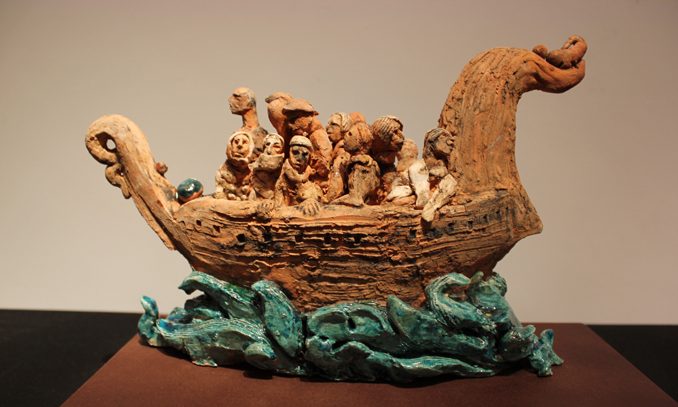 The artist utilizes the pliability of clay to create a variety of shapes and forms, some of them easily identifiable, and others more subtle and nebulous. The remarkable quality about her work, though, is that she remains impervious to dominant traditions. She takes the human form, one of the most conventional subjects in art history, and redefines it altogether through an imaginative exploration of the human body that encompasses its physical, emotional, and spiritual aspects. Her work is reminiscent of ancient times and it takes influence from a variety of topics, including history, architecture, religion, and evolution.
Exhibiting great versatility, Dabir not only displays her brilliant sculpting skills, but also her skills as a miniaturist and an expressionist. She explores the human form not just by using clay, but also through meticulously designed ink drawings that have a minimalistic nature.
Referring to Dabir's sculptures, Noshi Qadir, the curator of Tanzara Gallery, says "With their earthy and unfinished look, they unveil a tension between thought and process, while creating a distinctive, new sculptural mode".
The exhibition will continue till November 13th.
You may also like: