Diary of a Trekker: Arang Kel & Chitta Katha Lake
Written by: Muhammad Umer Farooq
Posted on: September 27, 2017 |

Comments | 中文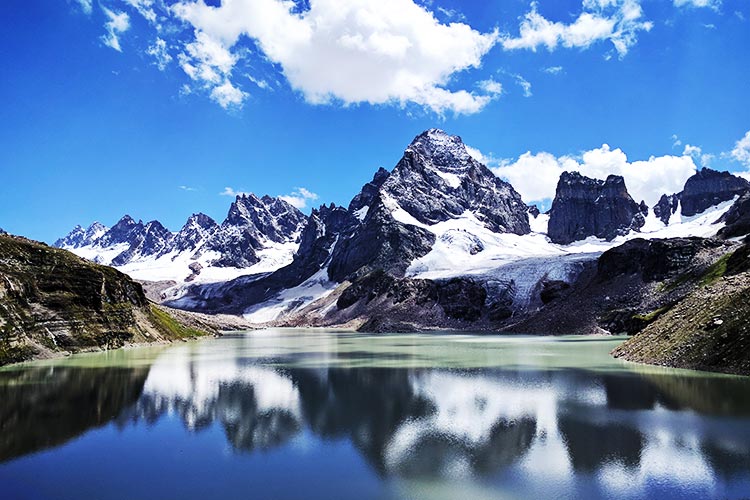 Chitta Katha lake
Day 1:
Accompanied by three friends, I embarked on my journey to Azad Jammu Kashmir (AJK), via a local bus one evening from the Pir Wadhai Bus Terminal, Rawalpindi. We planned to visit both Neelum Valley and Shounter Valley. It took us nearly 12 hours to reach Kel, our first destination in Neelum Valley. The route of the bus changed from the Murree Expressway to a single lane, unpaved road in Kashmir during the night, while old Lollywood and Bollywood songs kept us entertained throughout.
Day 2: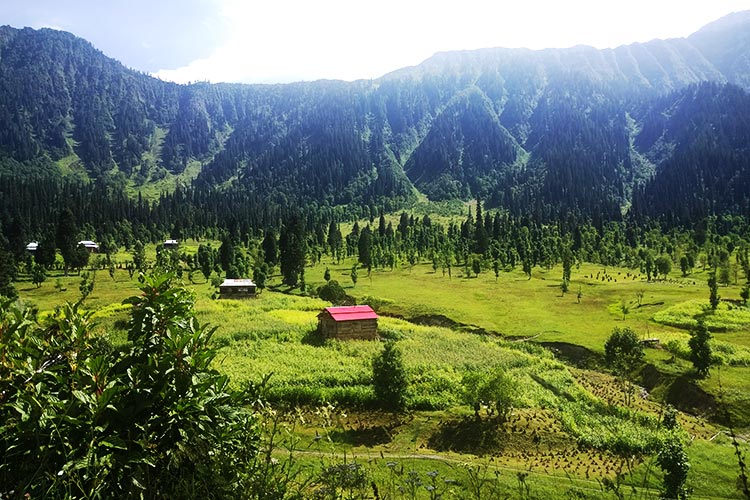 Grass cutting in Arang Kel
At 8 am the next morning, we had breakfast in Kel, and decided we would trek to Arang Kel; which lies on the other side of the valley. Using a chair lift to cross the valley, we ascended for an hour through a dense forest, to reach Arang Kel. In this beautiful village, which lies at a hilltop on 2,554 m elevation, we strolled through tall yellow plantations of wheat, with lush green pastures in the surroundings, the colours contrasting with each other. Since it was grass-cutting season, we witnessed this activity, as well as a wonderful sunset in Arang Kel. We camped here for the night.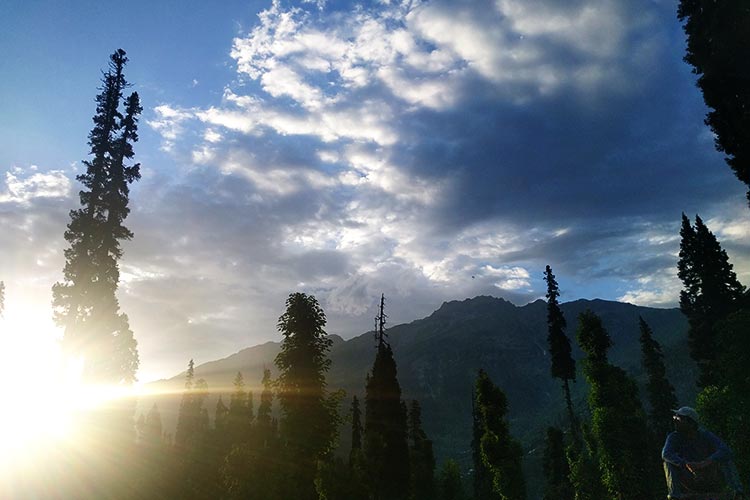 Sunset in Arang Kel
Day 3: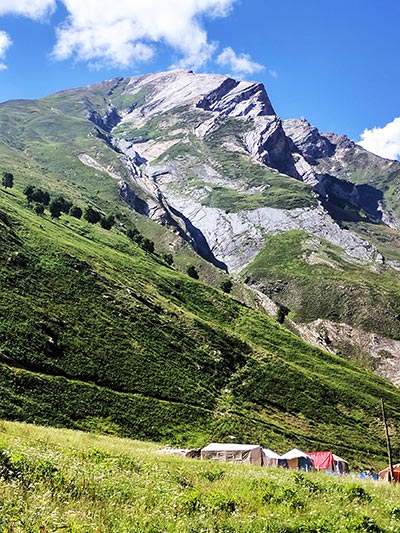 Nangi Mali mountain
At 7 am the next day, we headed back to Kel, from where our plan was to travel to Upper Domail in Shounter Valley. Travelling in an open roof jeep, we met some hospitable locals who invited us to enjoy Niaz, which consisted of Beef Pulao, with them. Four of them informed us that they were hakeems (herbal doctors) in Kel, and were travelling to Habib Ullah village, through Chitta Katha, to collect herbs. They decided to take us along with them to Chitta Katha, a lake which lies at an altitude of 4,100 m. After a three hour jeep ride, we reached the starting point of the trek. We found ourselves standing at the foot of the mountain of Nangi Mali. Nangi Mali, is known throughout the world for being home of the stone Ruby.
Our group – now a party of eight – began trekking towards the campsite. After crossing a river, we ascended towards a stream of water, rushing down from Hari Parbat peak and Chitta Katha Sar through a heavy forest. On many occasions, the trek took us right next to this gushing stream and since Chitta Katha literally translates into white water reservoir, the stream was also white. We even got the chance to rock climb in the narrow dry crevices created by waterfalls, since the locals decided to search for rubies here.
It was close to dusk when we reached our campsite, a meadow encircled by mountains which included Hari Parbat Mount. Lots of cattle could be seen grazing in these grassy grounds. We set up our tents and found plenty of wood to last us as fuel for the next two days. At dinner, our guides shared fresh butter, red beans and roti with us. They had also arranged for some lassi and tea, prepared with goat milk.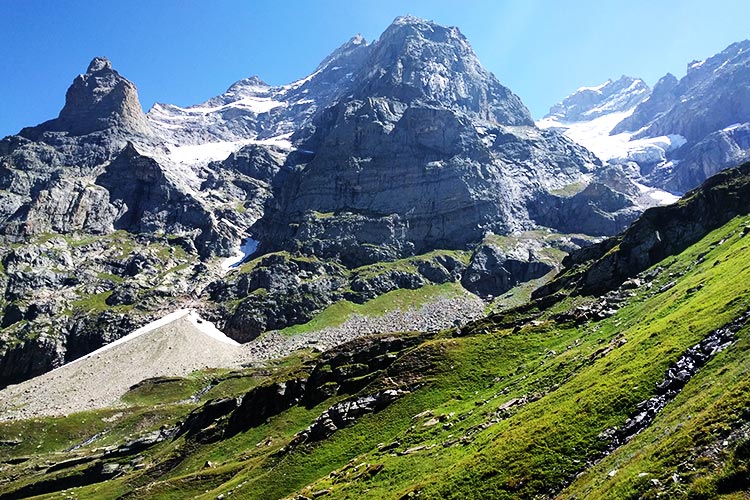 Hari Parbat peak
Day 4:
Next morning, on the recommendation of the locals, we began trekking early in the morning when the sun was still behind the mountains. Climbing during these early hours, would make the trek less strenuous. We decided to take a different route than the one normally taken by trekkers - a shorter, more steep path, and by far more beautiful. I was more motivated, because it happened to be my birthday.
Our surroundings left us amazed, as we were walking in knee-long vegetation, with flowers in yellow, pink, purple and white growing everywhere. We crossed a number of small streams, and moved upwards on the steep mountains, with the locals busy collecting herbs the entire time. When the sun emerged from behind the mountains, it greeted us warmly by shining through the gaps in the different peaks of Hari Parbat. Four hours into the trek, it was a majestic feeling to be surrounded by the more visible peaks near Chitta Katha Lake, and the mesmerizing waterfall of Hari Parbat.
When we reached the plain grounds near the lake, we spotted a proud Shaheen soaring above us. The lake is a 10-minute walk from the meadows. On approaching the lake, the first view one got was of the peaks behind it. The glaciers and peaks appeared to be carved perfectly in line with each other, forming an appealing symmetrical vision. The glimmering sun and the clear blue sky, which is occasionally peppered with clouds, kept changing the shades of the lake, with a perfect reflection of the surrounding peaks in the water.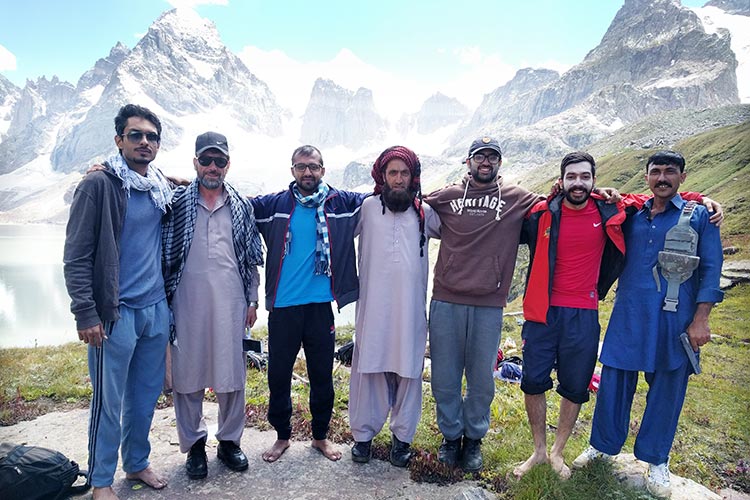 The group
Our local friends swiftly moved ahead, and after staying at the lake for nearly two hours, we also descended. On our return, we followed the route of the normal trek, which proved to be easier than the route we had taken. At about 6 pm, we were back at our camping site, much relieved and with a sense of achievement. While having dinner and enjoying the view of the peaceful valley, I realized that this had been the most peaceful birthday I have ever had.
Day 5:
We packed up our belongings and trekked back, descending until the river crossing, and then ascending until we reach the jeep track. Within three hours, we were back at Kel, with enough memories to last a lifetime. We ordered lunch from a hotel while waiting for our bus back to Pir Wadhai.
You may also like: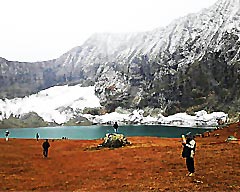 Trekking to Ratti Gali Lake
(January 29, 2018)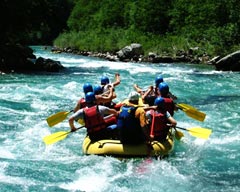 Water Adventure in Pakistan: Rappelling and Rafting
(January 22, 2018)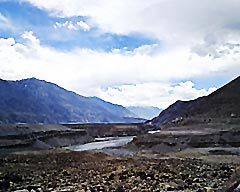 The Stunning Haramosh Valley and Kutwal Emerald Lake
(January 05, 2018)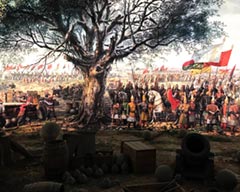 Istanbul's food streets resonate with history, culture and cuisine
(November 27, 2017)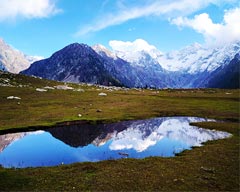 Trekking to Jahaz Banda
(November 03, 2017)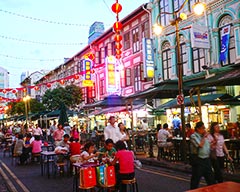 The Lion City: Diving into Multi-Ethnic Singapore
(June 05-2017)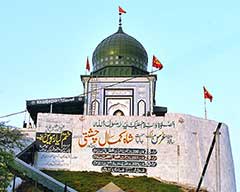 Kasur: A Day in the City of Shrines
(January 16, 2017)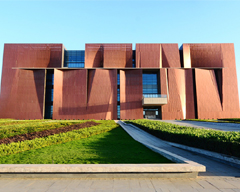 Yunnan Provincial Museum
(September 27, 2016)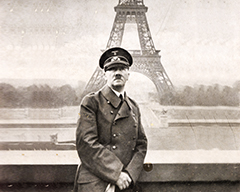 Nazi Legacies: Eagle's Nest and the Warsaw Uprising
(August 31, 2016)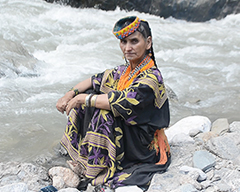 Experiencing Kalash: The Dwindling Pagan Tribe of Pakistan
(August 25, 2016)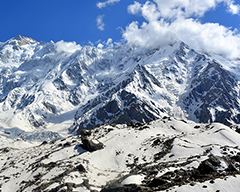 Meeting the Mammoth Part II: Nanga Parbat Base Camp
(July 11, 2016)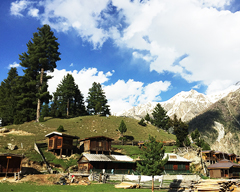 Meeting the Mammoth Part I: Trekking Up to Fairy Meadows
(July 05, 2016)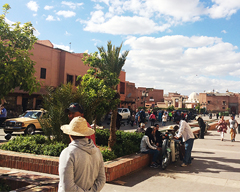 Marrakech Part II: A Walk through the Moorish and French Eras
(June 10, 2016)