Art Review: Noorjehan Bilgrami's 'Pathway to the Inner Sanctum'
Written by: Staff Report
Posted on: April 27, 2016 |

Comments | 中文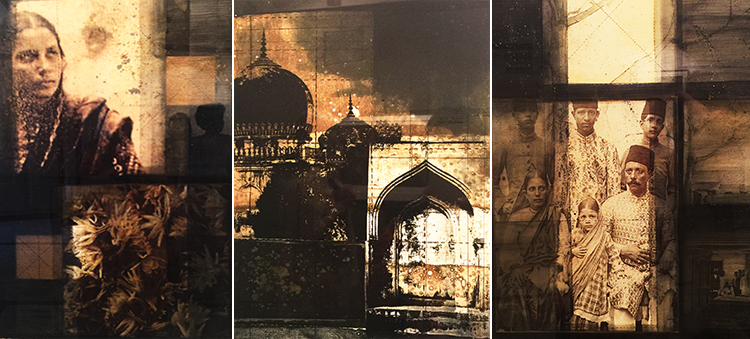 'Pathway to the Inner Sanctum' by Noorjehan Bilgrami
It was only a private showing of Noorjehan Bilgrami's recent art, as the gallery is closing down and this was the last exhibition to be held there. The decision to rid the residential areas of all commercial enterprises has its merits, but a more intelligent approach would have exempted institutions contributing to the nascent cultural life of the city.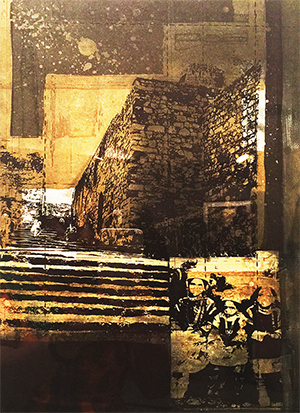 Noorjehan Bilgrami, better known for her work on textiles and as owner of the Koel gallery in Karachi, has explored and reconnected with her roots, resulting in a body of paintings described as Pathway to the Inner Sanctum. The inner sanctum is her childhood memories of Hyderabad Deccan, that veritable centre of a rich Muslim cultural heritage, rivaled only by Lucknow and Delhi.
The paintings are almost monochromatic, with shades of black and charcoal and occasional hues of lighter shades, almost like the stills of an old black and white movie. A haunting melancholia pervades the paintings, as everything appears frozen in time: the viewer is drawn through layers of arches, typical of Islamic architecture, but unlike a kaleidoscope, you are not sure what lies at the end. Some paintings are a collage of a woman or a group of men in fez (that became the vogue amongst the Muslims of India during and after the Khilafat Movement of the 1920s), against an abstract background or a part of a building, all unsmiling and posing for the camera. The massive but crumbling wall of the Golconda Fort makes its appearance in one painting, with a small fading collage of three children in a corner.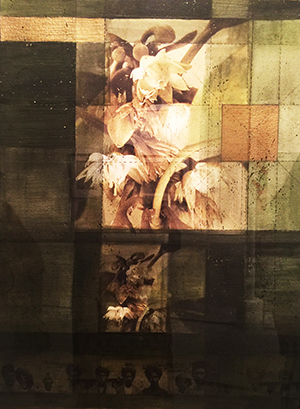 The Molsri tree or flowers make an intermittent appearance in the paintings, lightening up the mood. Noorjehan recalls that one day she found herself under a Molsri tree in Karachi, and its heavy scent transported her back to her childhood, where it was ever present in the house she grew up in, and they used to thread its small flowers.
Pathway to the Inner Sanctum is a lyrical but gentle ode to a world that exists no more, and from where she was wrenched at the age of nine and brought to the concrete jungle of Karachi. She calls painting a self-indulgence for which she has to create time, but her skills as a painter, and the sensitivity with which she evokes the memory of a lost civilization, is a rare treat for viewers and a far cry from the emptiness of decorative art that might match the colour of your curtains.
You may also like: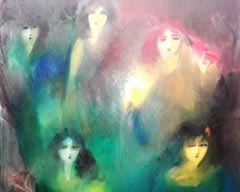 Art Review: Raja Changez Sultan at Tanzara Gallery
(January 19, 2018)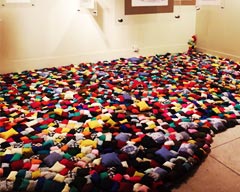 NCA Rawalpindi Degree Show 2017
(January 17, 2018)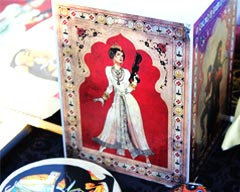 Winter Fete, Islamabad
(January 09, 2018)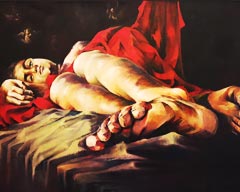 Review: 9th National Exhibition at PNCA
(January 02, 2018)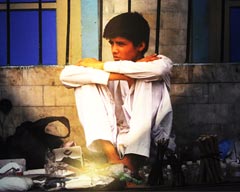 Yeh Hai Karachi 2: Photography and Film Exhibition
(December 20, 2017)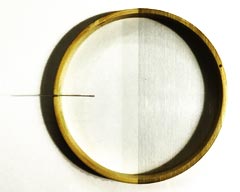 Art Review: Reading Between the Lines at Sanat Initiative, Karachi
(December 05, 2017)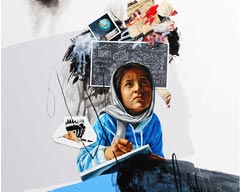 Art Review: The Onrushing 2 at Gallery 6, Islamabad
(December 04, 2017)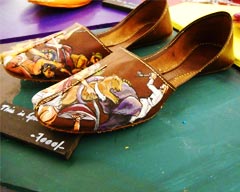 Daachi Arts and Crafts Exhibition 2017
(November 13, 2017)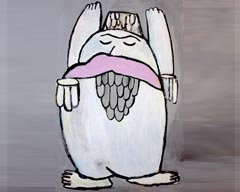 Art Review: 'Loompaland' at Studio Seven, Karachi
(November 09, 2017)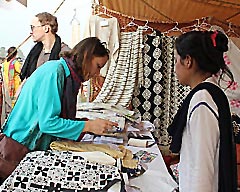 The Behbud Bazaar, Islamabad
(November 07, 2017)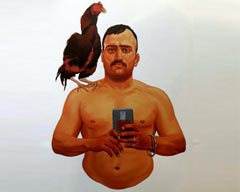 The Karachi Biennale 2017 (KB17)
(October 27, 2017)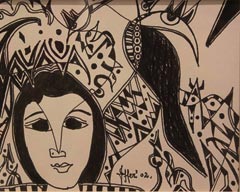 Wahab Jaffer Exhibition Opens at Tanzara Gallery, Islamabad
(October 20, 2017)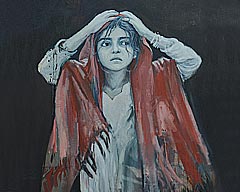 Art Review: Socio-Domestic at O Art Space, Lahore
(October 11, 2017)