Bayanbulak: The Beautiful Homeland of Swans
Written by: Feng Yang
Posted on: August 18, 2017 |

Comments | 中文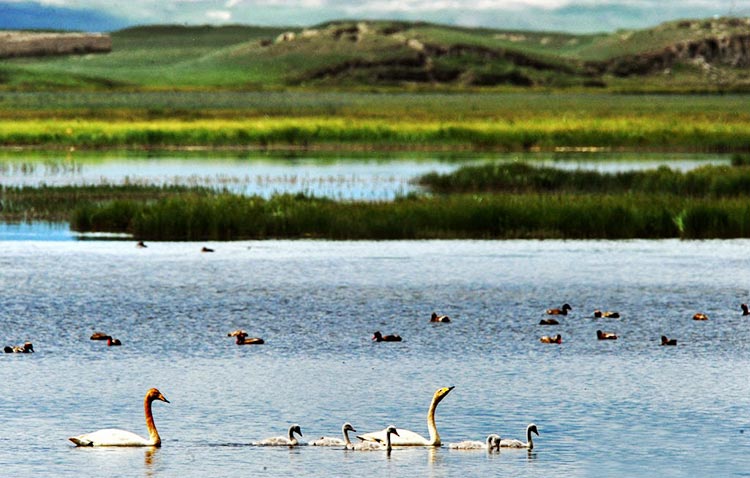 Swan Lake, Bayanbulak (source: hina-Tours-Online)
In Hejing County, Bayingoleng Mongolian Autonomous Prefecture of Xinjiang, in the basin of the middle Tianshan Mountains lies a "Shangri-la" of natural beauty. Legend has it that the Mongol Torghuts migrated eastward by going downstream the Volga River in 18th century. Hidden in the mountains and valleys, this enchanting river that winds down like a dancing ribbon leads to the charming "Swan Lake." Endowed with a vast grassland, surrounded by snow-capped mountains, each year when spring comes, thousands of wild swans as well as other rare birds travel long distances to inhabit Bayanbulak, making it a world-famous "homeland of swans," and a "paradise for birds."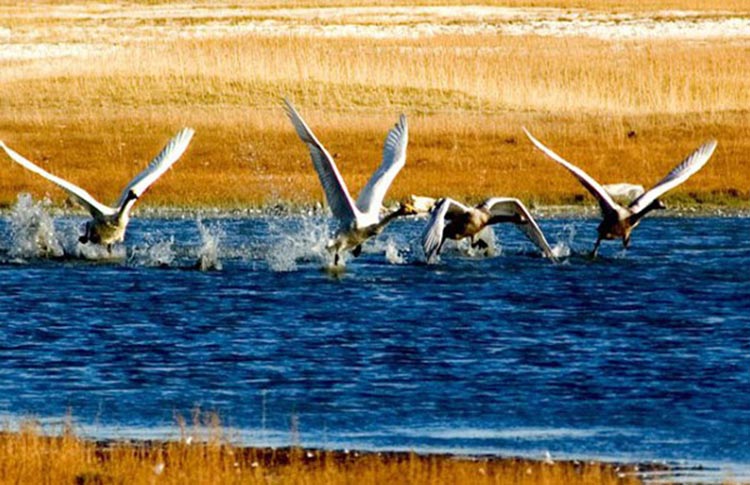 Swans at Swan Lake (source: The Silk Road China)
Bayanbulak grassland is vast and flat, and covered by abundant water resources and vegetation. With an altitude of about 2500m, not only is it the most beautiful and fertile summer pasture of South Xinjiang, it is the second biggest grassland in China after Ordos - the alpine pasture. The grassland is an important part of Bayanbulak ecosystem, as well as the green ecological barrier of South Xinjiang. Moreover, animals, considered the spirits of nature, reflect the ecological conditions of the area through their choices. The swan's preference of Bayanbulak is guaranteed by the natural conditions as well as the efficient ecological protection of the local area.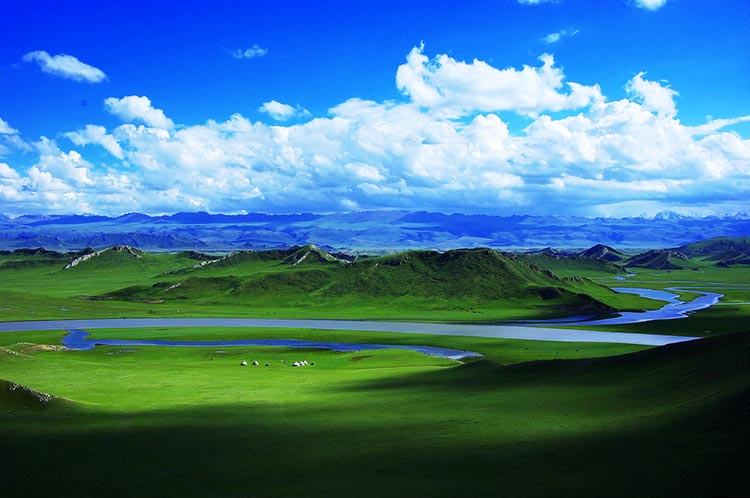 Bayanbulak-Grassland (source: TravelChinaWith.Me)
Bayanbulak grassland is also known as a wetland. In Mongolian, "Bayanbulak" means "abundant water resources and springs." True to its name, Bayanbulak has sufficient glacier and snow water due to the surrounding snow peaks. The abundant rain and thousands of springs give birth to an enormous amount of marshes and lakes, a great variety of plants, and a favorable natural ecology. The fertile land has led to multiplication of birds and wild life inhabitants, with the grassland acting as the biggest swan nature reserve in Asia and the only one in China. The huge snow-capped Tianshan Mountains form a natural barrier for the swan lake.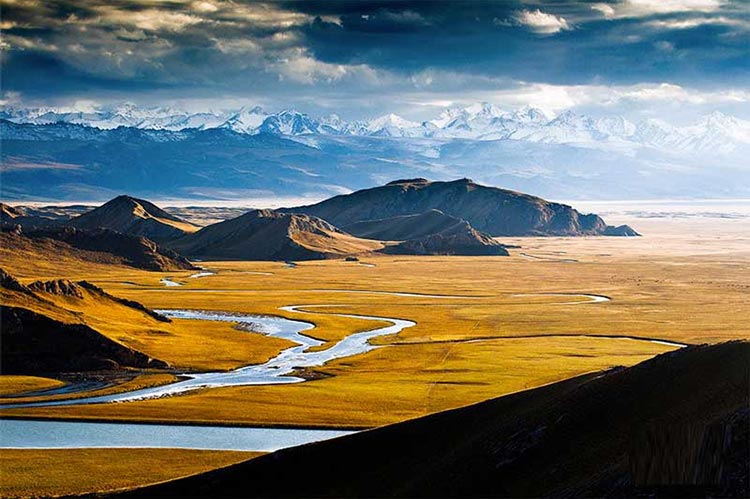 Swan Lake (source: FarWestChina)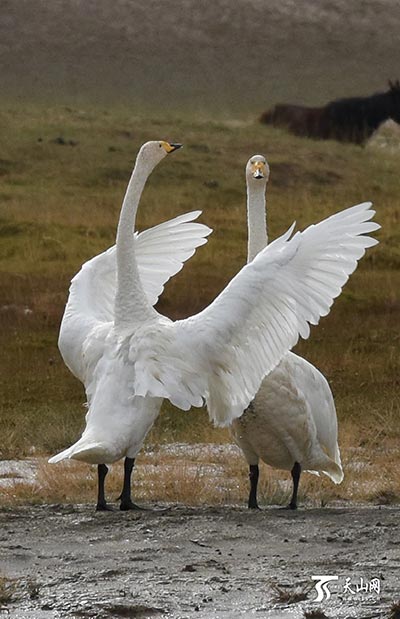 Swans at Swan Lake (source: CCTV)
Every year when the snow melts and flowers bloom, thousands of swans and other migrant birds fly from India and Africa to inhabit and multiply in this place. Sometimes they rest; sometimes they fly, bringing much vitality when they finally arrive. The harmonious coexistence of human and swan can be observed everywhere in Bayanbulak.
Everything is seemingly organized in a fixed pattern: every year when herdsmen move to the summer pastures, swans migrate to this place and breed their offspring. The herdsmen welcome swans while swans see them off with their beautiful songs. The cycle carries on each year.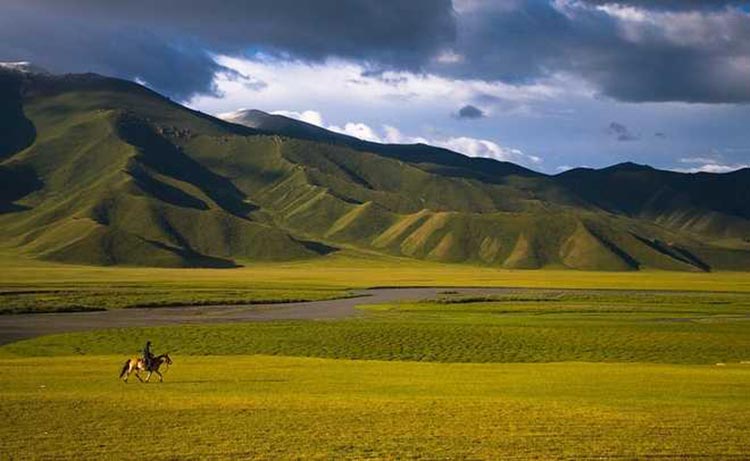 Bayanbulak Grassland (source: Sino-Us)
In 1986, Bayanbulak became a national Nature Reserve; in 2000, it was listed as a major national wetland; in 2003, Tianshan Mountains was successfully ratified by the UNESCO as a World Natural Heritage. Bayanbulak, as one of the four key areas of the Tianshan Mountains, was also ratified as a World Heritage Site with its subalpine meadow wetland ecosystem and its typical marsh sceneries. All these titles are achievements for the people who strive for its environmental protection. On 4th November 2016, China National Tourism Administration authorized Bayanbulak as a 5A tourist attraction. Xinjiang now has 11 national 5A tourist attractions, ranking No.1 in West China and No. 4 in the entire country.
In recent years, with the Bayanbulak wetland becoming increasingly famous at home and abroad, the number of visitors and tourists who come from all over the world has also grown. In order to meet the need for development in the new era and to protect its ecological environment, the local government has initiated a grassland ecological environment protection project. In Aug. 2016, the People's Government of Xinjiang approved an act titled "Bayanbulak Grassland Ecological Environment Protection," which provides sufficient legislative authority and policies for the ecological environment protection of Bayanbulak.
To keep our planet in its original natural form, and to make sure Bayanbulak stays a haven for all – that is the agreement reached by swans, herdsmen, and Bayanbulak itself.
Translated by Zhu Siyu
You may also like: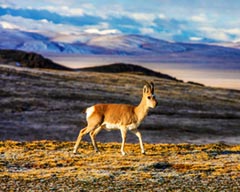 Hoh Xil: Kingdom of Wild Animals
(January 18, 2018)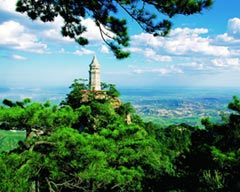 Panshan Mountain of Ji County
(January 11, 2018)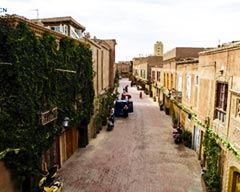 Stories from the Old Town of Kashgar
(January 04, 2018)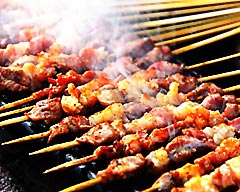 International Cuisine in Urumqi
(December 27, 2017)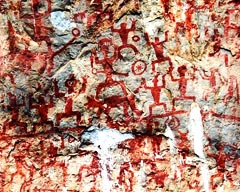 Zuojiang Huashan Rock Paintings, Guangxi
(December 19, 2017)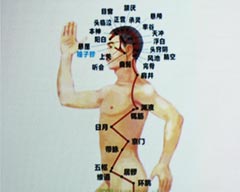 Seminar on Chinese Outlook on Life and Contemporary Value of Chinese Medicine
(December 15, 2017)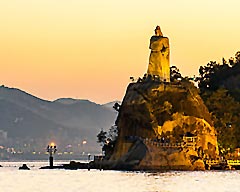 Gulangyu Island: The Island of Music
(December 13, 2017)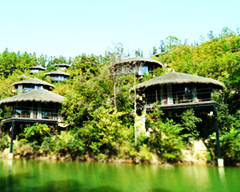 Mogan Mountain Farm Villas
(December 06, 2017)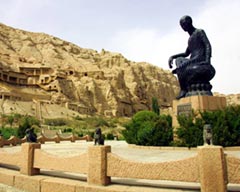 Kuqa: The Old Town on the Silk Road
(November 29, 2017)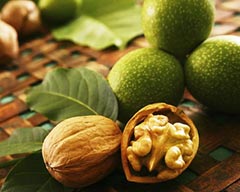 The Walnut Trees of Xinjiang
(November 23, 2017)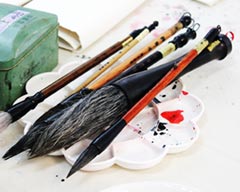 Chinese Ink-Wash Painting at China Cultural Centre, PNCA
(November 23, 2017)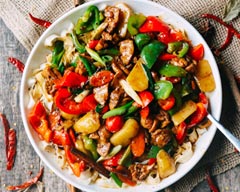 Famous Xinjiang Delicacy: Big-Plate Chicken
(November 16, 2017)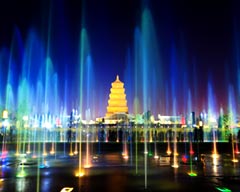 Shaanxi: New Glories on the Silk Road
(November 08, 2017)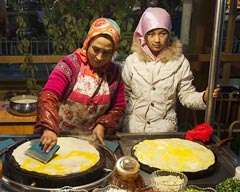 The Bustling Moyu Night Market
(November 01, 2017)