Boat Basin Food Street, Karachi
Written by: Abdul Hadi Anwar Lari
Posted on: August 25, 2017 |

Comments | 中文 (Chinese)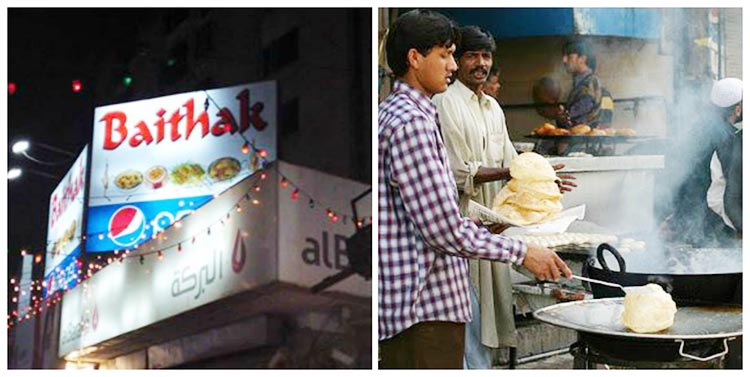 Baithak Restaurant in Boat Basin Food Street, Karachi (source: Brandsynario)
From far away, a spectrum of gleaming luminosities; on close proximity, steam blowing from the barbeque stands, a legion of waiters scurrying around prospective customers, an atmosphere of sheer glee, hustle and bustle. A plethora of eateries for foodies to choose from is how one would associate with Boat Basin at night, but that is not how people like me – regular students enduring a life fraught with hectic exams – would remember it. Sitting on charpais, sipping sweet refreshing lassi, along with hot and steamy halwa puris – taking a break from the daunting horrors of school, college or university is how we recall it.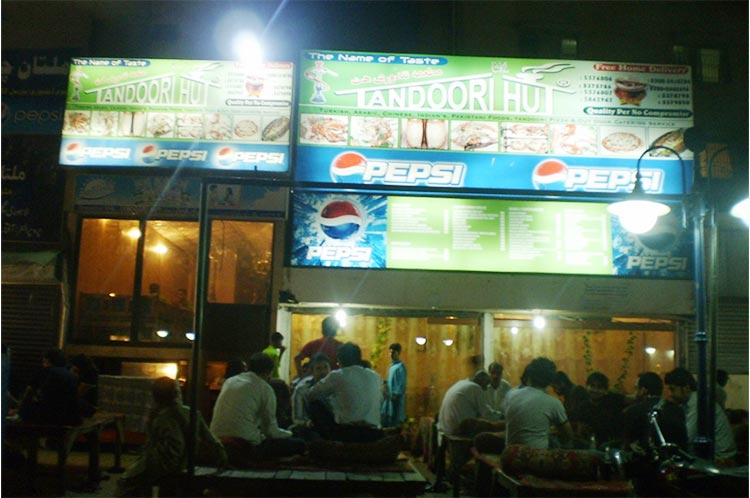 Tandoor Hut (source: EatingOutKarachi)
Nonetheless, whether for teenagers, adults, children, family or friends, Boat Basin's restaurants, with their affordable prices and 24/7 availability, make it a favorite spot to hangout and eat, among the multitudes of other such places in Karachi. For the regular visitors, it would be iniquity to not have devoured the greasy, crispy puriyan at Baithak, the tantalizing tikkay and behari kebab, laden with spicy and fiery tang at Tandoori Hut or Thali Inn, the traditional old is gold Hanifia-styled burgers, or the brain freezing marvelous ice creams of Baloch Ice Cream Parlor.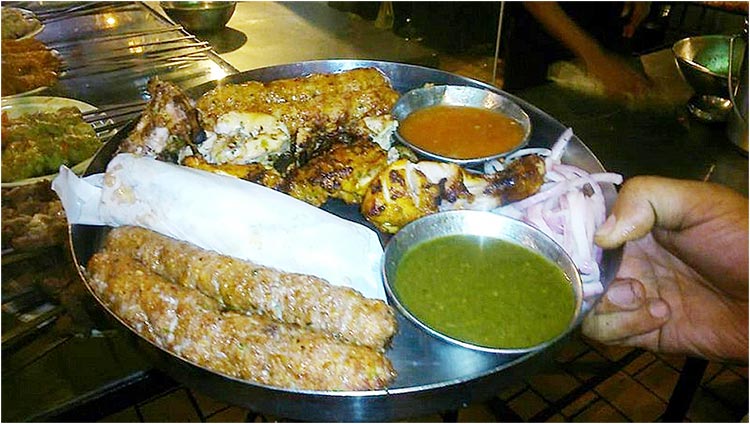 The scrumptious food from Thali Inn (source: Thali Inn)
It would be self-centered on my part to claim that these eateries constitute the entire Boat Basin Food Street experience; rather this is just the gist of it. There are innumerable other eateries waiting to be visited and relished. My personal favorites include Jan Broast and Mr Burger, which offer cheap and localized versions of KFC-style chicken pieces. One factor that distinguishes Boat Basin Food Street from other food hubs is the versatile and varied cuisine on offer (Afghani, Chinese and Italian, among others). Moreover, conventional food centers like KFC, Burger King and OPTP (One Potato Two Potato) are also present. Another critical feature to be found here is that most of the food, especially barbeque and desi items, are cooked and served in the open air - in accordance with the customers' requirements and needs. It is no surprise that this factor is one of the many reasons why foodies yearn to eat here. Furthermore, in the holy month of Ramadan, the Boat Basin Food Street is without doubt an ideal place to have 'sehri' and 'iftar,' since it is open to customers all the time.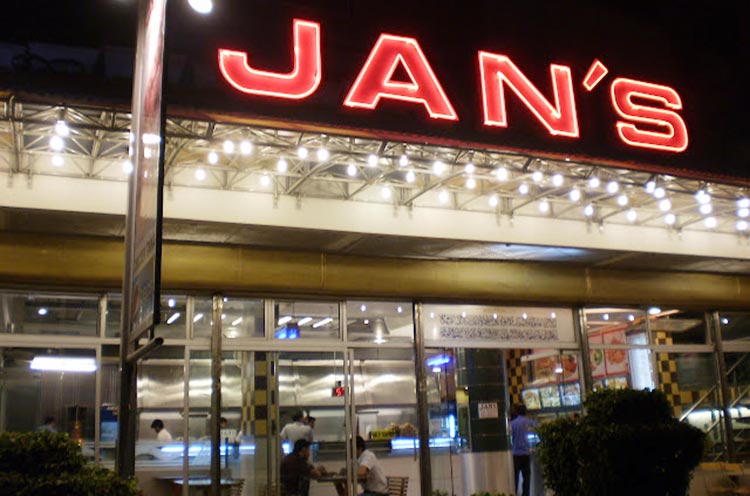 Jan's Broast (source: DhaToday)
To sum it up, imagine yourself sitting cross-legged on a takht. The cold sea breeze whooshes around you, in perfect cohesion with the upbeat atmosphere and countering the intolerable Karachi heat. Having a legion of restaurants to choose from, you take your time deciding your order. Then you comfortably lean back on the cushion while waiting for the waiter to return with steamy hot plates of karahi and nihari along with scrumptious naans and parathas. In the meanwhile, your eyes relish the sight of the same food items being cooked in front of you.
As Anna Thomas, a screenwriter, once said, "We all eat, and it would be a sad waste of opportunity to eat badly." Thus one should relish consuming good food, and I guarantee you that the experience of Boat Basin's Food Street is truly one of a kind.
You may also like: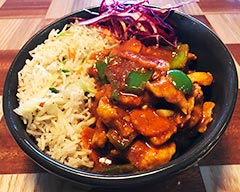 Wok Fusion Café
(October 09, 2017)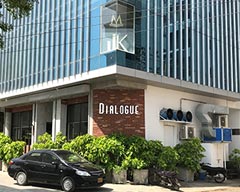 Food Review: Dialogue Restaurant, Karachi
(September 29, 2017)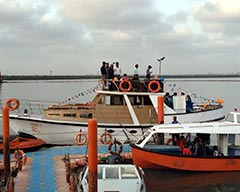 Savor Boating and Restaurant: A Unique Experience
(September 08, 2017)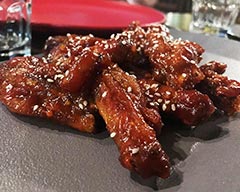 Food Review: #EAT, Islamabad
(August 11, 2017)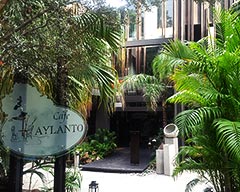 Food Review: Café Aylanto, Islamabad
(August 04, 2017)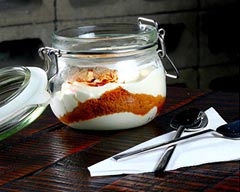 Food Review: Soi Asian Bistro, Karachi
(July 28, 2017)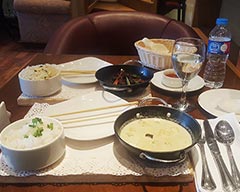 Food Review: The Chinese Café
(July 21, 2017)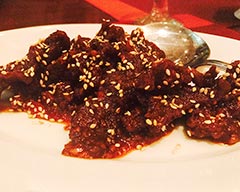 Food Review: Yum Chinese and Thai Restaurant
(July 14, 2017)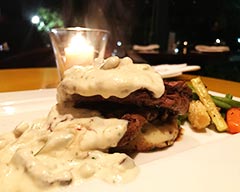 Food Review: English Tea House, Islamabad
(June 23, 2017)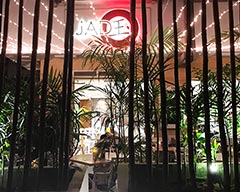 Food Review: Jade Café by ChinaTown, Islamabad
(May 19, 2017)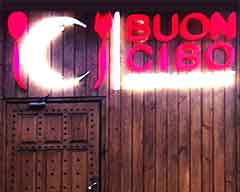 Food Review: 'Buon Cibo' - A Treat for the Taste Buds!
(May 05, 2017)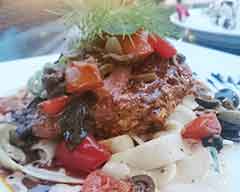 Food Review: Meraki
(April 28, 2017)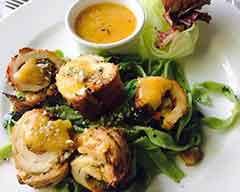 Food Review: Wild Thyme - A Taste of Hunza!
(April 21, 2017)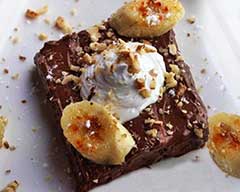 Food Review: 'Cosmopolitan', a Café with a Message
(April 07, 2017)