Chinese Cultural Influence on International Fashion
Written by: Su Xin
Posted on: September 14, 2017 |

Comments | 中文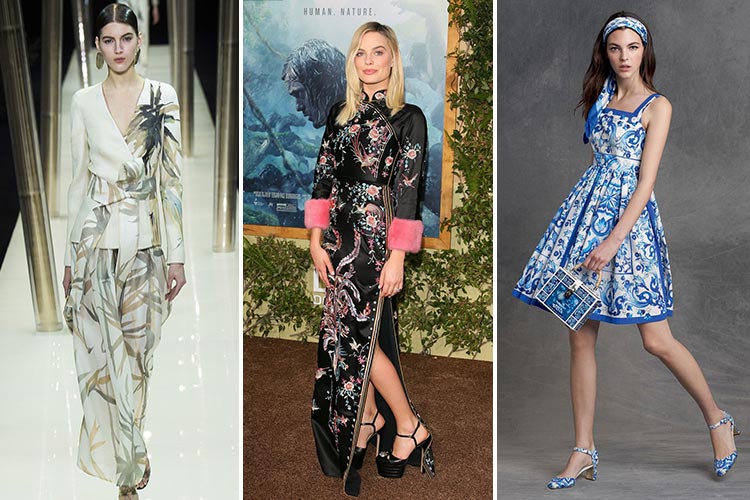 (L) Armani Prive Couture Spring 2015 (source: Vogue), (C) Margot Robbie at the Legend of Tarzan Premiere, London, 2016 (source: HawtCelebs), (R) Dolce and Gabbana Pre-Fall 2015 (source: Pinimg)
At the London premiere of The Legend of Tarzan (2016), Margot Robbie, the female lead of the film, stole the show with her stunning Gucci Cheongsam featuring Chinese embroidery.
In recent years, Chinese features have had a great impact on international fashion as wash paintings, Chinese characters, insects and flowers appear in big collections, employed in garments for both men and women, due to their artistic charm.
Chinese features such as the traditional Chinese garment 'Cheongsam', totems of dragon and phoenix, as well as paper cutting are sources of inspiration for designs which often amaze the fashion world and initiate new trends. The Dolce and Gabbana Pre-Fall Collection 2015 featured elegant and graceful dresses with patterns of blue and white Chinese porcelain. Plants from Chinese imagery, especially bamboo culture, were the theme of the Armani Spring/Summer 2015 collection, receiving widespread acclaim. Embroidery appeared in the Gucci Spring/Summer 2017 men's suits, with symmetrical dragon heads and simple but elegant flowers.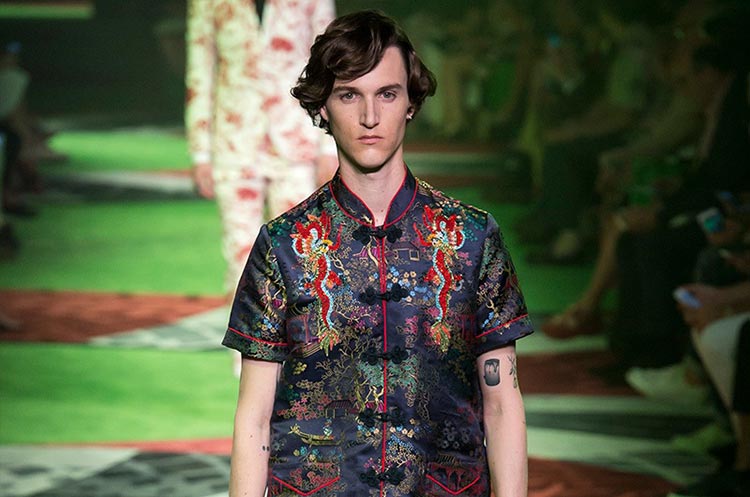 Gucci Spring Summer Men 2017 (source: Pinimg)
As major fashion brands in Europe and North America get inspired by Chinese features, there has been rapid growth in native brands of China. The Chinese culture remains the local designers' inexhaustible source of inspiration.
Ms. Peng Liyuan, China's first lady, impressed the international community on her debut, by wearing fashion designer Ma Ke's collections. Due to her, local brands such as Exception de Mixmind and Wuyong have become widely known. Moreover?more people are now attentive to Chinese brands and design since Peng Liyuan's graceful and dignified clothing is marked with Chinese features and she successfully utilizes her taste in fashion to display Chinese designs. As a result at Spring/Summer 2017 Milan Fashion Show, Ricostru, the first brand of Chinese women's garments which Giorgio Armani supports, released its collection. Earlier, during the 2017 London Fashion Scout Show, Chinese designers Chen Anqi, Su Renli, Li Xiao and Chen Xuzhi showcased their collections.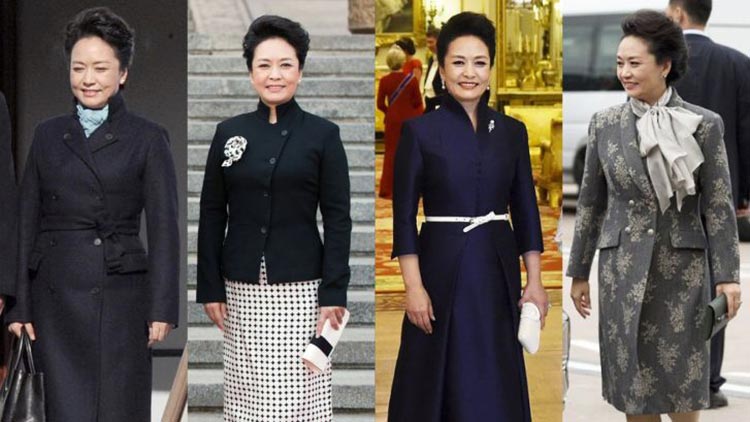 Peng Liyuan in outfits designed by Ma Ke (source: Getty Images and CNN)
Refined embroidery, a time-honored and exquisitely aesthetic craftsmanship, is utilized in the new collections of Fiyta watches this year. Patterns on the watches dial are based on classic Chinese cultural images, such as magpie muttering, butterfly loving flower, brisk cicada and fish playing. Embroidered by Zhao Hongyu, a well-known embroidery artist and inheritor of China's intangible cultural heritage, they are beautiful beyond description.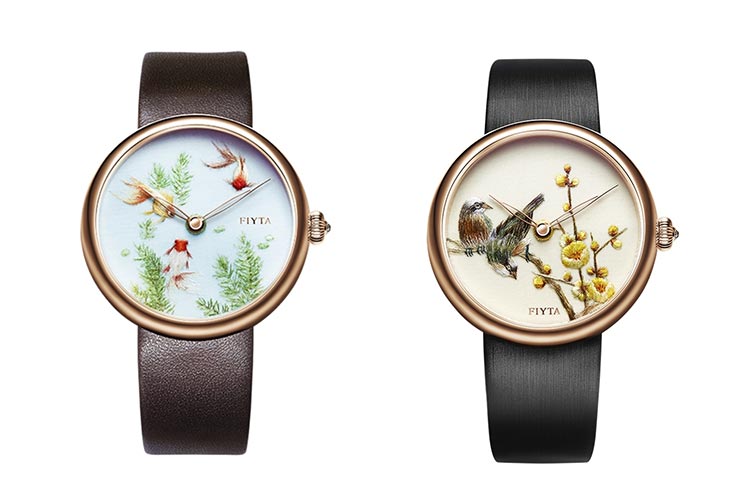 Fiyta Watches (source: Kenzo2016)
The first Chinese women's shoes brand which launched in the international market, Sheme, has remained quite proud of its use of Shu brocade on high heels. In May 2011, the world watched as a pair of Sheme shoes, rich in Sichuan features, was gifted to Cherie Blair, former first lady of U.K. Similarly, at the grand "China Night 2014," celebrating the 50th anniversary of China-France diplomacy, Sheme shoes were presented to President De Gaulle's granddaughter as an official gift.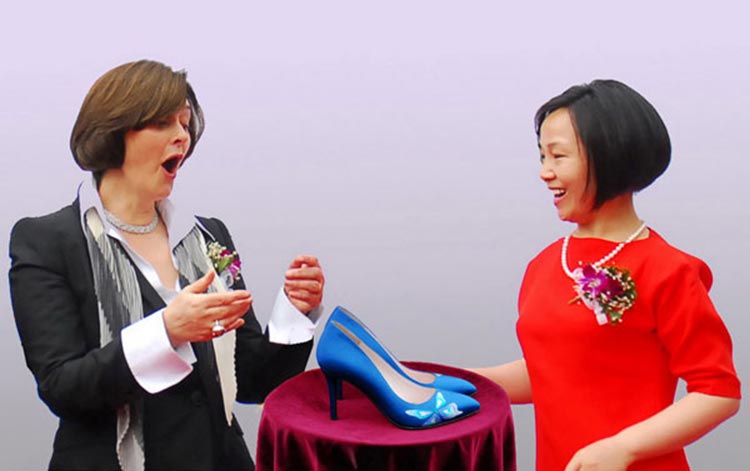 Cherie Blair recieving Sheme shoes (source: art.ifeng)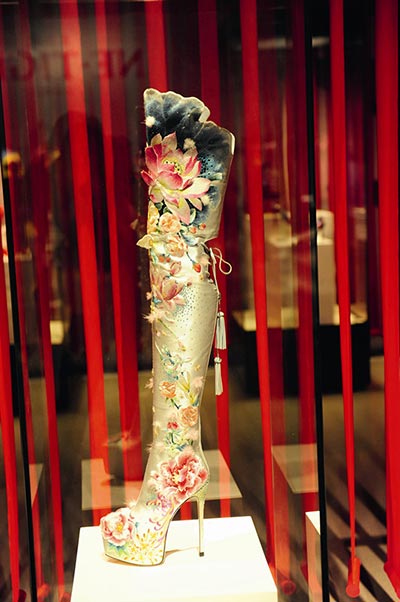 Butterflys and Blossoms Collection by Sheme 2014 (source: WomenofChina)
The customized Sheme collection presents shoes with beautiful elements taken from the traditional Chinese cheongsam, such as knots and blooming peony. Chinese culture brings endless inspiration to designers, and thus the theme of Sheme Autumn/ Winter 2016 collection, was inspired by the wonderful image of a pair of mandarin ducks flying as described in Shi Jing (The Chinese Book of Songs, a canonical collection of ancient Chinese poetry). In "Peonies in Bloom," one of Sheme's earlier masterpieces, fully bloomed peonies were embroidered on the shoes. Since good techniques are core to spreading good ideas, the workers at Sheme workshop are very skilled in shoe making. Thanks to their 10-odd years of practice, they are able to masterfully execute the designers' ideas.
While Chinese styles sweep the global fashion industry, with a growing impact, Chinese brands with local features will also enjoy increasing recognition around the world. Ancient techniques and time-honored Chinese culture, simply add to international fashion, in a highly unique manner.
Translated by Shan Xuemei
You may also like: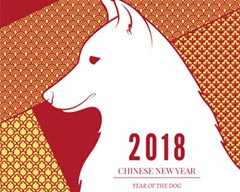 Significance of the Year of the Dog in Chinese Astrology
(February 16, 2018)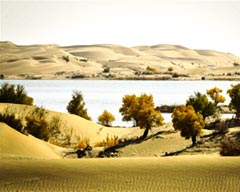 The Restoration of Taitema Lake
(February 13, 2018)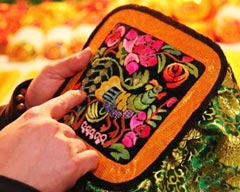 Female Embroiderers of Xinjiang
(February 08, 2018)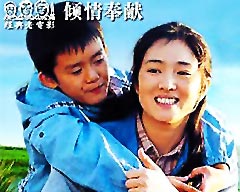 Chinese Film Month begins in Islamabad
(February 08, 2018)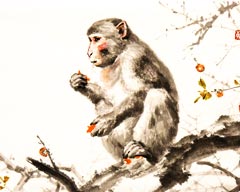 The Monkey in Chinese Culture
(January 31, 2018)
Etles Silk from Tianshan at China Fashion Week
(January 24, 2018)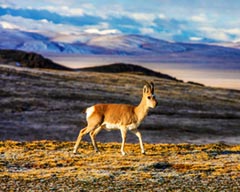 Hoh Xil: Kingdom of Wild Animals
(January 18, 2018)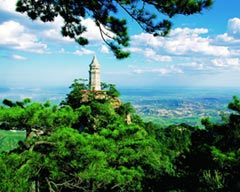 Panshan Mountain of Ji County
(January 11, 2018)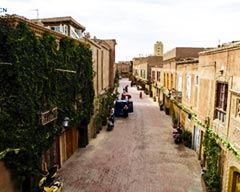 Stories from the Old Town of Kashgar
(January 04, 2018)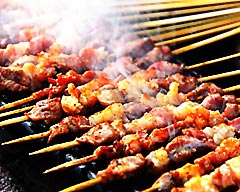 International Cuisine in Urumqi
(December 27, 2017)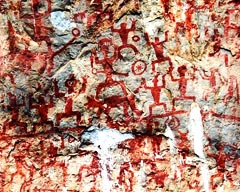 Zuojiang Huashan Rock Paintings, Guangxi
(December 19, 2017)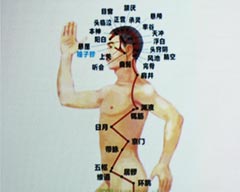 Seminar on Chinese Outlook on Life and Contemporary Value of Chinese Medicine
(December 15, 2017)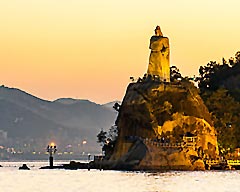 Gulangyu Island: The Island of Music
(December 13, 2017)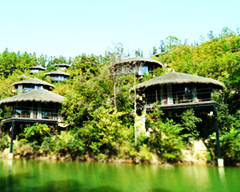 Mogan Mountain Farm Villas
(December 06, 2017)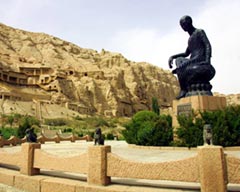 Kuqa: The Old Town on the Silk Road
(November 29, 2017)