Food Review: #EAT, Islamabad
Written by: Syed Hashir Ali
Posted on: August 11, 2017 |

Comments | 中文 (Chinese)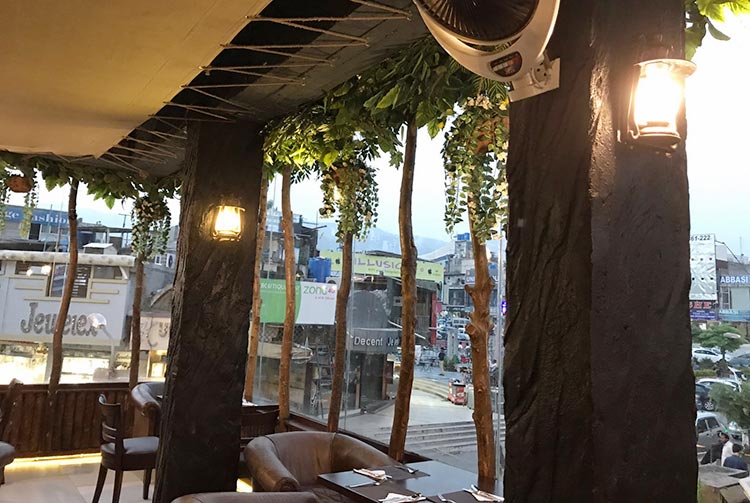 #EAT, Islamabad
In the heart of Islamabad, a new eatery by the name of '#EAT' has opened. Serving both Continental and Pan-Asian cuisine, the restaurant is quickly becoming the talk of the town. If online buzz is to be believed, this is one place worth checking out, and so we decided to pay it a visit.
Situated near Gol Market, F-7 Markaz, the shopping hub of the city, #EAT appears to be a nice place to flee to, after a tiring shopping spree. The catchy signboard is a bold yellow '#EAT' on a black background. Visible from far away, it acts as a reminder of your basic need to eat, each time you pass it by. The exterior isn't very attractive, since the eatery is located on the first floor of a shopping plaza, and doesn't have its own building.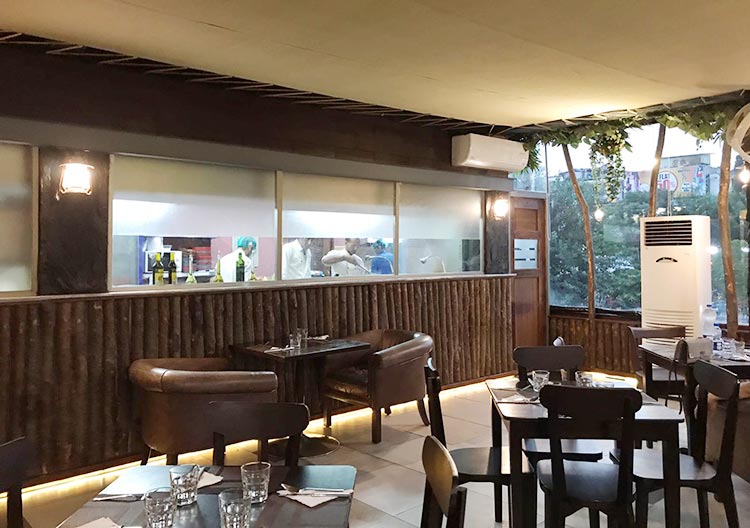 Open Kitchen
The interior is fairly well-detailed and based on the overall theme of a Thai Jungle. The pillars, which support the canvas covered roof, are decorated to appear as tree-trunks. Lanterns with bright bulbs hang from every pillar. Artificial leaves, bamboo sticks and plants are placed around the walls, as well as on the ceiling. Instead of having walls, two sides of the restaurant have wide windows, which gives a sense of space. The most impressive feature of the design, however, is the open kitchen, which enables customers to see their meals being prepared.
Unfortunately, one corner of the restaurant is nonsensically different from the rest. A congested segment, with the walls painted a dull shade of maroon, and quotes from motivational leaders pasted on the walls, there seems to be no point to this area. Moreover, the chairs are also disappointing in terms of comfort, and my advice would be to opt for the comfortable sofas placed near the windows. From here, one can enjoy a nice view of the Gol Market while eating. Overall, the informal café like ambiance of the restaurant is rare amongst the city's Pan-Asian eateries.
The menu at #EAT proudly displays a variety of food, ranging from Chinese and Thai dishes to Sandwiches and Continental main courses. However, it doesn't feature any desserts, which is a little disappointing.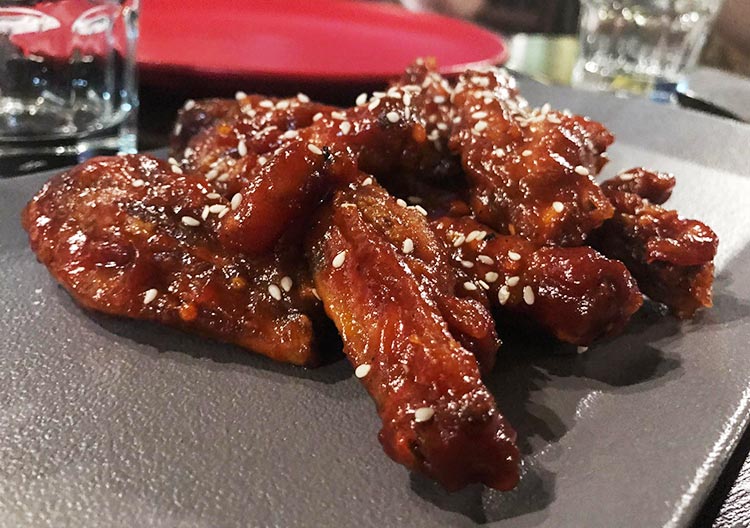 Spicy Chicken Wings
In appetizers, we enjoyed the Spicy Chicken Wings, priced at PKR 395. A set of 8 honey glazed wings, these were a juicy blend of sweet and spicy, and we were pleased with our choice. We also tried the Rice Cheese Balls, another delicious entrée created out of a decent combination of rice, cheese and spinach. However, this item, priced at PKR 375, only has 4 pieces, which is rather disappointing since we really wanted to have more. Thus, while we enjoyed the delectable appetizers, the quantity left something to be desired.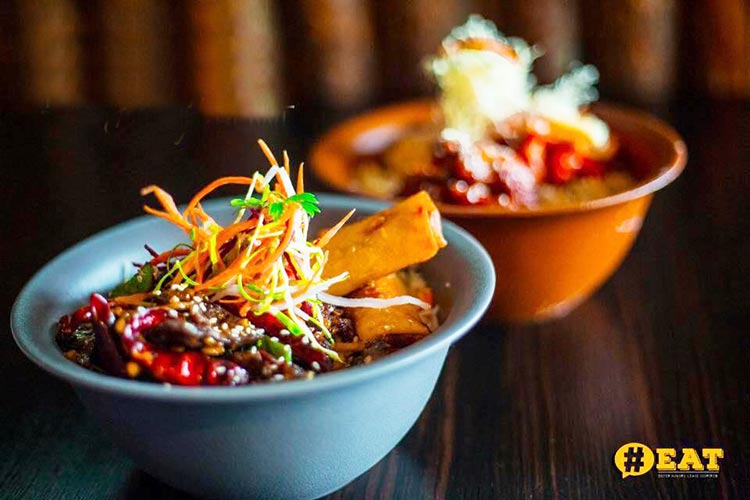 The Beef Bowl
In the mains, we ordered the beef bowl, priced at PKR 625. We chose the Beef in Oyster Sauce to be served with rice. It had a unique taste, healthy ratio of meat and rice, and overall a good serving size which left us sated. Additionally, we ordered the club sandwich. Priced at PKR 425, I would not recommend this to anyone. It consisted of some inadequately seasoned chicken, eggs and salad, stuffed between two bland and untoasted slices of bread. Perhaps, it will be advisable if the restaurant sticks to serving only Pan-Asian cuisine.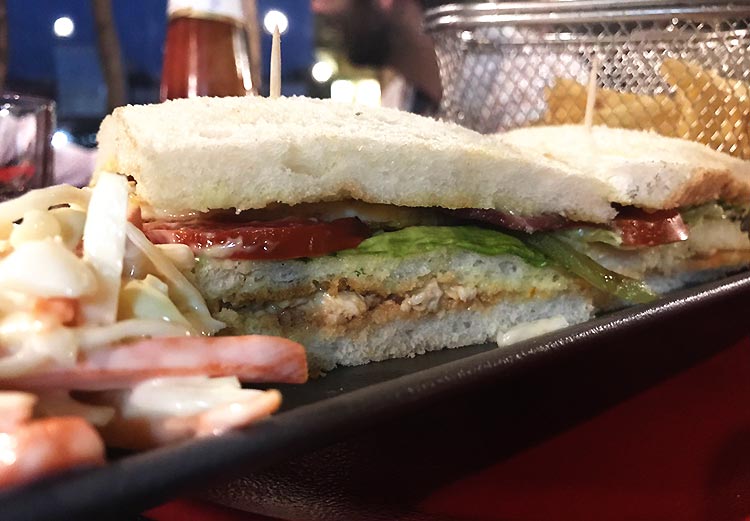 Club Sandwich
As refreshment, we tried the mint margarita and the lemonade. Although the mint margarita was too sweet for my liking, the lemonade was one of the most refreshing ones I have ever had.
We also had concerns regarding the service which isn't the best. The drinks we ordered, for example, arrived when we were done with our main courses, even though the restaurant wasn't very crowded.
Overall, #EAT should be tried as a new addition to the Pan-Asian restaurants of Islamabad. As compared to other similar places, the eatery is reasonably priced and won't put a serious dent in your wallet. While there is much that can be improved, #EAT has the potential to become a fairly good restaurant given time and effort.
You may also like: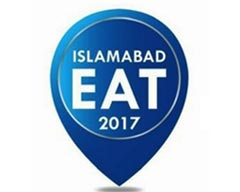 Islamabad Eat 2017: Don't Speak, Just Eat
(November 14, 2017)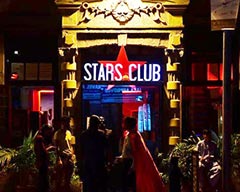 Stars Club: Karachi welcomes its first film-themed café
(November 06, 2017)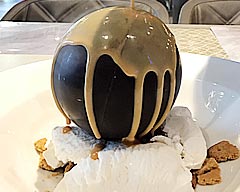 Food Review: Browns, Islamabad
(October 19, 2017)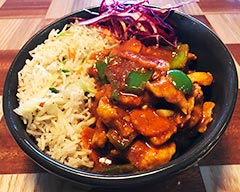 Wok Fusion Café
(October 09, 2017)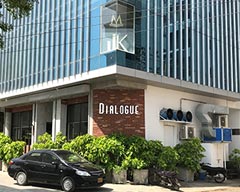 Food Review: Dialogue Restaurant, Karachi
(September 29, 2017)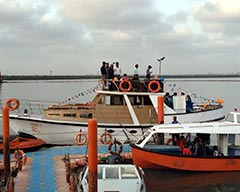 Savor Boating and Restaurant: A Unique Experience
(September 08, 2017)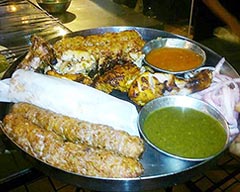 Boat Basin Food Street, Karachi
(August 25, 2017)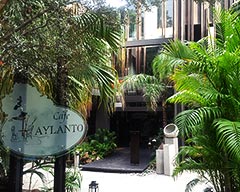 Food Review: Café Aylanto, Islamabad
(August 04, 2017)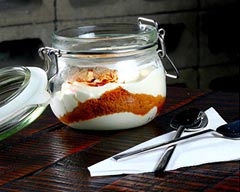 Food Review: Soi Asian Bistro, Karachi
(July 28, 2017)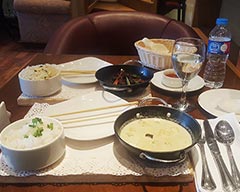 Food Review: The Chinese Café
(July 21, 2017)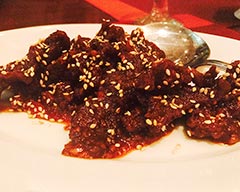 Food Review: Yum Chinese and Thai Restaurant
(July 14, 2017)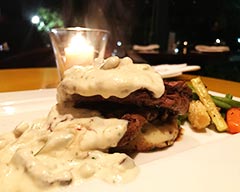 Food Review: English Tea House, Islamabad
(June 23, 2017)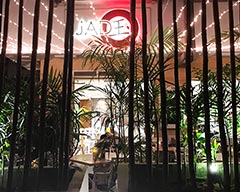 Food Review: Jade Café by ChinaTown, Islamabad
(May 19, 2017)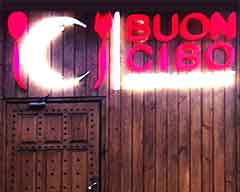 Food Review: 'Buon Cibo' - A Treat for the Taste Buds!
(May 05, 2017)