Farewell to Professor Zhou Rong
Written by: Youlin Editorial Department
Posted on: April 15, 2014 |

Comments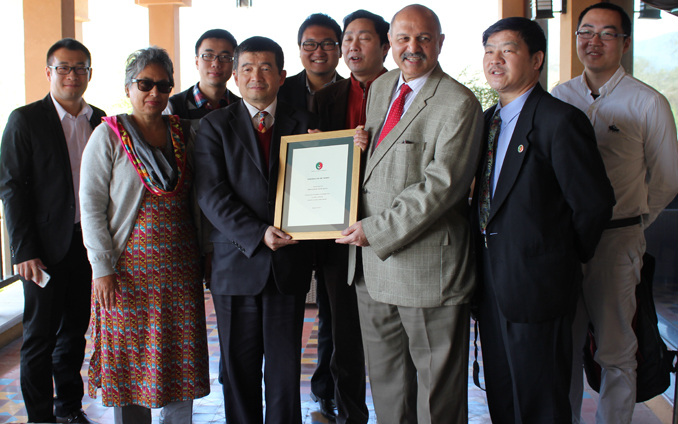 Senator Mushahid and Dr Dushka H. Saiyid (Editor Youlin) presenting Prof. Zhou with a Certificate of Merit
The Pakistan-China Institute recently hosted a farewell lunch for Professor Zhou Rong in Islamabad. Professor Zhou was the Chief Correspondent of the Guangming Daily in Pakistan, in addition to being one of the sincerest and staunchest supporters of the Sino-Pak friendship. Also present at the event were Dr. Dushka H. Saiyid, Editor Youlin Islamabad, and several members of the Chinese media based in Pakistan, including Mr. He Bin (succeeding Chief Correspondent of Guangming Daily) Mr. Zhang Qi (Bureau Chief Xinhua News Agency), Mr. Wang Qi (Bureau Chief China Radio International), Mr. Liang Hui (Bureau Chief CCTV), Mr. Qing Shengrui (Senior Correspondent China Radio International), Mr. Yang Xun (Chief Correspondent People's Daily) and Mr. Huang Zongzhi (Correspondent Xinhua News Agency).
Professor Zhou Rong came to Pakistan in October, 2003. Initially, in addition to his journalistic work, he also served here as a visiting faculty member at various universities, including Peshawar University, Sindh University, Shah University in Sukkur and NUML in Islamabad. He is one of those people who believe that in order to truly understand a country and its people, it is essential to immerse oneself in their society. "This is important, so you understand the people and can form your opinion without any prejudice," he says.
In pursuit of this objective, he travelled through most of Pakistan, getting to know its provinces, its cities, its distant countryside, and even parts of the North and of Balochistan, the latter two being regions not traditionally frequented by foreigners; and in doing so, he developed a remarkable understanding of the country. From art to politics, languages to professions, rituals to prayers, religions to traditions and various ethnic groups of Pakistan, he is well-acquainted with almost everything. He came to comprehend that Pakistan is a complex society with multiple dimensions. "I've learned to trust my own knowledge and experience when I talk about Pakistan."
Once he began to understand the country better, he says, he grew to see that it was "an affectionate and spectacularly hospitable country, a side which is barely acknowledged in the West." Talking in terms of pursuing research, he says, "You cannot comprehend South Asia and the Islamic world without understanding the multifaceted Pakistani society." He says he feels that Pakistan is full of love, harmony, warmth and allure, and he feels that though it may have been deprived of all this in return by other countries, its relationship with China is based on reciprocity and brotherhood. "We are comfortable living in Pakistan because the Pakistani people love and respect us and we realize that we are equal partners."
During his more than a decade's stay in Pakistan, Prof. Zhou has met with the country's eminent officials, including several Presidents and Heads of State, interacted regularly with students at the country's major universities, been invited frequently to speak at the seminars and conferences of most local think tanks as an authority on Pak-China relations, and has tirelessly pursued the cause of promoting people to people to relations between the two countries at all tiers, including the academia and the media. Moreover, he has emphatically supported Chinese learning in Pakistan and Urdu learning in China. "In order to have a better understanding of each other," he says, "we must pay attention to small things like culture, tradition, and language, to appreciate the other side; you must be able to read them."
An Honorary Fellow of the Pakistan-China Institute, Professor Zhou has been a special friend of PCI since its inception. He has participated regularly in all of PCI's academic as well as cultural activities, lending advice and proposals for enhanced bilateral cooperation. Most recently, he gave a free one week long course in Basic Chinese Language to PCI staff members.
On the occasion of the farewell, Senator Mushahid Hussain, Chairman of the Pakistan-China Institute, presented Professor Zhou with a Certificate of Merit proclaiming, 'Presented to Professor Zhou Rong for his Outstanding Contribution to the Cause of Pakistan-China Friendship.'
You may also like: