Film Review: Parchi
Written by: Momina Mindeel
Posted on: January 08, 2018 |

Comments | 中文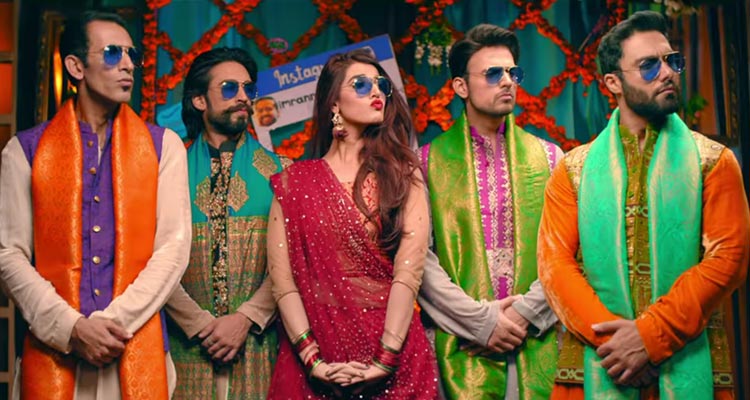 (L-R) Shafqat Khan as Bhola, Ali Rehman as Bash, Hareem Farooq as Eman, Usman Mukhtar as Bilal and Ahmed Ali Akbar as Saqlain
Directed by Azfar Jafri and produced by Imran Kazmi and Arif Lakhani, 2018's first highly anticipated comedy caper film, Parchi released nationwide on January 5th. With its engaging trailer, well-publicized song Billo Hai and exceptional choreography, Parchi was all set to take over Pakistani cinema after its release, except that it didn't. With its uneven pace, weak plot and average acting for the most part, Parchi turned out to be just a tad better than its preceding disaster; Rangreza.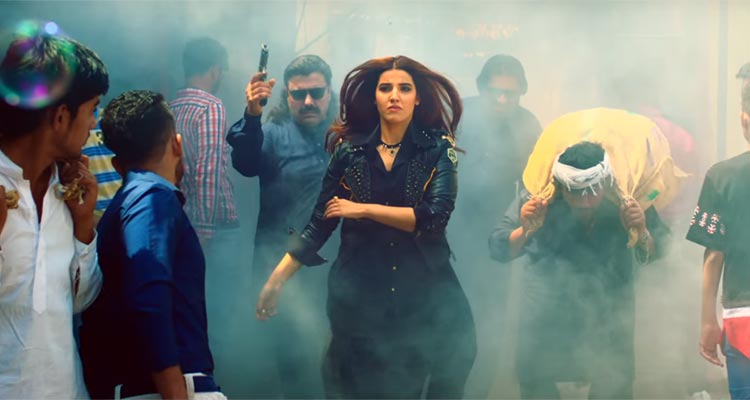 Hareem Farooq as Eman
Parchi revolves around four friends – Bash (Ali Rehman Khan), Bilal (Usman Mukhtar), Saqlain (Ahmed Ali Akbar) and Bhola (Shafqat Khan) - who share an apartment in a relatively depressed area of Islamabad. Problems arise after Bash (Ali Rehman Khan), receives a parchi from a powerful local gangster Zodiac (Shafqat Cheema), demanding that he either pay 50 lakhs in 4 days or lose his life. In this quandary, the four friends seek Eman's (Hareem Farooq) help, a mysterious, thuggish yet bold woman who they find through a chaiwala in their vicinity. Eman joins their group and the rest of the story is a mish mash of their efforts to gather money and escape their doomed fate. Although every character has its own identity, unfortunately some characters including Eman and Saqlain aren't well-developed. While it is refreshing to see a woman in a role as intrepid as Hareem's, lack of adequate context on her thuggish background leaves the viewers feeling very confused.
(L-R) Hareem Farooq as Eman, Ahmed Ali Akbar as Saqlain, Ali Rehman Khan as Bash, Shafqat Khan as Bhola and Usman Mukhtar as Bilal
Although the movie is laced with clichéd jokes, and the transition from one sequence to another is uneven, there are a few genuinely great things that need to be highlighted. The chemistry between the two brothers, Bash and Bilal, is an honest reflection of a brotherly relationship, and the two put on stellar performances as far as their acting is concerned, with Usman Mukhtar outshining the main hero Ali Rehman Khan by a few points. The songs Imagine and Billo Hai are beautifully choreographed, and punctuated with some really witty moments. The overall cinematography is also commendable, and it is courageous of Azfar Jafri to experiment with a new genre that has not really been tried before in Pakistan. However, the good aspects get lost in the poorly written script and bumpy pace. Parchi is just one of those films that are easily forgotten on account of their mediocrity.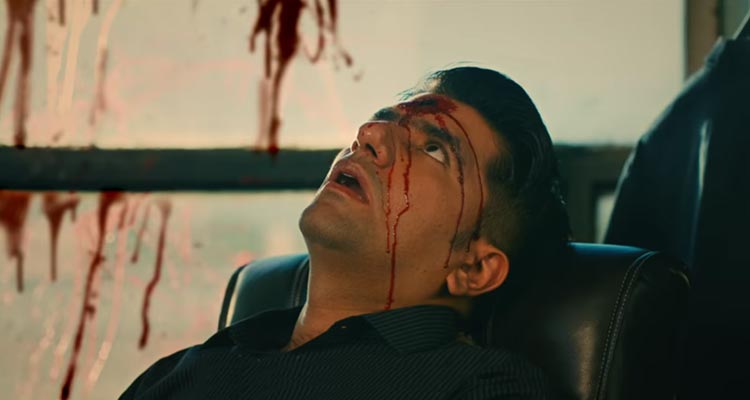 Bilal's boss is murdered
Coming to Faiza Saleem, who plays the role of Saqlain's lover's mother, the character was supposed to be gutsy and witty, but unfortunately, it was neither. Similarly, Shafqat Cheema as Zodiac, falls short of the characteristics a powerful antagonist is supposed to embody. Moreover, the romance between Eman and Bish is not only poorly developed, it also fails to evoke any feelings in the audience regarding what is one of the most important aspects of the plot. Amidst all this, another egregious aspect of the film needs to be highlighted. While the first half of the film moves ponderously, the second half is fast paced. Half of the audience loses its interest even before the movie reaches intermission, and consequently, the second half is overshadowed by its dull predecessor.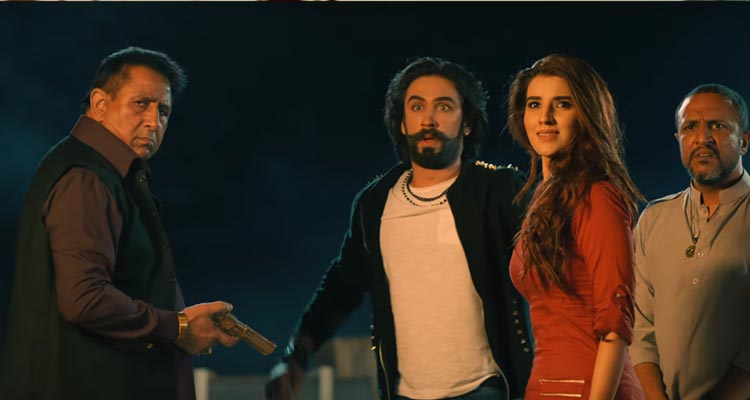 (L-R) Shafqat Cheema as Zodiac, Ali Rehman Khan as Bash, Hareem Farooq as Eman
All in all, I give the movie 3 out of 5 stars, mainly because trying out a new genre is a commendable feat in itself. Besides, Usman Mukhtar and Ali Rehman Khan succeeded in saving the movie from meeting Rangreza's fate with their laudable performances. The two, given the right opportunity, can definitely become Lollywood's next big names.
You may also like: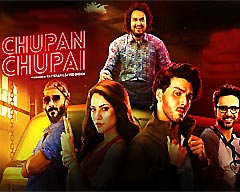 Film Review: Chupan Chupai - A Comedy of Literal Errors
(January 03, 2018)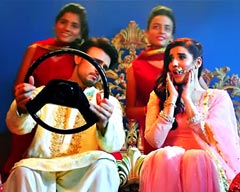 Parchi: Redefining Music Videos
(January 01, 2018)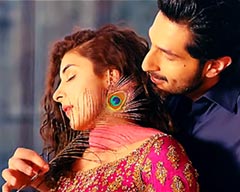 Film Review: Rangreza
(December 26, 2017)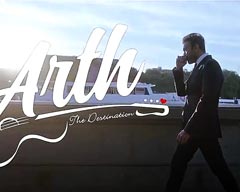 Film Review: Arth - The Destination
(December 22, 2017)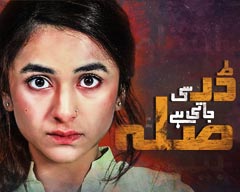 Drama Review: Dar Si Jati Hai Sila
(November 20, 2017)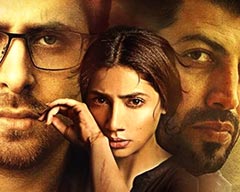 Film Review Verna: hell hath no fury as a woman scorned
(November 19, 2017)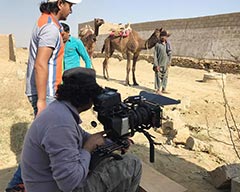 Farhan Alam: Director of 'Saawan', Pakistan's Nomination for the Oscars
(September 28, 2017)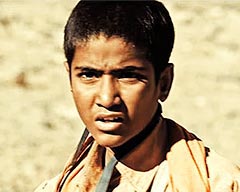 Film Review: Saawan
(September 19, 2017)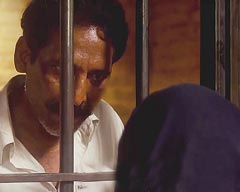 Film Review: My Pure Land
(September 18, 2017)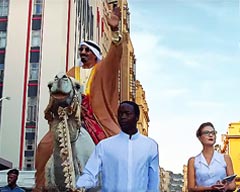 Film Review: Na Maloom Afraad 2 - Forgettable, If Not a Complete Failure
(September 05, 2017)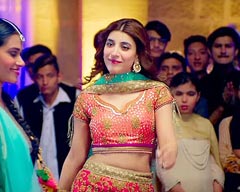 Film Review: Punjab Nahi Jaungi
(September 03, 2017)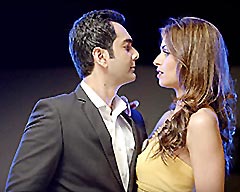 Film Review: 'Chain Aye Na,' - What true love is not!
(August 17, 2017)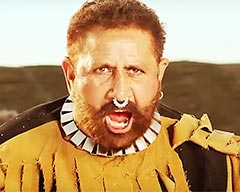 Film Review: Geo Sar Utha Kay
(August 15, 2017)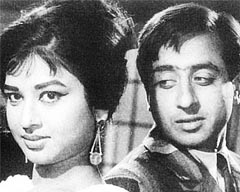 70 Years of Changing Tides in Pakistani Cinema
(August 01, 2017)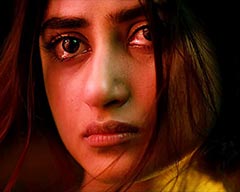 Film Review: Pakistani Actors Shine in 'Mom'
(July 17, 2017)