Parchi: Redefining Music Videos
Written by: Syed Abbas Hussain
Posted on: January 01, 2018 |

Comments | 中文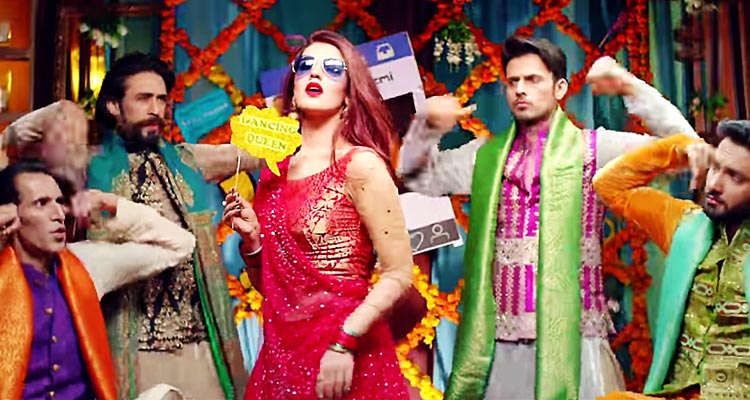 (L-R) Ali Rehman, Hareem Farooq, Usman Mukhtar and Ahmed Ali in Billo Hai
After the commercially successful rom-com Janaan, the Islamabad-based team of IRK productions is on its way to releasing their new venture Parchi, directed by Azfar Jafri and produced by Imran Kazmi. It is slated for release on the 5th of January, 2018. Much like Janaan, Parchi's promos are packed with colour and vivaciousness, flaunting Islamabad's pool of talent such as Ali Rehman, Usman Mukhtar, Ahmed Ali and Hareem Farooq, among others.
Moreover, the music of the film has garnered considerable limelight -boasting some popular names from across the border such as Mika Singh and Sahara. Billo Hai, sung by Sahara has proven itself to be quite a chartbuster, with its trailer crossing 2 million views in little over a week subsequent to its Youtube upload. The first song of the film to hit the airwaves, Billo is the quintessential upbeat wedding number which is being featured prominently in the repertoire of songs resonating through the current winter season. With its disco bhangra feel aka Sahara, Billo Hai stands out from the run of the mill, traditional wedding songs. The video is directed by Osman Khalid Butt, who has been associated with the team's previous ventures, Siyaah and Janaan as a screenwriter.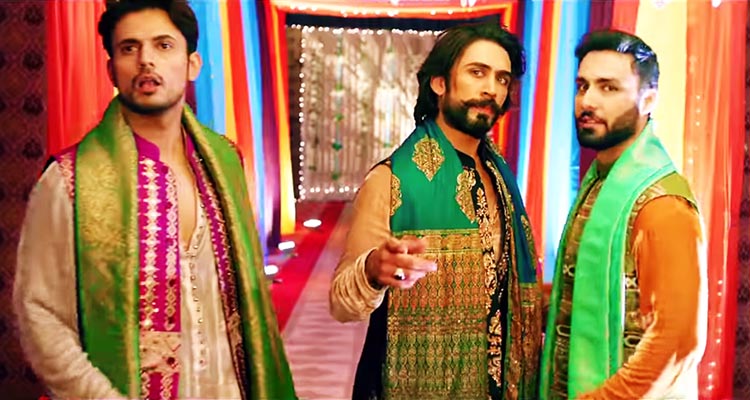 (L-R) Usman Mukhtar, Ali Rehman and Ahmed Ali in Billo Hai
With an influx of Pakistani films permeating the market in the last decade, a plethora of genres have been touched upon. While the so-called renaissance of Pakistani cinema saw a focus on political themes and patriotism in its initial period, some filmmakers treaded the path of commercial cinema, swirled with lip sync dance numbers, romance and melodrama. Many of these films, which showcased the contentious 'item numbers', did so in what seemed to be a half-baked attempt at aping Bollywood, leaving much to be desired in terms of execution.
The video songs of Parchi, however, offer the aesthetics and finesse that is expected from dance numbers, in terms of direction, choreography and cinematography. Contrary to the often-seen linear style of conceptualizing a wedding song, where the protagonists and backrow dancers are dancing in one- dimensional rows, Billo plugs in creative insertions and stylistic forms that make the song an exhilarating watch. Osman Khalid Butt, to his credit, has used his theatre skills to his benefit, choreographing evocative visual patterns that have dancers boldly crisscrossing in a synergetic manners resulting in dynamic frames. The backrow dancers do not just appear to merely do a limp dance behind an overly enthusiastic protagonist, as is observed in some Pakistani film songs, but adeptly contribute to the song's visual formations, matching up to the song's energy levels.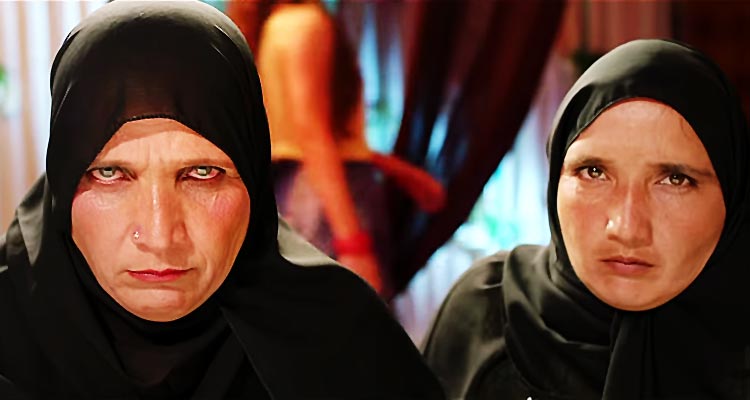 One of the moments from Billo Hai
Hareem Farooq shines in her desi heroine avatar, as she effortlessly gyrates to the song's groovy beat, and looks gracefully beautiful in her flowing red dress. The boys too, set the stage ablaze with their antics, delivering stellar moves, with each adding their own subtext to the song; establishing their individual presence while complimenting each other. Usman Mukhtar's goofy expressions, Ahmed Ali's electrifying energy and Ali Rehman's sassiness - together make the song an entertaining offering. In many of the mini sequences, the protagonists perform their histrionics while staring directly into the camera, intimately interacting with the viewer and breaking the monotony of the dance routine, while adding a dash of humour to it. The elaborately done set gives the song a glitzy feel, while the warm colour tone of the entire song ensures that it doesn't appear brazenly garish.
Imagine is another track of the film, sung by Bollywood sensation Mika Singh and directed and choreographed again by Osman Khalid Butt. An endearingly tongue and cheek song about fantasies, Imagine depicts the imagination of the actors through an animated visual story, that uses multiple set changes to convey romantic situations in different spaces. The video uses VFX and bubble gum colours, to portray dreamy imagery as the backdrop to the spunky histrionics of the lead actors (Hareem, Ali and Usman).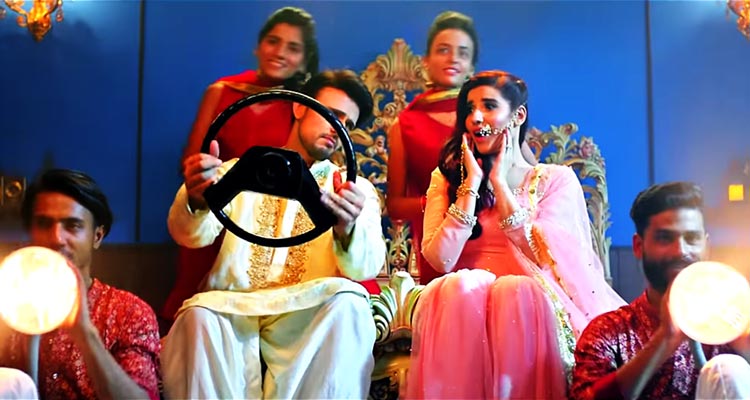 Usman Mukhtar and Hareem Farooq in Imagine
One does wish that the camera angles of the song were such that video seemed more apt for a feature film. Employing a greater number of widescreen and panning shots would perhaps have enhanced the picturisation of the song and made it look less of a music video for television.
Usman Mukhtar, who recently directed and acted in a gritty short film Aasiqui, proves his versatility as he completely embraces the song and dance routine in his foray into commercial cinema and pulls off the comedic, boisterous act with élan. Hareem Farooq who has had a successful innings in both television and film, continues to establish her mettle with her spontaneity, while Ali Rehman lights up the screen with his performance.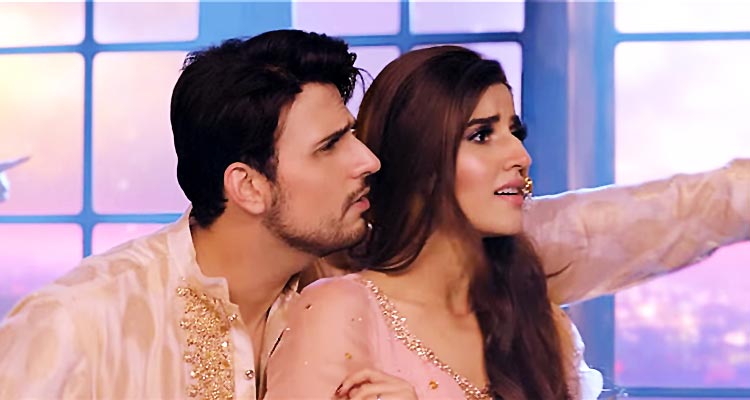 Usman Mukhtar and Hareem Farooq in Imagine
With Parchi slated for release at the beginning of the year, one hopes that it heralds a rocking start for Pakistani cinema in 2018.
You may also like: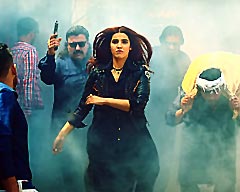 Film Review: Parchi
(January 08, 2018)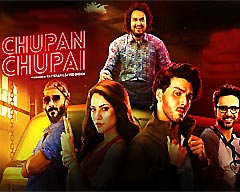 Film Review: Chupan Chupai - A Comedy of Literal Errors
(January 03, 2018)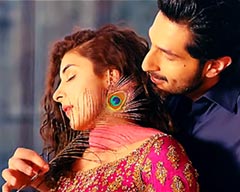 Film Review: Rangreza
(December 26, 2017)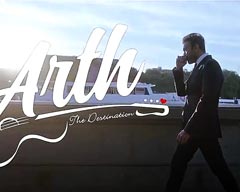 Film Review: Arth - The Destination
(December 22, 2017)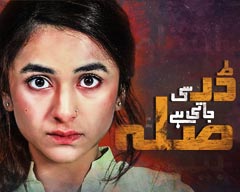 Drama Review: Dar Si Jati Hai Sila
(November 20, 2017)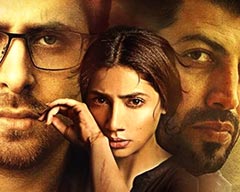 Film Review Verna: hell hath no fury as a woman scorned
(November 19, 2017)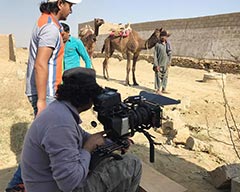 Farhan Alam: Director of 'Saawan', Pakistan's Nomination for the Oscars
(September 28, 2017)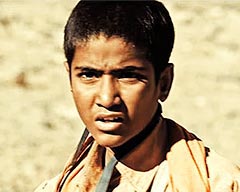 Film Review: Saawan
(September 19, 2017)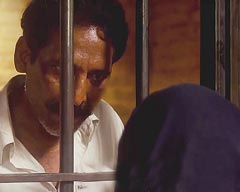 Film Review: My Pure Land
(September 18, 2017)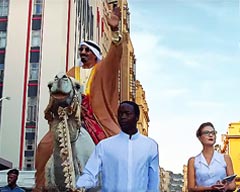 Film Review: Na Maloom Afraad 2 - Forgettable, If Not a Complete Failure
(September 05, 2017)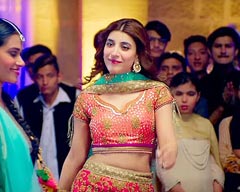 Film Review: Punjab Nahi Jaungi
(September 03, 2017)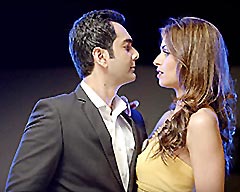 Film Review: 'Chain Aye Na,' - What true love is not!
(August 17, 2017)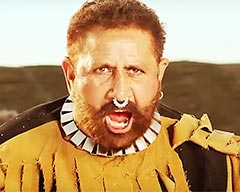 Film Review: Geo Sar Utha Kay
(August 15, 2017)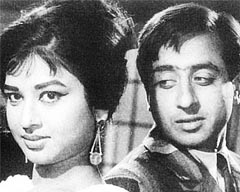 70 Years of Changing Tides in Pakistani Cinema
(August 01, 2017)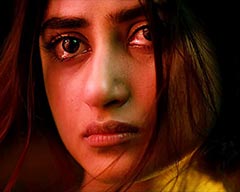 Film Review: Pakistani Actors Shine in 'Mom'
(July 17, 2017)