Group Show 'Configuration' opens at Tanzara Art Gallery, Islamabad
Written by: Staff Report
Posted on: September 15, 2017 |

Comments | 中文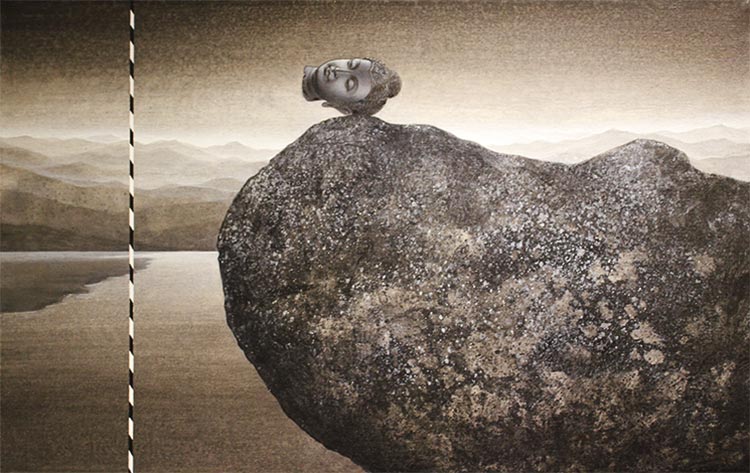 'The Northern Encounter II' by R.M. Naeem
Visitors flocked to Tanzara Art Gallery yesterday for the opening of the group exhibition, 'Configuration'. Curated by Aasim Akhtar and featuring 14 different artists, of varied age-groups and diverse artistic style, the human figure is the central theme of the show. Noshi Qadir, the gallery owner, says that she hopes, "by connecting with these works we may gain new knowledge about ourselves, and revive our fascination with the human form."
Some works explore the distance or lack thereof between life and the physical vessel which contains it: the body. Others focus on the body's interactions with what lies outside of itself. All approach the subject and render it differently. Well-known artists whose work is being displayed include R.M. Naeem, Aqeel Solangi and Moeen Faruqi. The rest happen to be relatively young artists, with a number of exhibitions to their credit.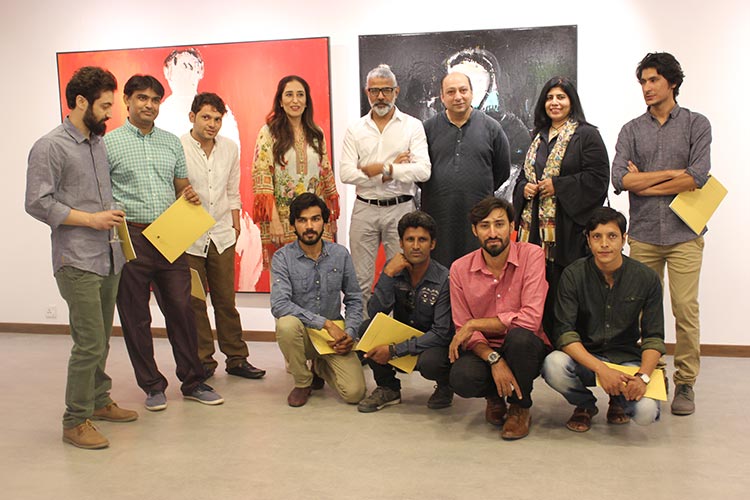 From left to right (above) - Aziz Meer, Aqeel Solangi, Abdul Ali Hyder, Noshi Qadir, R.M. Naeem, Aasim Akhtar, Sumera Jawad and Saddam Murad. (below) Imran Ali Kazmi, Shamsuddin Tanwri and Javed Mughal
The gray hues of R.M. Naeem's work convey a serene mood, while an intricately drawn Buddha head reveals his mastery. Naeem explained that the physical connection between body and land in the paintings reflects their spiritual ties. Where the Buddha head sprouts out of a cliff in one work, it has been severed off in the other. The disjunction, thus created, reflects the artist's distress regarding the situation in Burma. While shying away from confining his paintings to a socio-political statement, Naeem shared that Burma is defying the symbolic spirituality and harmony of Buddha.
While studying last year for an MFA in Bath, England, Aqeel Solangi's work drastically changed. A new geographical space allowed him to reflect upon the alien landscape and its inhabitants. His massive paintings faithfully conjure up the mood of England, as he has effectively situated human figures within their vast surroundings. Moreover, in his own words, he "enjoyed playing around with paint application, using it thickly at times, and letting it drip onto the canvas at others."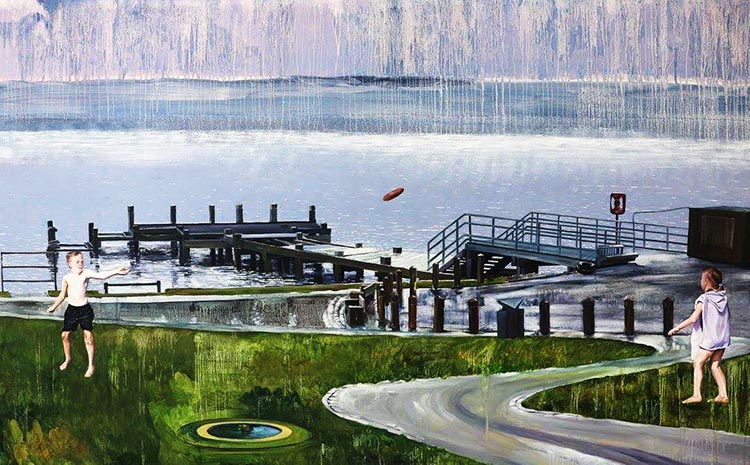 'The Frisbee Players' by Aqeel Solangi
Moeen Faruqi's yellow, orange, red and white palette was used to create figures with flipped hand colours. Perhaps, the deep impressions we leave on other bodies, and the absurdist nature of our relationships is implied.
Zahid Mayo, while discussing his artistic methods, said he loses himself in crowds until an arresting face worthy of being painted catches him off-guard. The figures in his work are surrounded by dark, rural backdrops. 'Titly Jae' (Like a Butterfly) depicts how we drag our inner-selves along, to chase after what attracts our external self, while 'Chan di Chhan' (In the Shadow of the Moon) is the attention grabbing portrait of a young wandering boy. Mayo explained that his inspiration for the prior were two young girls playing at a wedding, while his own childhood inspired the latter.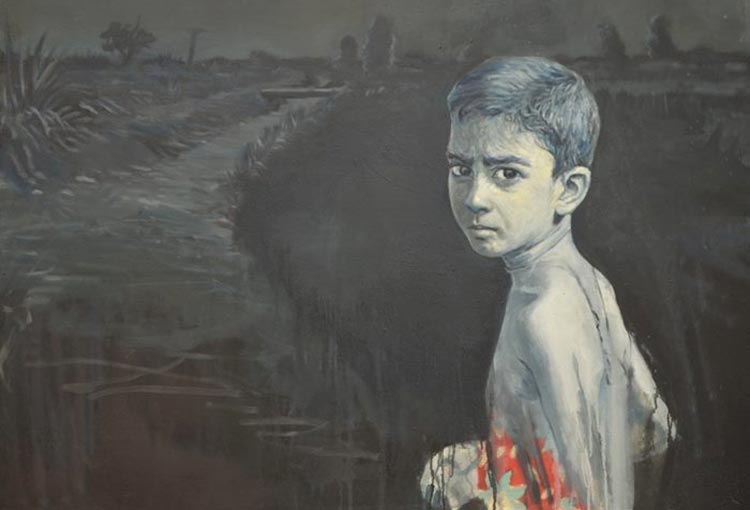 'Chan di Chhan (In the Shadow of the Moon)' by Zahid Mayo
Abdullah Qureshi's large canvases, painted in bright colours, reduce the human body to its most basic form. The rather interesting titles, such as 'The Headless Unicorn' and 'Rabih Alameddine's Evil Twin' create curiosity about the stories of the figures he has painted.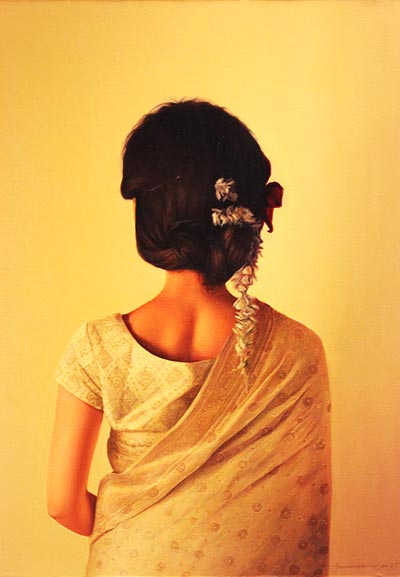 'Facing Background' by Imran Ali Kazmi
Imran Ali Kazmi's traditional female figures are painted in a photorealistic manner, with repetitive motifs of motiya and rose, meant to reveal South-Asian customs. Javed Mughal, in his 'Borrowed Identity' series, chopped away human faces to leave behind hats, piercings and necklaces on the canvas. For him, "external objects often become markers of our identity and yet are futile in capturing our reality the way our bodies can." Saddam Murad intended to highlight the forgotten, suppressed bodies of women in patriarchal societies, while Kashif Mangi's canvases emanate the nostalgia of faded black and white posters.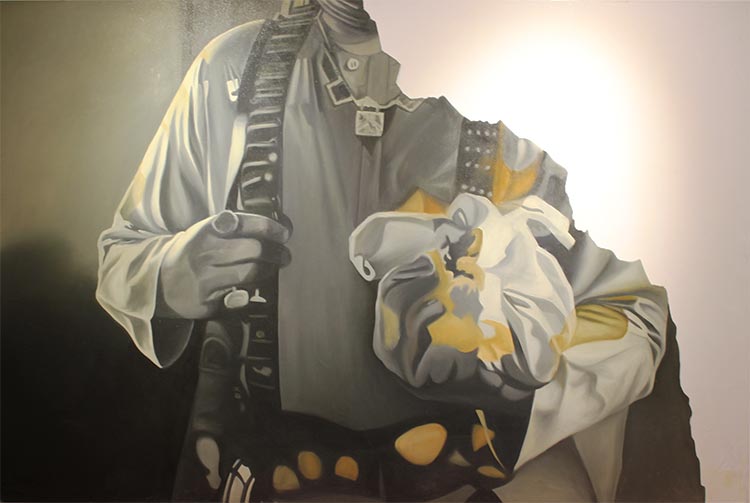 'Untitled' by Kashif Mangi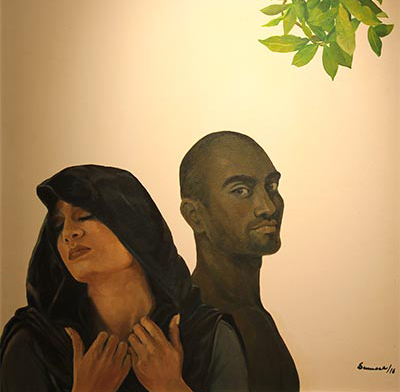 'Insinuation I' by Sumera Jawad
Shamsuddin Tanwari's work – blue and white nude figures with leafy heads - intends to represent suffocating human beings. Aziz Meer has taken impressions of his own figure for his work, and shared that the distortions were a comment on our convoluted national condition. Saqiba Suleman's women are painted on backgrounds of extremely intricate floral patterns, while Sumera Jawad's work seems to be a comment on the intersection of race and gender in relationships. Abdul Ali Hyder's paintings explore the affiliation between humans and animals; not only as companions but also as reflections of each other.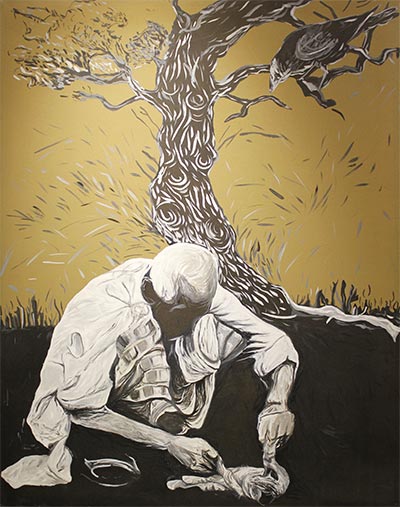 'Baba Aur Billi' by Abdul Ali Hyder
The curator, Aasim Akhtar, spoke to us about his vision of bringing together artists who had an off-beat approach to representations of the human figure. With a wide spectrum of artistic styles to choose from, Akhtar did not opt for likeness. To break the mould of traditional group exhibitions, if any two artists shared a similar vision, he chose not to place them together. However, he faced the challenge of giving every work its due space, without cluttering the gallery.
As Akhtar said, considering the positive response at the opening, it was "a challenge successfully met." A visit to the exhibition, which ends on 28th September, reveals the expanding horizons of contemporary Pakistani artists.
You may also like: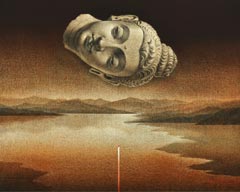 To Reflect: To Recognise
(February 12, 2018)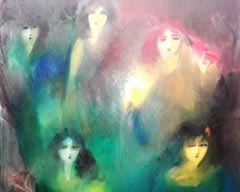 Art Review: Raja Changez Sultan at Tanzara Gallery
(January 19, 2018)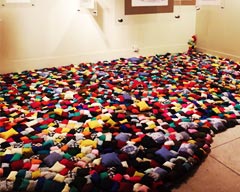 NCA Rawalpindi Degree Show 2017
(January 17, 2018)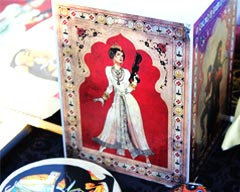 Winter Fete, Islamabad
(January 09, 2018)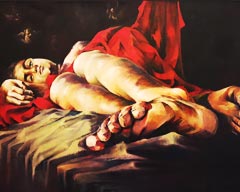 Review: 9th National Exhibition at PNCA
(January 02, 2018)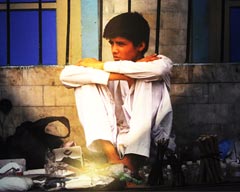 Yeh Hai Karachi 2: Photography and Film Exhibition
(December 20, 2017)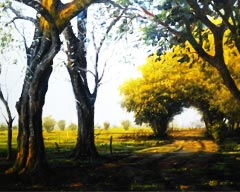 Art Review: Punjab Romanticism by Zulfiqar Ali Zulfi at Tanzara Gallery, Islamabad
(December 18, 2017)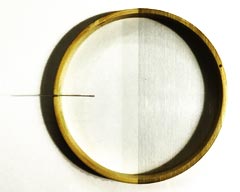 Art Review: Reading Between the Lines at Sanat Initiative, Karachi
(December 05, 2017)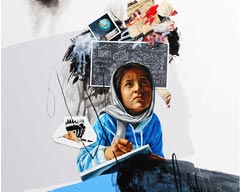 Art Review: The Onrushing 2 at Gallery 6, Islamabad
(December 04, 2017)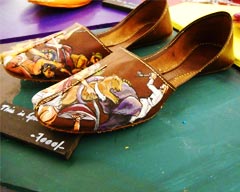 Daachi Arts and Crafts Exhibition 2017
(November 13, 2017)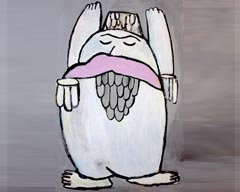 Art Review: 'Loompaland' at Studio Seven, Karachi
(November 09, 2017)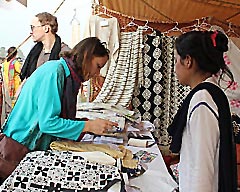 The Behbud Bazaar, Islamabad
(November 07, 2017)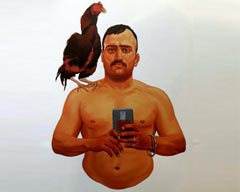 The Karachi Biennale 2017 (KB17)
(October 27, 2017)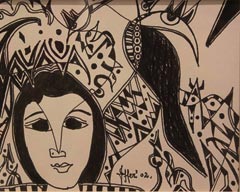 Wahab Jaffer Exhibition Opens at Tanzara Gallery, Islamabad
(October 20, 2017)