Hami - the East Gate of Xinjiang

Posted on: May 05, 2017 |

Comments | 中文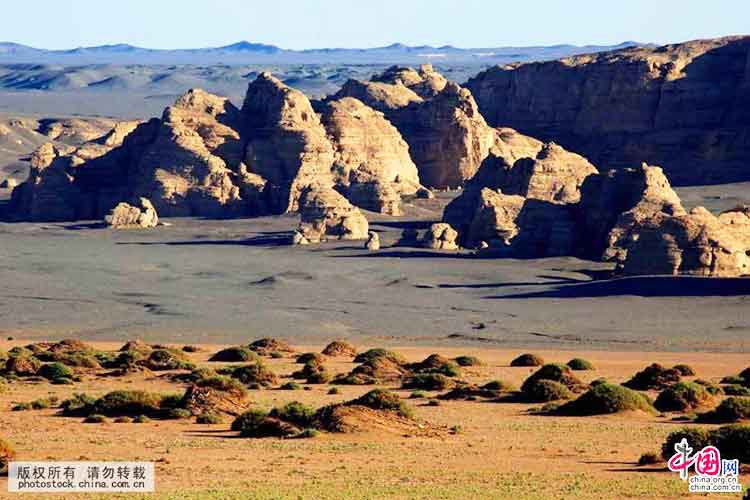 Yandan landform in Hami City (source: Tianshannet)
The Northern Route of the ancient Silk Road started from Yangguan Pass near Dunhuang of present Gansu Province, then went into the Western Regions (present Xinjiang), and the first stop was Hami. In its long history, Hami saw merchants and travellers going westward or coming eastward and stopping here for rest and getting food and fodder after a long and exhausting journey. It was here, too, that they gained new hope and power for their further hard trips, either to Inland China or further to other parts of the ancient Western Regions, to Central Asia and West Asia.
While many ancient cities or towns along the ancient Silk Road were buried in the desert, Hami still stands here and keeps its tradition and displays its new spirit. At the present tie, this city, as the east gate of Xinjiang, is keeping pace with the country's implementation of Silk Road Economic Zone Initiative opening its "gate" to embrace the world. As it has a key strategic position, to its east there is a broad domestic market of inland China, and it is convenient for it to link with the countries in Central, West and South Asia. To its north is Mongolia, and Laoyemiao Port, a national first-class seasonal open port, one of the ports for frontier trade between Xinjiang and Mongolia.
Located in eastern Xinjiang and at a juncture across the North and South Tianshan Mountains, Hami, which had many names in ancient times, such as Ximo, Kunmo, then Yiwu or Yiwuzhuo in Han Dynasty, Yizhou in Tang Dynasty, Hamili in Yuan dynasty, and changed to its present name in Ming Dynasty, was situated at a key node of Northern, Middle and Southern Routes of the ancient Silk Road, known as "vital throat of the West Regions, guard of inland China" and "gateway of Xinjiang".
The ancient Grassland Silk Road and Oasis Silk Road went through Hami. And there were many great travelers – among them Zhang Qian, Dou Gu, Ban Chao, Xuanzang, Marco Polo, Lin Zexu, Zuo Zongtan – who left their footprints in Hami. Thanks to its long-lasting Silk Road culture, diverse grassland culture and rich oasis folk culture, Hami is famed as "a miniature of Xinjiang" for its large number of historical and cultural attractions and its natural landscape.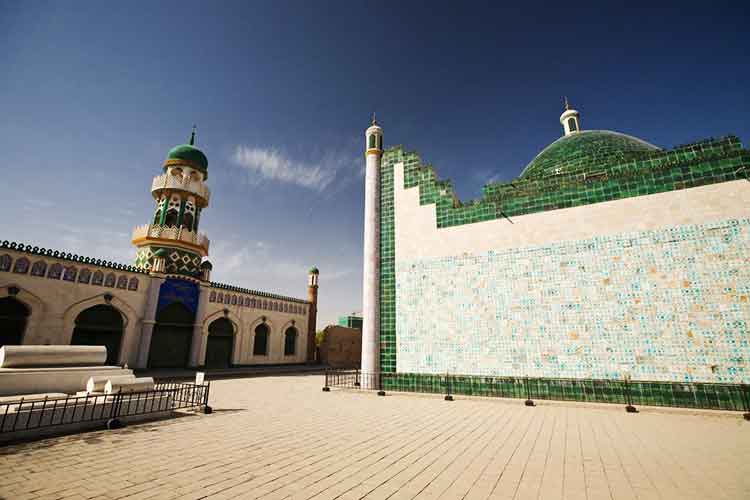 Hami Uyghur Royal Family Mausoleum (source: Panoramio)
Hami Uyghur Mausoleum (Hui Wang Maosoleum) was built around 1840 and Hami Uyghur kings of seven generations and their wives were buried here. The Mausoleum is a typical architectural complex combining Islamic and Chinese architecture style. There were two pavilion-style buildings in the south, with cornices and brackets on top and supported by columns all around. The Great Tomb in the north is 25 meters high and can be reached by 36-step spiral stairs. It is square on top and round at the bottom, with vault and surface paved with glass blocks. Opposite to the Tomb Hall in the west, there is a Mosque decorated with scriptures on four walls, colored patterns on the ceiling and carved flowers on the columns. The Mansion of Hami Uyghur King is surrounded by high earth walls, and it has high platforms, glazed tile roofs, cornices and brackets, and there are several gardens against and around the buildings of the Mansion. It is the largest and most featured palace architecture in Xinjiang.
Hami Museum, opposite the Hami Uyghur Mausoleum, has a collection of over 12,000 cultural relics from the primitive society to the Ming and Qing dynasties, of which Wupu (Karadun) Mummies have stirred sensational attractions at home and abroad, for the dry bodies were in exquisite ancient coarse cotton clothes. Furthermore, there are bronze pots and deer head copper knives, typical of Eurasian bronze culture with strong local cultural features.
With past glories, today's Hami has achieved great success in its modern development, thanks to its rich natural and cultural resources, including tourist resources, mineral resources and wind energy resources. All this proves that this area has hard-to-come-by resources to develop into a large comprehensive energy base with coal power, wind power, photovoltaic power and grid-connected power generation, and Hami has developed a pattern of energy base with "electric power in the air, coal on the ground and gas underground".
With rapid development of the "One Belt and One Road", many new energy industry enterprises have appeared in the land of Hami, such as Naomaohu & Santanghu Wind Power Plant and Shichengzi Photovoltaic Industrial Park. The completion and operation of South Hami – Zhengzhou ±8000kv HVDC transmission project, a HVDC transmission project with the largest transmission power in the world, shows that Hami has finally converted its resource advantages into economic advantages. With this "Electric Power Silk Road", Hami is qualified to develop into a national comprehensive energy base and has a chance to become an important growth pole along the Silk Road Economic Belt.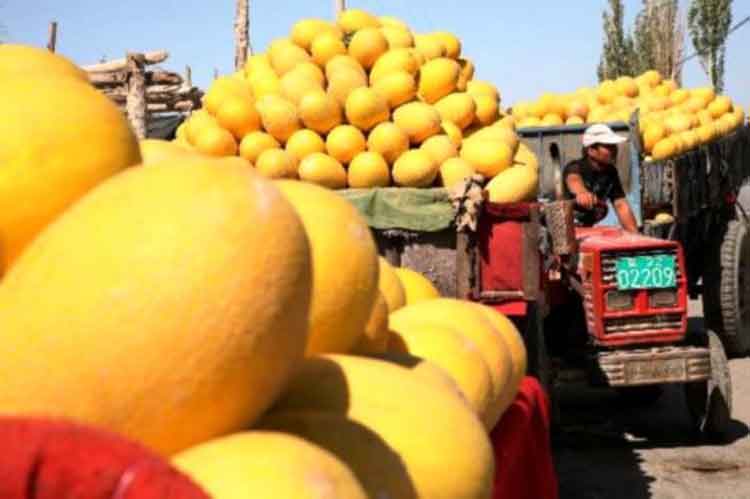 Hami melons at a market in Nanhu township of Hami City (source: People's Daily)
Now, Hami has advanced to the position of "a sub-center city of Xinjiang, first-class comprehensive transportation hub, main zone of new type industrialization and a key growth pole of Silk Road Economic Zone Core Area. In January 2016, Hami was approved as "Hami City" by the State Council, which suggests that Hami will have more power for its administration power and policy–making. It also shows that, as the youngest city along the modern Silk Road, Hami will embrace completely new development opportunities
Hami, a key post in the past, enjoys rich resources, convenient transportation and abundant products today. In the new era, seizing the opportunity to develop a great passageway hub and five bases to be constructed (bases of new comprehensive energy, new equipment manufacturing, new material processing, modern logistics and service, agricultural and sideline products deep processing), Hami will promote its economic and social development in the future.
You may also like: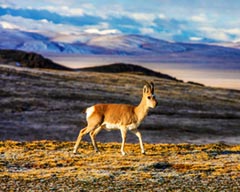 Hoh Xil: Kingdom of Wild Animals
(January 18, 2018)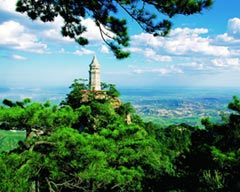 Panshan Mountain of Ji County
(January 11, 2018)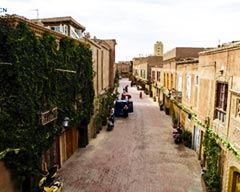 Stories from the Old Town of Kashgar
(January 04, 2018)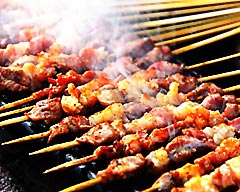 International Cuisine in Urumqi
(December 27, 2017)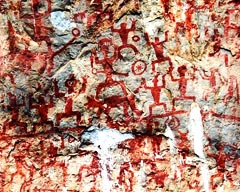 Zuojiang Huashan Rock Paintings, Guangxi
(December 19, 2017)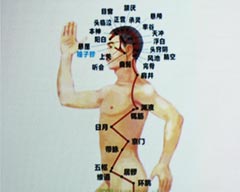 Seminar on Chinese Outlook on Life and Contemporary Value of Chinese Medicine
(December 15, 2017)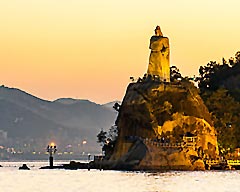 Gulangyu Island: The Island of Music
(December 13, 2017)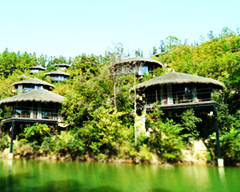 Mogan Mountain Farm Villas
(December 06, 2017)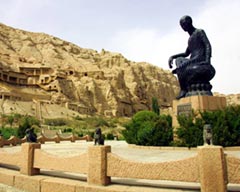 Kuqa: The Old Town on the Silk Road
(November 29, 2017)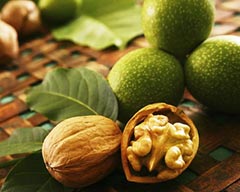 The Walnut Trees of Xinjiang
(November 23, 2017)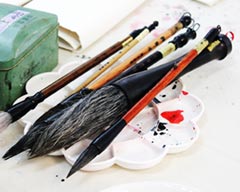 Chinese Ink-Wash Painting at China Cultural Centre, PNCA
(November 23, 2017)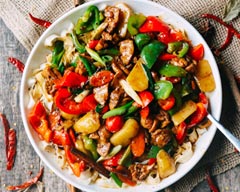 Famous Xinjiang Delicacy: Big-Plate Chicken
(November 16, 2017)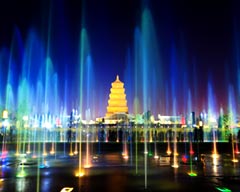 Shaanxi: New Glories on the Silk Road
(November 08, 2017)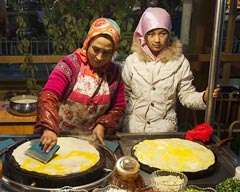 The Bustling Moyu Night Market
(November 01, 2017)