Heer Ranjha – Retelling Kaifi Azmi's Script in an Urdu Musical
Written by: Farheen Abdullah
Posted on: September 11, 2017 |

Comments | 中文 (Chinese)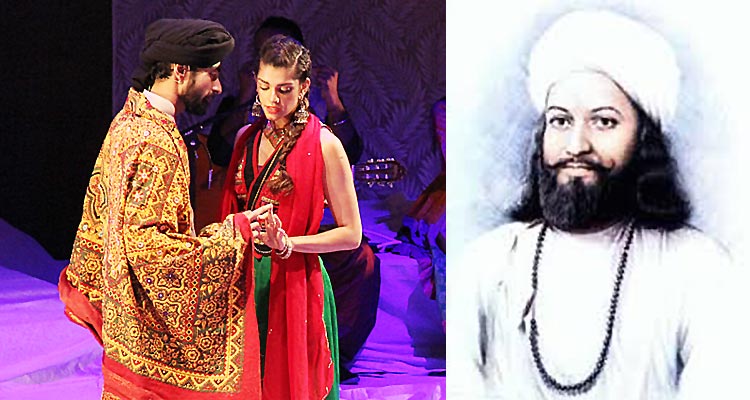 Hasan Raza as Ranjha and Sanam Saeed as Heer, in the play 'Heer Ranjha', written by Waris Shah in 1766 (right)
A musical adaptation of the famous tale Heer Ranjha opened at the Arts Council, Karachi on Thursday, 7th September, 2017. The play, a collaboration between The Citizen's Foundation (TCF) and director Zain Ahmed from NAPA, will conclude in Karachi today, but is yet to be performed in Lahore and Faisalabad.
First narrated in 1766, the tale of Heer Ranjha is a folk classic, which lives on in our memories. Who isn't familiar with the tragedy of the two lovers from warring villages of Jhang and Hazara, who meet by chance and fall in love? After Ranjha disguises himself as a cow-herd to stay close to Heer, their love is discovered by the villagers, and the two are separated. Heer's evil uncle, Qaido, is especially adamant on destroying all chances of their union. Originally written by Waris Shah, some believe the classic is inspired by Shah's own feelings for a girl named Bhag Bhari, while others insist Heer and Ranjha were real individuals who lived during the Lodi Dynasty.
Over the decades, the tale has been adapted for television, film and theatre several times. Major productions include Ahmad Rahi's screenplay (1970) and Shahid Zahoor's PTV drama (2013). However, theatre has remained the more popular platform, with recent performances by Sangat Group in Sialkot (April, 2017), and Zarqa Naz's production in Sindh Theatre Festival, 2017. Zain Ahmed's adaptation features the script by Kaifi Azmi, the famous Indian Urdu poet, which has dialogues in rhyming verse, in addition to songs from a Bollywood adaptation of the story (1970).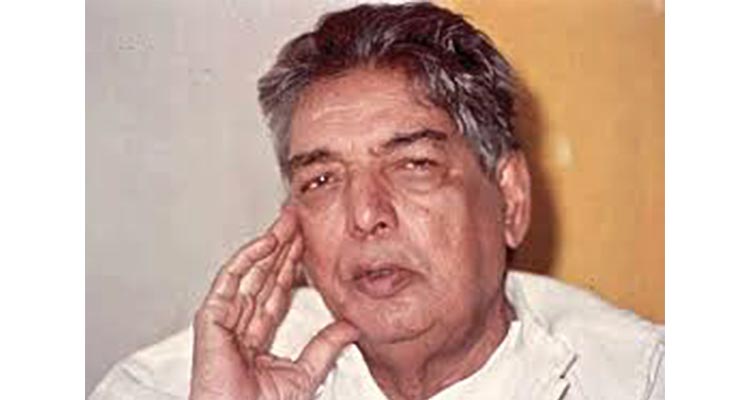 Heer Ranjha's poetic rendering by Kaifi Azmi
I happened to attend the second performance of the play, which opened to a packed house. Since the ticket was priced at Rs. 2500, with all proceeds going to charity, the audience mainly consisted of professionals from social work and performing arts sector. As the auditorium filled up, some audience members were unhappy with their seats. Since the front half had been reserved for sponsors and TCF officials, good seats were difficult to find. The organizing team swiftly dealt with these issues, and curtains were raised at 8 pm sharp.
Ms. Neelofer Saeed, Chairperson TCF, began the evening by introducing the audience to "one of the successes of TCF," Mr. Nadeem Hussain. Created in 1995, TCF is one of Pakistan's leading non-profit organizations, which provides quality education to underprivileged children through 1,441 purpose-built schools, located in the heart of Pakistan's urban slums and rural communities. Hussain took to the stage to narrate his inspiring journey as a TCF student, who went on to graduate from IBA in 2014, and is now working at The World Bank. He elaborated on the purpose of the fundraiser, the proceeds from which will be used for their volunteer-based Alumni Development Programme (ADP). The programme allows students to secure admission in top universities of Pakistan and abroad.
The curtains rose to reveal a colorfully clothed cast, who instantly grabbed the audience's attention by breaking out into the song 'Sunn Mere Ranjhay.' The backdrop, a simple white drapery, allowed the characters to stand out. With no props, except for two elevated steps on either side to assist the movements of the characters, the spectators could simply focus on the powerful vocals and dialogues without any distractions.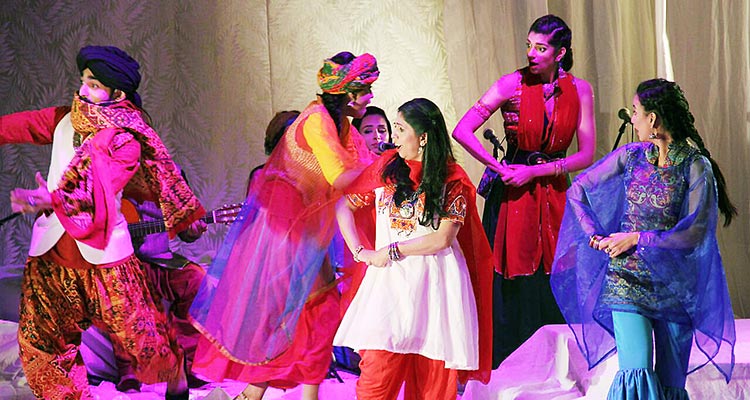 The performance opens with the song 'Sunn Mere Ranjhay'
However, two issues were immediately noticeable. Firstly, the cast was wearing mics! Though the actors had great voice throw, the presence of mics was visually disturbing in a theatrical performance. Secondly, Heer (Sanam Saeed) was wearing a sleeveless dress in the opening scene and a single arm shirt during the climax. While she certainly looked beautiful, the costumes did not fit her character.
With regards to music, Zain Ahmed must be appreciated for positioning the musicians and back-up singers at the far-end of the stage where their presence did not interfere with acting onstage. Nigel Bobby, the music director, was guiding the supporting tracks throughout, with his own vocals and guitar. Occasionally, other cast members would join the band, returning to the center-stage when needed.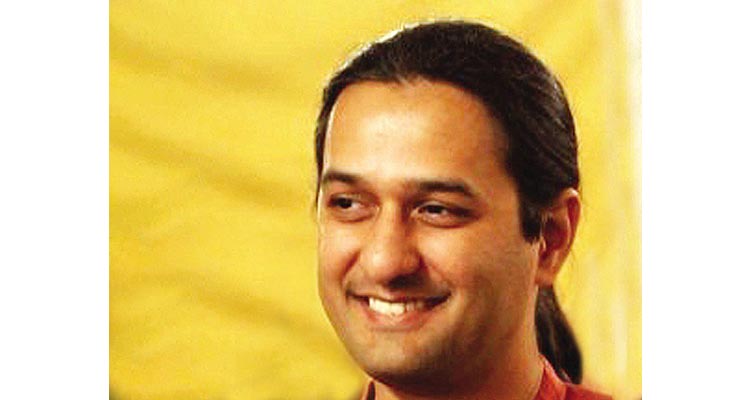 Zain Ahmed, director of the production, 'Heer Ranjha by Waris Shah'
With regards to particular actors, the live singing of Hasan Raza as Ranjha and Sanam Saeed as Heer, was perfectly synced. Their song, 'Do dil tootay, do dil haaray,' had a few spectators singing along. Moreover, they also improvised on stage, when at a critical moment Hasan failed to tie a necklace around Sanam's neck. Sanam registered no surprise and as the necklace fell, Hasan grabbed it and subtly hid it underneath a shawl. This ability to think on their feet, proved why the two were chosen as lead actors. Veteran actors such as Arshad Mahmud (Heer's father) and Samina Ahmed (Heer's mother) had relatively small parts, which they performed effortlessly.
With the sublime music and dance of the team, the audience expected dialogue delivery to be just as effective, but unfortunately this was slightly disappointing. The exchange between Qaidu (Meesam Naqvi) and Heer's father (Arshad Mahmud), when the latter discovers that his brother has been trying to ruin Heer's life, is especially anti-climactic and ends abruptly. However, all in all, the team did great justice to the classic, while paying great attention to detail. For e.g. Ranjha's costume changed from a vibrant orange to black and white, to reflect his sombre mood.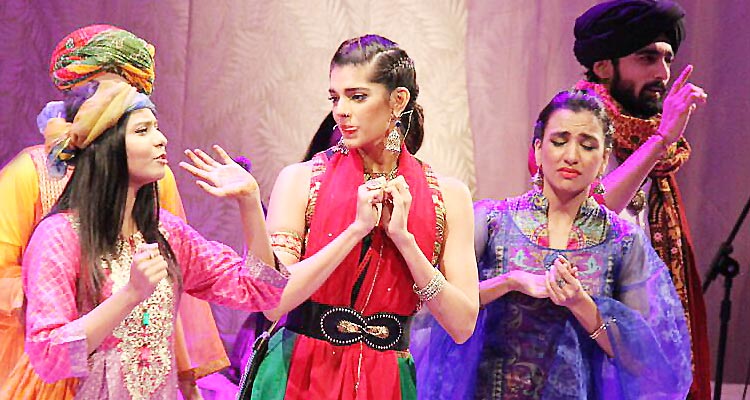 Maha Ali as Sergo, Sanam Saeed as Heer and Sabiha Zia, the choreographer, as Heer's friend
Zain Ahmed ended the show by acknowledging the entire cast and crew. He encouraged the audience to appreciate the performing arts, in addition to being charitable towards the needy. Residents of other cities have a chance to do just that, by attending the play in Alhamra Arts Council, Lahore on 13th and 14th September, and in Nusrat Fateh Ali Khan Auditorium, Faisalabad on 16th and 17th September!
Images of the play provided by Walnut Team.
You may also like: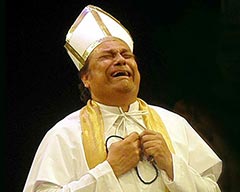 Theatre Review: 'Yahudi ki Larki' by NAPA at National Theatre Festival 2017
(November 02, 2017)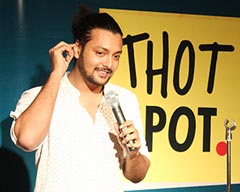 Bachay Panch Hi Achay (5 Kids are Enough) - A Saturday Night Comedy Show
(October 17, 2017)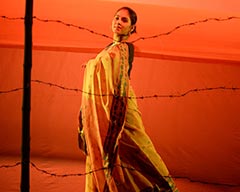 Ajoka Theatre's 'Shehr-e-Afsos - A City of Sorrow'
(October 13, 2017)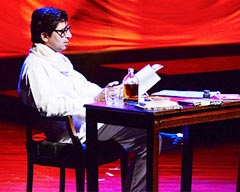 Theatre Review: 'Kaun Hai Yeh Gustakh' - Ajoka's Play about Manto
(October 12, 2017)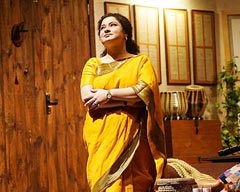 Theatre Review: 'Mushk - Fragrance' in Lahore
(October 10, 2017)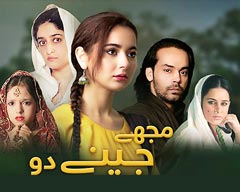 Drama Review: 'Mujhay Jeenay Doh'
(September 22, 2017)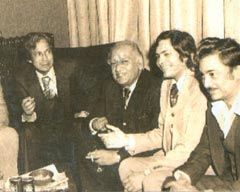 70 Years of Theatre: A Flashback Through the Ages
(August 30, 2017)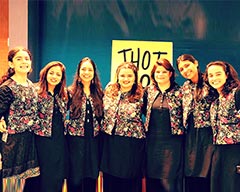 'The Khawatoons' Celebrate their First Anniversary!
(August 02, 2017)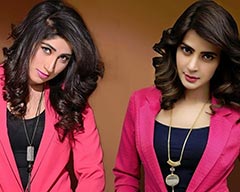 'Baaghi', a serial inspired by Qandeel Baloch
(July 31, 2017)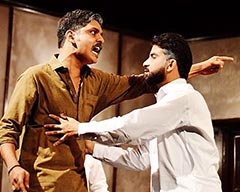 'Mulzim Ya Mujrim' – A Theatrical Production
(July 25, 2017)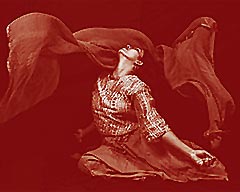 'Goonj – Echo': A Solo Dance Performance by Suhaee Abro
(July 18, 2017)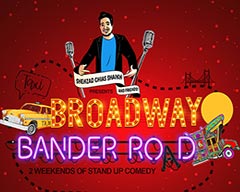 Shehzad Ghias Shaikh & Friends – Stand-Up Comedy Festival
(July 13, 2017)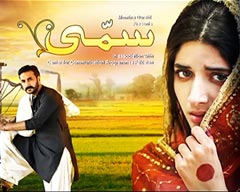 'Sammi': Breaking the Silence around 'Vani'
(June 30, 2017)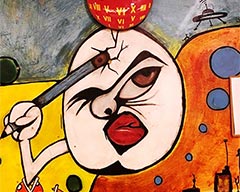 All You Can Laugh: Standup Comedy Night at MAD School Karachi
(June 19, 2017)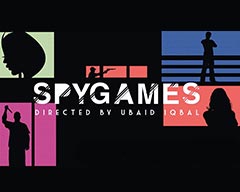 Theatre Review: 'Spy Games' at NAPA, Karachi
(May 18, 2017)