High Altitude Sustainability: Battling the Garbage Crisis in the Gilgit-Baltistan Mountains
Written by: Ismail Umar
Posted on: November 18, 2015 |

Comments | 中文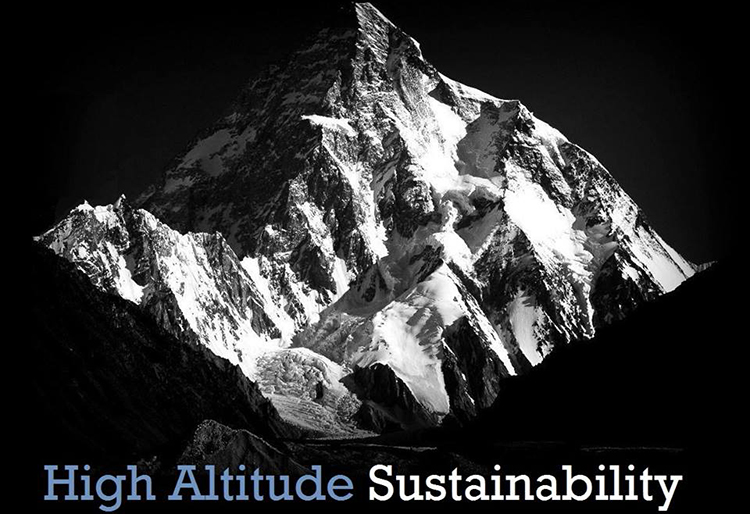 High Altitude Sustainability (HAS) Pakistan
The Gilgit-Baltistan region of Pakistan boasts 3 of the world's greatest mountain ranges, 5 of the 14 highest peaks, and 3 of the largest glaciers outside the Polar Regions. It is no surprise, then, that this region is an extremely popular destination for trekkers from all over the world, welcoming thousands of tourists from home and abroad every year. However, this has resulted in undue pressure on the mountain ecosystems, especially due to the waste left behind by all the visitors. The use of animals such as horses and yaks for transporting supplies has also resulted in improper disposal of carcasses on the glacier, which may eventually become toxic. The consequences of these activities include water contamination, glacial deterioration and increased risk of flooding.
High Altitude Sustainability (HAS) is a contribution-based organization that seeks to help manage the sustainability of adventure tourism in the Gilgit-Baltistan region. HAS aims to support responsible tourism in Pakistan's north by focusing on two key areas: environmental sustainability and support for the local porters in the region.
The 'Sustain Baltoro 2015 Cleanup Expedition' team
Khurpas (or Pakistani High Altitude Porters) are the people who help teams in trekking and climbing. They follow an extremely tough routine by carrying up to 40 kg uphill every day, for hours at a stretch. However, they suffer from a lack of resources for training and equipment. They are also constantly faced with welfare issues such as a lack of health insurance and an absence of retirement plans. The consequences are economically and socially distressing for their families, and eventually lead them to abandon this line of work in search of other opportunities.
HAS strives to fill the gap in the availability of support to these disadvantaged communities. It employs a multi-sector approach to the development of tourism by addressing the social as well as environmental aspects of trekking and tourism in the Gilgit-Baltistan region. This is done by providing support for local porters as well as environmental conservation of glaciers and trails in the region, spreading knowledge through research and documentary making, and raising awareness about environmental and social opportunities and threats.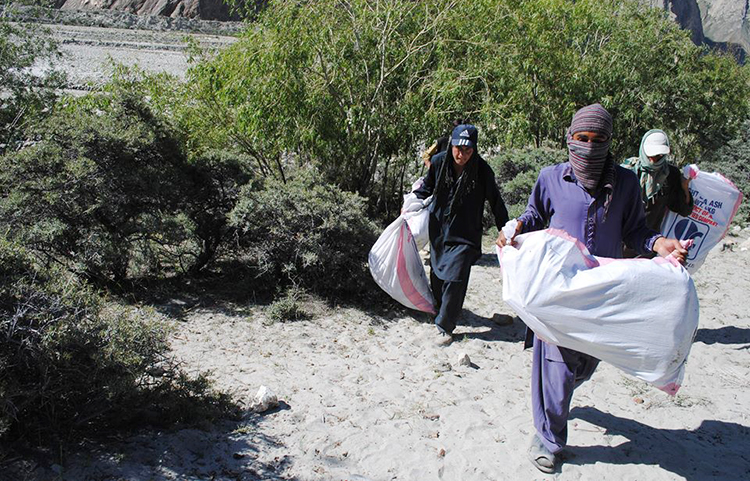 Carrying waste near Joula Camp
In conjunction with local partners, HAS conducts joint cleanup expeditions in order to remove solid waste and animal carcasses left on the trails and glaciers, as well as to raise awareness about this issue in the rest of the country. Currently, HAS is working on the 'Sustain Baltoro' program with local partner Khurpa Care Pakistan (KCP). Along with a team of 35 porters, the cleaning activity was carried out from Askoli Village to Concordia, over a period of 2 weeks. The total amount of waste collected was 4,500 kg, in addition to 76 animal carcasses. HAS aims to conduct at least one cleanup expedition annually as part of its efforts to clear the waste that collects in the area.
HAS was formally incorporated in April 2015 by Hanniah Tariq, a young, energetic social entrepreneur, in collaboration with Khurpa Care Pakistan (KCP), a nongovernmental organization that has been working on porter welfare, tourism promotion and conflict resolution in the region for almost 10 years.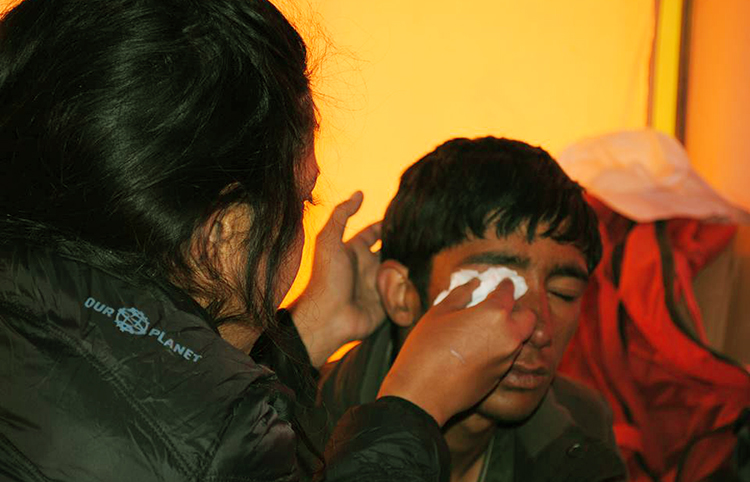 Medical assistance to a porter
"Khurpa Care has been working on this issue for several years, but the Baltistan region is cut off from the rest of Pakistan. So I've teamed up with them for the same cause. We want to help the ecosystem, as well as the locals who work here", explains Hanniah Tariq, who is currently Chief Executive at HAS. "We have a very unique opportunity for adventure tourism in Pakistan. The local porters are spectacular workers. However, they're running off to Dubai to pick up bricks, simply because they don't earn enough for survival. They're a unique community that needs to be protected, loved and recognized. We can't afford to lose them!"
Hanniah feels that there's a dearth of people who understand environmental consequences in our country. "Pakistan is going to be one of the world's most water-stressed countries by 2040. In the next couple of years, we're expecting a lot more flooding, and then this effect will start to trickle down. We need to deal with these issues urgently".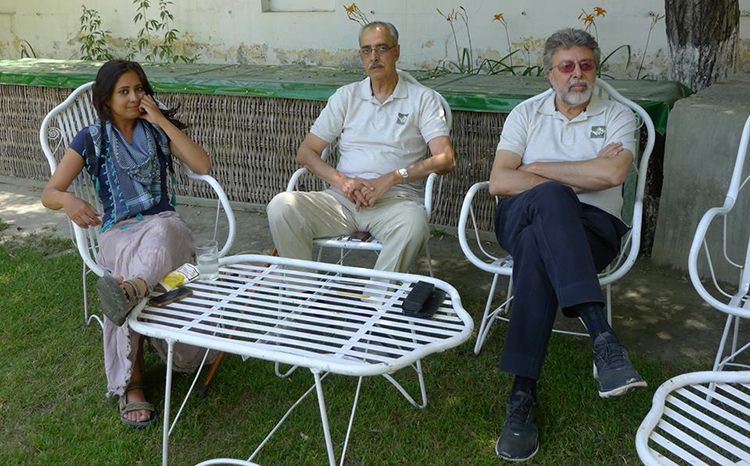 The Board of Trustees
As of now, funding remains the biggest challenge for HAS. So far, funding is contribution-based, gathered mostly from private sources. "It's very difficult to make this a socio-economically viable project. Funding is currently very touch-and-go. There are so many things that we want to do, but our current approach is limited due to a lack of funds".
Despite a host of difficulties, nonprofit organizations such as HAS and KCP continue to persist by virtue of an unflinching desire to contribute meaningfully to environmental conservation and the economic and social welfare of marginalized communities. Rather than sitting around and waiting for the government to take action, they actively engage with societal problems and come up with unique ways to solve them by altering the system, finding the solution, persuading entire societies to change their course of action, and as a result, succeeding against all odds.
You may also like: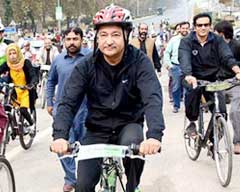 The Mayor's Challenge: Saving Islamabad
(January 25, 2017)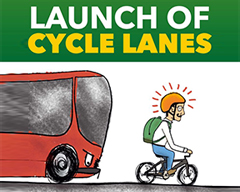 A Cycle and Pedestrian Friendly Islamabad?
(November 15, 2016)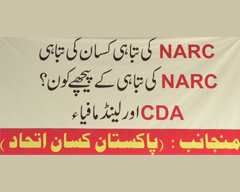 NARC: A Story of Collusion between CDA & the Land Mafia
(July 31, 2015)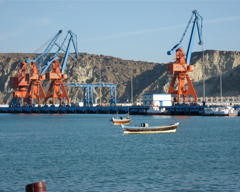 Environmental Concerns along the Silk Road
(June 09, 2015)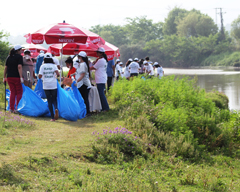 Green Force Launched with the 'Keep Korang Klean' Drive
(April 27, 2015)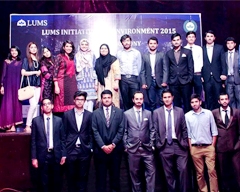 LUMS Initiative for Environment '15
(April 17, 2015)