International Cuisine in Urumqi
Written by: Bai Yun
Posted on: December 27, 2017 |

Comments | 中文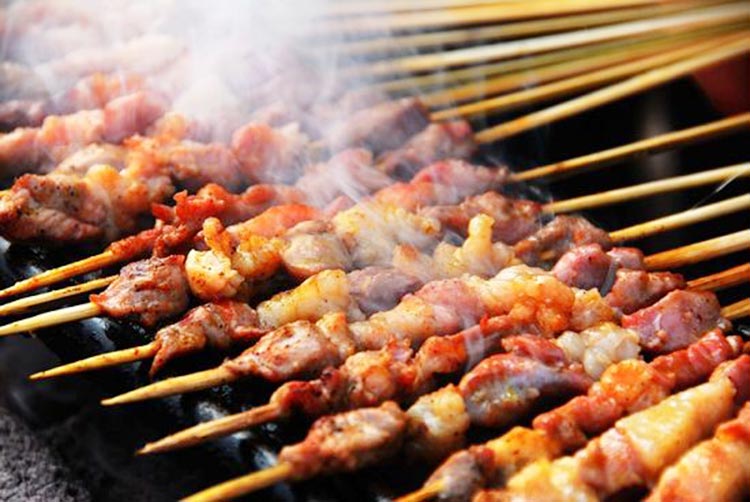 Xinjiang Kebabs (Source: ChinaXinjiang)
While Xinjiang kebabs are served on the table of Georgian people, the fine dishes and drinks imported from countries of Eastern Europe, Southeast Asia, and Central Asia have gradually begun featuring on the menu of Xinjiang's people.
Ever since direct flights from Urumqi to Georgia began on June 9th, 2011, business and trade between Xinjiang and Georgia has become increasingly frequent. As time goes on, enterprises of Xinjiang have grown roots and thrived in Georgia, one of the "Belt and the Road" countries, attracting entrepreneurs' alliance from Eastern European countries like Georgia and Russia.
Tong Jiansheng, a merchant, introduces a Georgian style painting at his restaurant in Urumqi (Source: Xinhua)
On March 28th, 2016, the first Silk Road East-European Cuisine Restaurant was opened in Xinshi District, Urumqi. In the restaurant, Muzya, the Georgian star chef, made traditional Georgian food - "Henkari" (water-boiled stuffed buns) for customers, who were amazed by the unique cooking methods and enchanted by the flavor as well.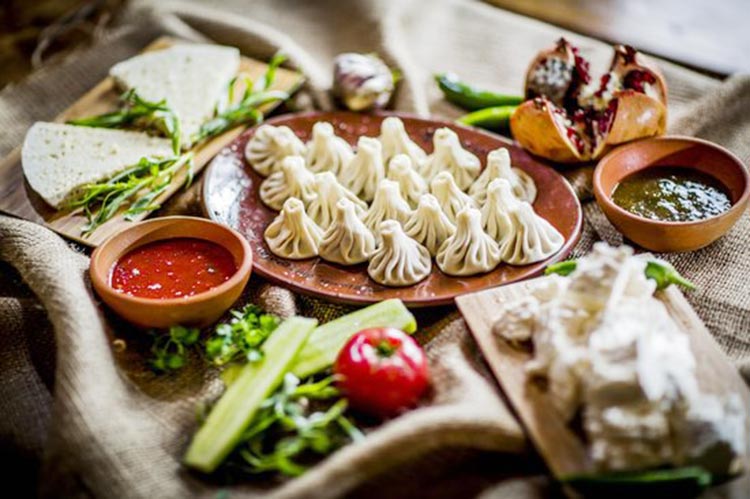 Georgian Stuffed Buns (Source: Media-CDN)
On December 5th, 2016, the second group of special cuisine streets was announced by Urumqi City. In order to develop its special cuisine, Xinjiang has increased the financial and policy supports for it in recent years. Together with the development of Xinjiang, the development of special cuisine has been steered into the fast lane. There are more and more special cuisine streets, not just in number but also unique in their styles. The West Region Light Industry Base at No.876 Dawan North Road, Tianshan District of Urumqi, is many diners' top choice. It is a "heaven" of exotic food where there are restaurants and bars of Kazakhstan, Russia, Kirghizstan, Azerbaijan, and Georgia, such as Alma-Ata Pearl Restaurant, Azerbaijan U.F.O. Restaurant, Bishkek Restaurant and Turandot Restaurant.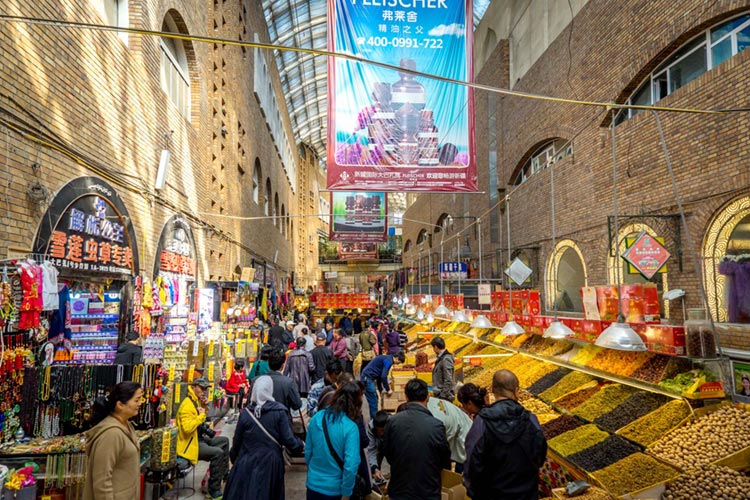 The Urumqi Grand Bazaar (Source: TimeTravelTurtle)
In the cold winters, a taste of the spicy and sour Tom-Yum Koong hot pot in Tasty Soup House near the People's Square of Urumqi can warm up one's stomach and heart. The owner of the restaurant imports cooking materials from Thailand, including authentic local spices such as citronella, galangal, and basil. In Urumqi, the most distant city from the sea, one can also have a taste of all kinds of seafood from all the oceans and seas in the world, such as mussels from New Zealand, shrimps from Vietnam, and arctic shellfish from Canada.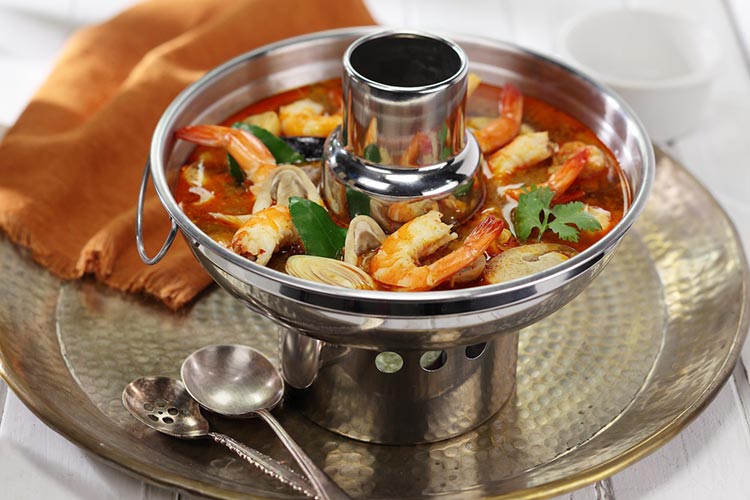 Tom Yum Goong with Prawns (Source: FomoThai)
Now, in Xinjiang, local people enjoy more and more foreign foods, like Japanese cuisine, South Korean food, English afternoon tea, Turkish barbecue and Indian roti paratha. This is not surprising as the region has been a place where many different cultures merge, and this has endowed local people with openness and inclusiveness. In turn, this reflects in the varieties of cuisine. Xinjiang cuisine is now richer in variety and more abundant in style than at any other time of its history.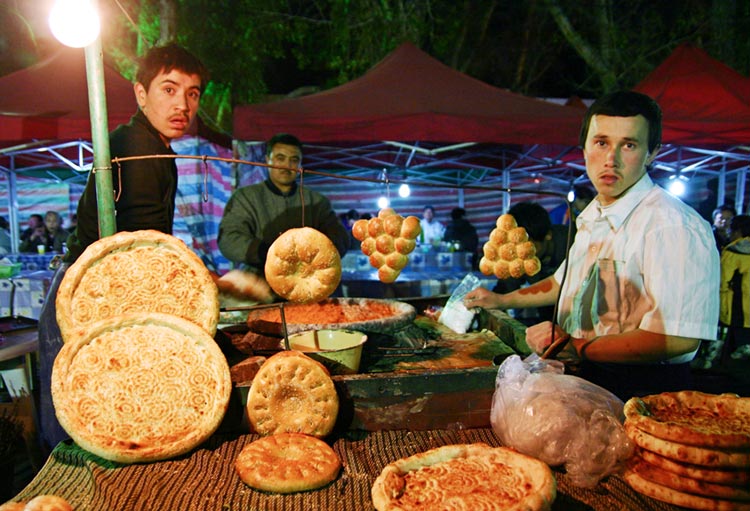 Naan being sold in Urumqi (Source: TravelSort)
"However heart-stirring and breathtaking the causes of history are, they are of quietness and simplicity when reflecting on food." This sentence from the CCTV documentary "A Bite of China," vividly shows that in historical progress, food culture directly reflects the communications and merger between different groups of people. Through delicious food, tasty drinks, and a variety of flavors we develop a common language, shared by different countries and different ethnic groups.
Translated by Zhu Siyu
You may also like: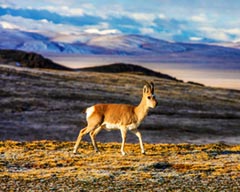 Hoh Xil: Kingdom of Wild Animals
(January 18, 2018)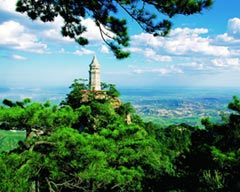 Panshan Mountain of Ji County
(January 11, 2018)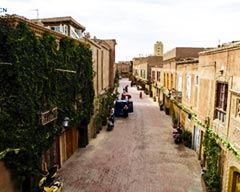 Stories from the Old Town of Kashgar
(January 04, 2018)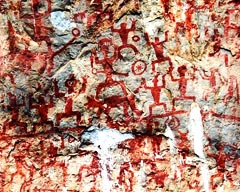 Zuojiang Huashan Rock Paintings, Guangxi
(December 19, 2017)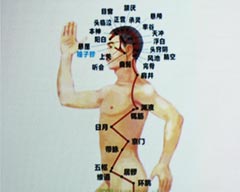 Seminar on Chinese Outlook on Life and Contemporary Value of Chinese Medicine
(December 15, 2017)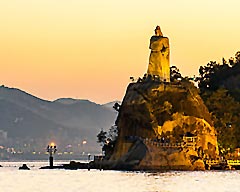 Gulangyu Island: The Island of Music
(December 13, 2017)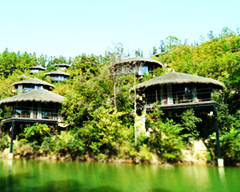 Mogan Mountain Farm Villas
(December 06, 2017)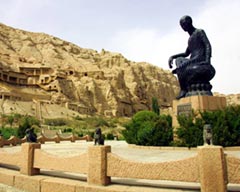 Kuqa: The Old Town on the Silk Road
(November 29, 2017)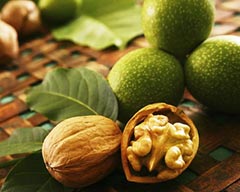 The Walnut Trees of Xinjiang
(November 23, 2017)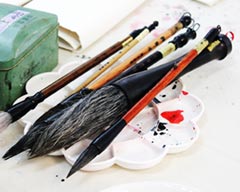 Chinese Ink-Wash Painting at China Cultural Centre, PNCA
(November 23, 2017)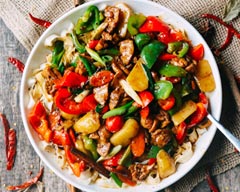 Famous Xinjiang Delicacy: Big-Plate Chicken
(November 16, 2017)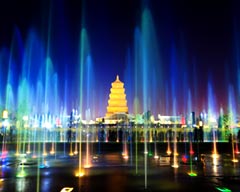 Shaanxi: New Glories on the Silk Road
(November 08, 2017)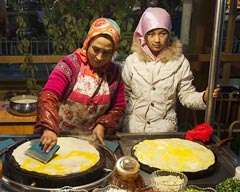 The Bustling Moyu Night Market
(November 01, 2017)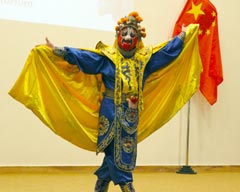 South-Central University for Nationalities Art Troupe performs in NUML, Islamabad
(October 25, 2017)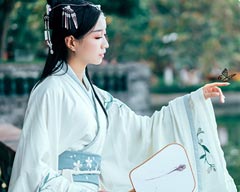 The Traditional Chinese Dress: Gowns
(October 24, 2017)