Istanbul's food streets resonate with history, culture and cuisine
Written by: Mushahid Hussain
Posted on: November 27, 2017 |

Comments | 中文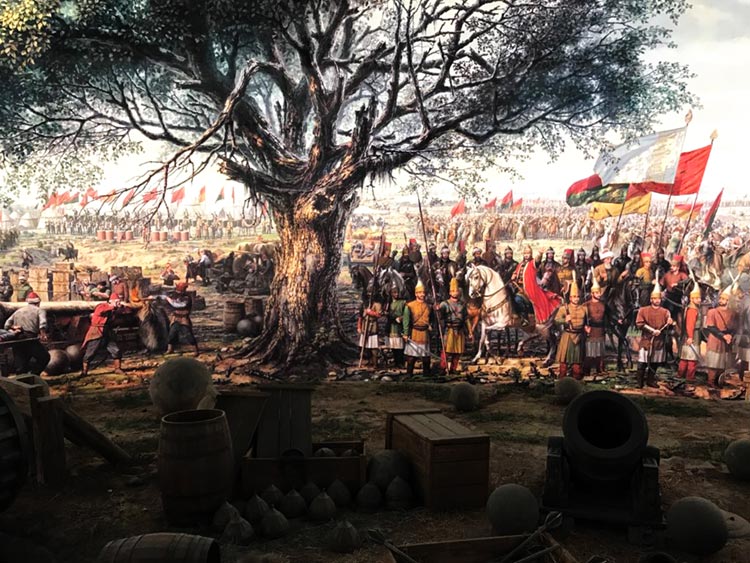 At the Panorama Museum in Istanbul, painting depicts Sultan Fatih Mehmet ready for attack on May 28, 1453 (on the right, a religious scholar can be seen praying for victory while on the left, the famous Ottoman military band 'Mehtar' is beating the drums of war!)
Napoleon very rightly had once said: "If the world could be one country, then Istanbul would be its capital". Istanbul merits this unique position because of its location at the crossroads of continents, countries and civilizations, probably the only metropolis which can access 65 different cities of the world within two and a half hours flying time.
Once the capital of the Byzantine empire and the centre of Christianity, Istanbul today is a robust democracy, the biggest city of Turkey, the only Muslim member of NATO.
It was on May 28, 1453 that Sultan Fateh Mehmet, then just 21 years old, conquered Constantinople after a big battle, and renamed it Istanbul. The first act after this victory was to offer his morning prayers in the Hagia Sophia Cathedral on May 29. This historic structure is located next to the Topkapi and Blue Mosque, a fifteen minute walk from the Sultan Ahmed area of Istanbul to its famous, historic Grand Bazar, the world's biggest covered market.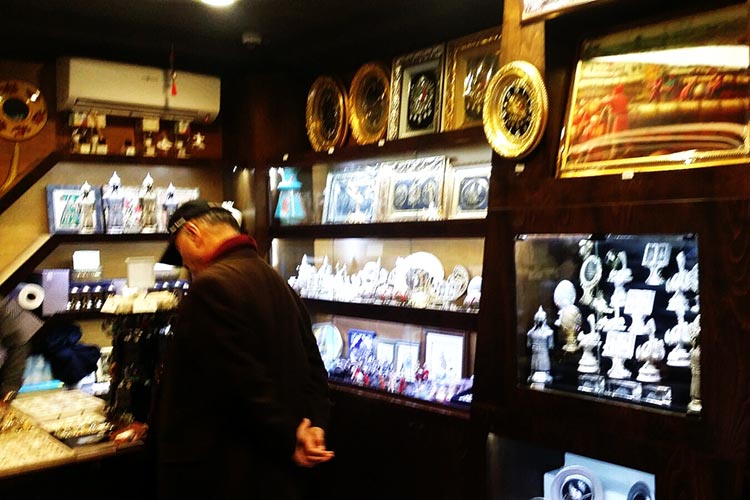 Grand Bazar (world's largest covered market, which has 26 entrances)
This walk is rather unique and fascinating because trams, buses, cars, pedestrians and underground trains coexist harmoniously to provide convenience to the commuters of Istanbul, in what is clearly a smooth coexistence of public and private transport. In 2002, when President Erdogan was elected to office, the trams and the underground rail served Istanbul through 46 km of railway lines. By next year, this will have expanded to 776 km, reinforced by the completion of the world's biggest airport in Istanbul in 2018, with the capacity to serve 150 million passengers annually.
Istanbul also has a special place for Pakistanis, because the first big mass movement which mobilized the Muslim of India in the 20th Century in 1920, the Khilafat Movement, was launched to express solidarity with Turkey. The Istanbul University, has had a department of Urdu since 1915, and celebrated its centenary with a lot of fanfare two years ago. About a 1000 Pakistani students live and study in Istanbul.
A unique element of walking in the streets in Istanbul in the Sultan Ahmad area, is the variety and diversity of coffee, cuisine, spices, with some of the finest delicacies made to order. For example, the Spice Market of Istanbul offers different kinds of flavours of spices and coffee, including one shop called 'Noori Spice Shop'. It is owned by a gentleman who prefers to call himself Al Pacino, and prepares a concoction called 'Ottoman Coffee', which has flavors of cardamom,cinnamon and other special selected herbs. It is probably the most expensive, but also the most tasty coffee found in Istanbul.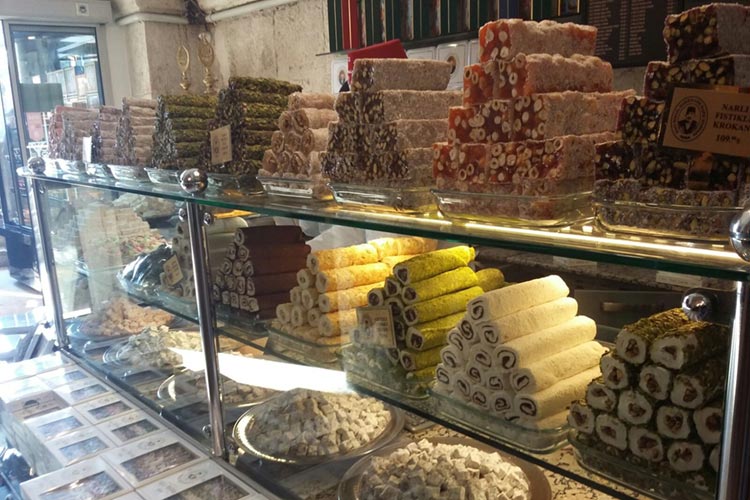 Turkish delights
Another shop in Grand Bazar, which has 26 different gates and winding narrow lanes, selling all kind of goods, provide some of the finest nuts, saffron, multiple varieties of olives and olive oil, including crunchy cardamom from Madagascar! One such shop, called 'Ramazan Canbaz' had a shopkeeper, Abdel Wahab, who spoke a smattering of Urdu because he said there are lot of customers from Pakistan, offering them complimentary hot pomegranate tea.
One of the finest coffee shops in Sultan Ahmed is 'Hafez Mustafa'. Built in 1864, it was converted from a library into a coffee shop that also sells top quality Turkish sweet delicacies like Baklava. (the best Baklava is usually made of honey). And Sultan Ahmad also hosts some very nice kabab joints. Sultanahmat Koftecesi is one such famous shop which was built in 1920, and is quite popular for its grilled kabab and kofta (meatballs) with fresh salads, topped by "Ayran", a delicious creamy yoghurt drink which is the Turkish version of lassi.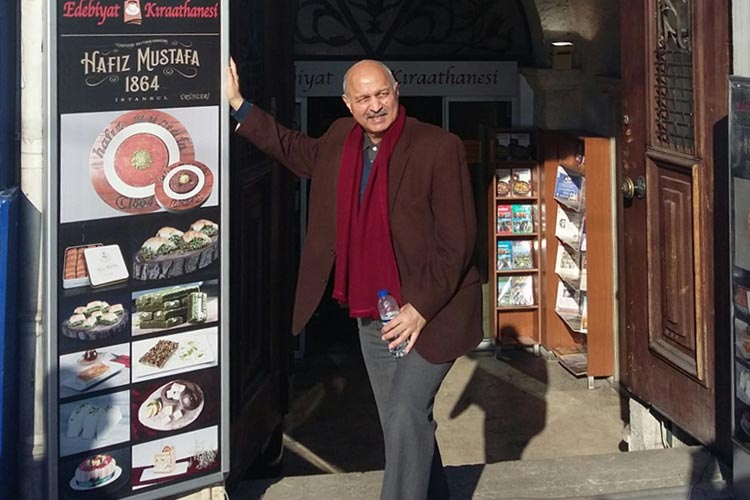 The author at Hafiz Mustafa coffee shop
Turkish delicacies that are available in Istanbul are also delectable. For example, the 'Simit' is a cross between a Turkish Bagel and Pretzel, sesame-encrusted bread which is often an inexpensive and filling breakfast on the move, with a filler of cheese, that is accompanied by piping hot Turkish coffee. Then, for the winter, there is nothing better than 'Salep' which is slowly cooked, creamy milk with cardamom, cinnamon, and rosewater, with a topping of sliced pistachio. And the presentation of Turkish ice cream is like a well-developed ritual, done with almost acrobatic precision to fascinate and amuse tourists.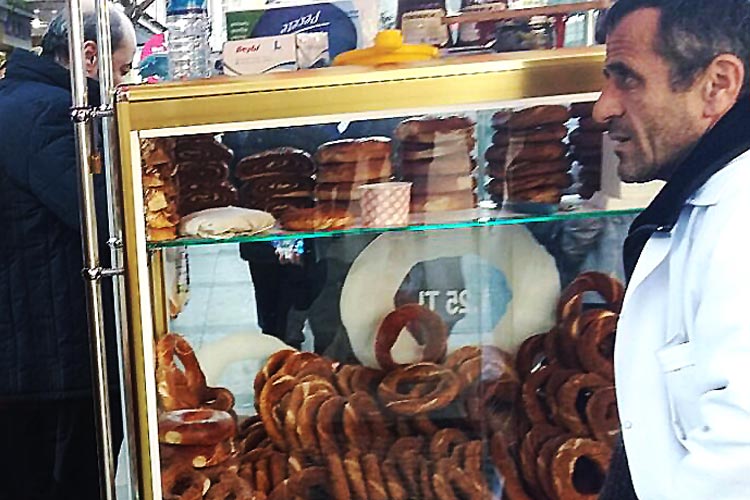 Simit is a popular snack
Turkey, under President Erdogan, who acquired his reputation of an able administrator as Mayor of Istanbul, has been transformed into a modern, developed, and self-confident country that takes pride in its well-preserved past, and has faith in the future. Turkey has also managed to rediscover its roots, while making a clear distinction between modernisation (which is warmly embraced) and Westernisation (of which they are wary, partly because of growing Islamophobia in Europe). Today's Istanbul presents the finest example of this blend of tradition with modernity, and dynamism befitting its key role as the world's premier 21st Century global city.
Ice cream Turkish style
You may also like: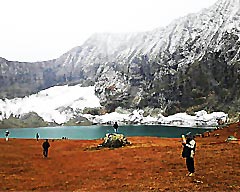 Trekking to Ratti Gali Lake
(January 29, 2018)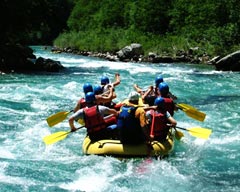 Water Adventure in Pakistan: Rappelling and Rafting
(January 22, 2018)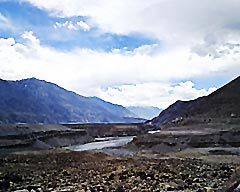 The Stunning Haramosh Valley and Kutwal Emerald Lake
(January 05, 2018)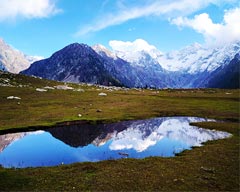 Trekking to Jahaz Banda
(November 03, 2017)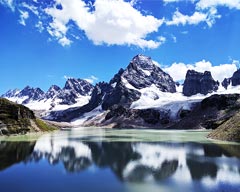 Diary of a Trekker: Arang Kel & Chitta Katha Lake
(September 27, 2017)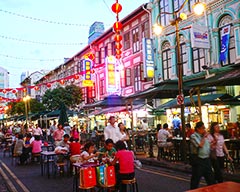 The Lion City: Diving into Multi-Ethnic Singapore
(June 05-2017)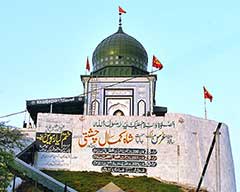 Kasur: A Day in the City of Shrines
(January 16, 2017)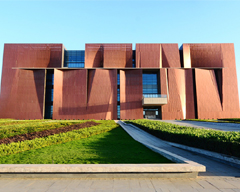 Yunnan Provincial Museum
(September 27, 2016)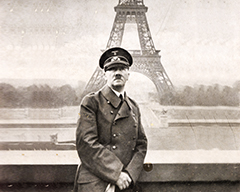 Nazi Legacies: Eagle's Nest and the Warsaw Uprising
(August 31, 2016)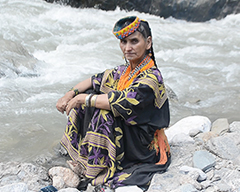 Experiencing Kalash: The Dwindling Pagan Tribe of Pakistan
(August 25, 2016)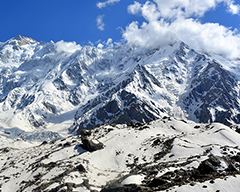 Meeting the Mammoth Part II: Nanga Parbat Base Camp
(July 11, 2016)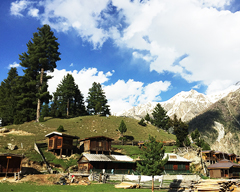 Meeting the Mammoth Part I: Trekking Up to Fairy Meadows
(July 05, 2016)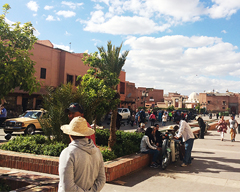 Marrakech Part II: A Walk through the Moorish and French Eras
(June 10, 2016)