Food Review: Jessie's, Islamabad
Written by: Zainab Hasan
Posted on: March 21, 2017 |

Comments | 中文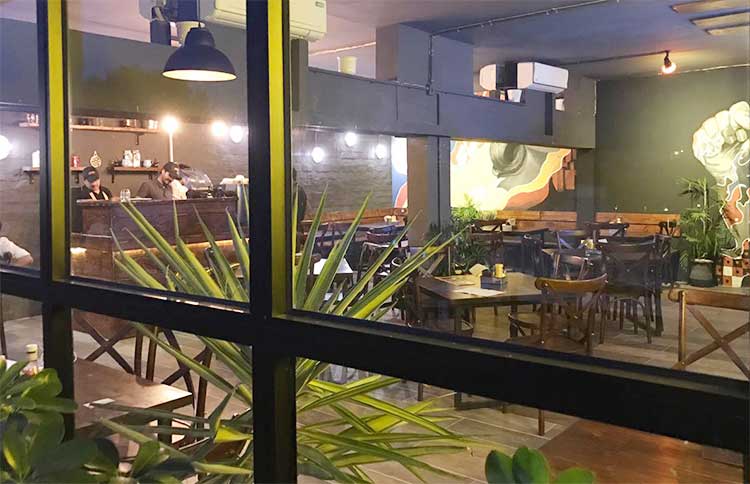 The trendy grey interior at Jessie's
Jessie's is a new burger joint tucked away in the recesses of the sprawling Bhitai Road in Sector F-7, Islamabad. Headed by a trio of foodies, Yawar Siddiqui and brothers Yasir Jaswal and Uzair Jaswal, this place has managed to win countless hearts by word of mouth in a matter of weeks.
"Since as long as I can remember, I have wanted to run a restaurant", says Yasir. "This is all thanks to our parents, who have been hosting dinners for our huge family since we were little. In order to pass on and share this love of food, we decided to open a burger joint in Islamabad."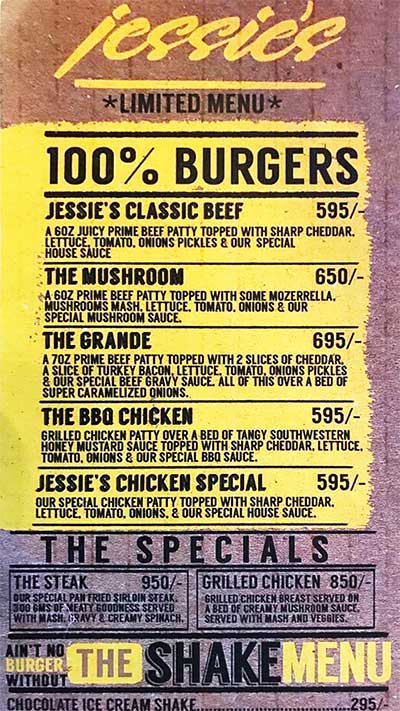 The menu
The ambiance at Jessie's is casual and inviting, making it an ideal place to unwind after a long day. The trendy grey interior, with subdued yellow lights and snug booths, offers the perfect respite from the busy streets of F-7. Incoming customers are greeted by bare wood tables and floors, hanging light bulbs and an open bar. Expansive French windows run alongside a beautiful balcony, offering an enjoyable view for guests sitting outside.
Currently there are five types of burgers on the menu, most of them loaded with at least five toppings each. With a burger so heavily stacked, the challenge is to make each layer stand out, while still complementing all the other ingredients. And this is precisely what Jessie's has achieved. 'Jessie's Classic Beef' lands a magnificent beefy punch, with cheddar cheese melting on a six-ounce beef patty accompanied by lettuce, tomato, onions and pickles in a special sauce. The bun is incredibly soft, yet firm enough to hold the ingredients in place. The pickles offer plenty of flavour without being too sour, and the sharp cheddar cheese blends perfectly with the juicy patty. Now imagine having this burger with a Strawberry Banana Milkshake. This combination is to die for! The 'Ain't No Burger without the Shake' menu offers a number of other flavours as well, including Chocolate Ice Cream Shake.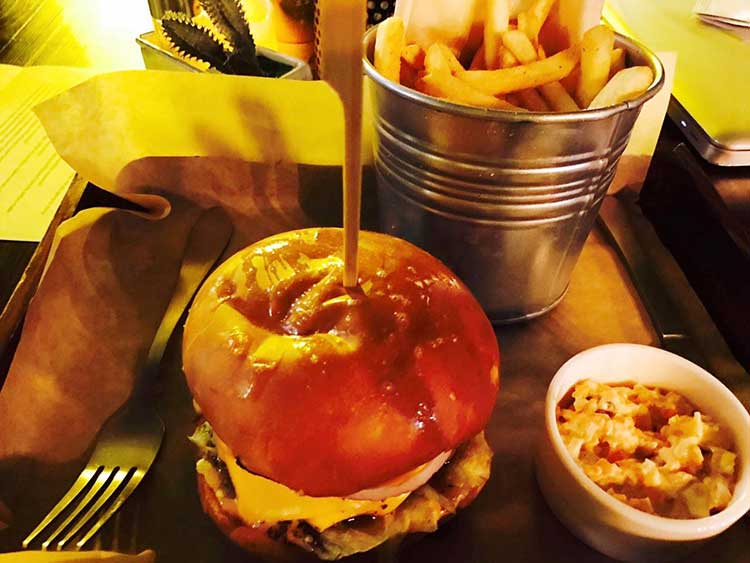 'The Grande'!
Another burger that deserves a mention is 'The Grande': a seven-ounce prime beef patty topped with two slices of cheddar, turkey bacon, lettuce, tomatoes, pickles, and a special beef gravy sauce served over a bed of caramelized onions. The bacon adds a smoky flavour, without overpowering the beef patty. Enclosed in a butter-toasted Pain de Mie bun, this makes for a truly satisfying burger, both in terms of quantity and taste. The thick-cut house-made fries that come with the burger combos are perfectly seasoned, crisp, and in generous quantity. Remember to try them with the hot sauce, which adds significantly to their flavour.
All these savory dishes left me craving a light dessert to finish off my meal, and so I ended up having Jessie's special cheesecake. Light, fluffy and baked to perfection, this one is going to win over even the most discerning cheesecake enthusiasts.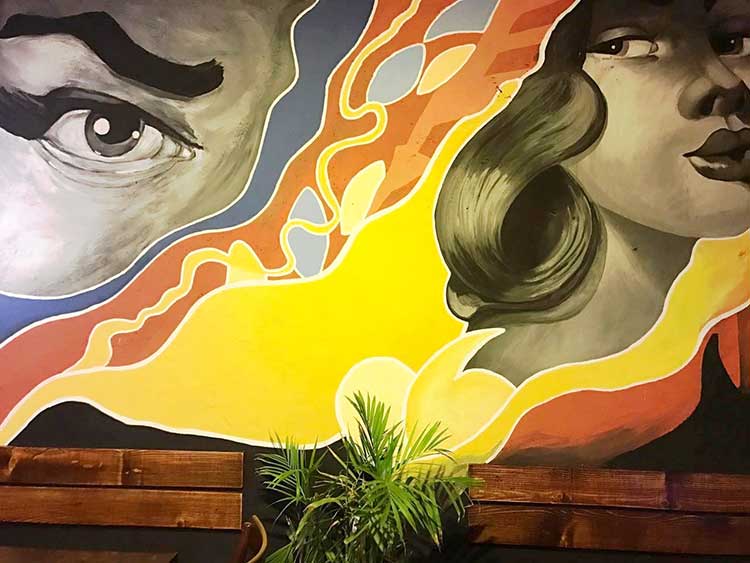 Stunning artwork on one of the interior walls
Jessie's is yet another promising addition to the capital's fast-changing culinary landscape, which manages to stand out despite fierce competition from the abundance of eateries that seem to be opening up in the city every week. Kudos to this team of young entrepreneurs for taking the initiative and sharing their love of food with us!
You may also like: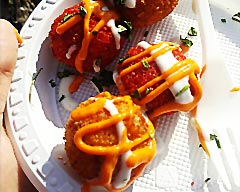 Karachi Eat 2018: The Good & the Bad
(January 16, 2018)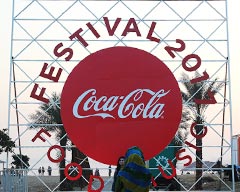 Coke Festival 2017 comes to Islamabad
(December 11, 2017)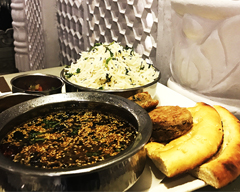 Food Review: Rahdaari
(December 07, 2017)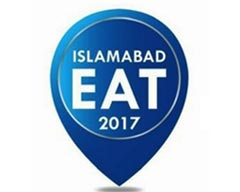 Islamabad Eat 2017: Don't Speak, Just Eat
(November 14, 2017)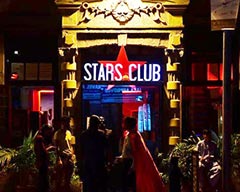 Stars Club: Karachi welcomes its first film-themed café
(November 06, 2017)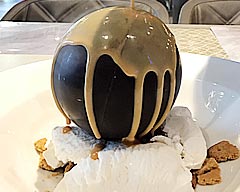 Food Review: Browns, Islamabad
(October 19, 2017)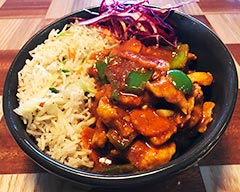 Wok Fusion Café
(October 09, 2017)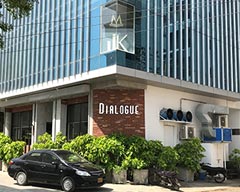 Food Review: Dialogue Restaurant, Karachi
(September 29, 2017)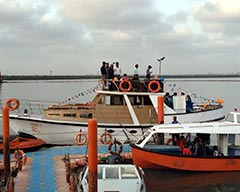 Savor Boating and Restaurant: A Unique Experience
(September 08, 2017)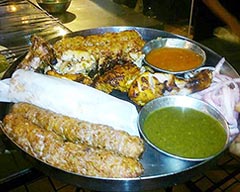 Boat Basin Food Street, Karachi
(August 25, 2017)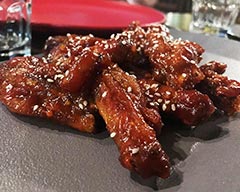 Food Review: #EAT, Islamabad
(August 11, 2017)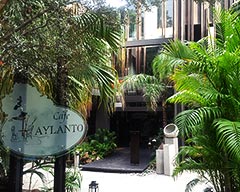 Food Review: Café Aylanto, Islamabad
(August 04, 2017)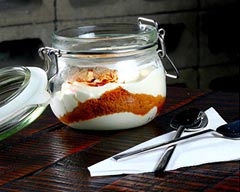 Food Review: Soi Asian Bistro, Karachi
(July 28, 2017)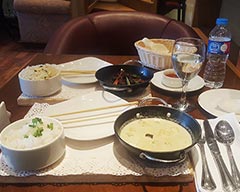 Food Review: The Chinese Café
(July 21, 2017)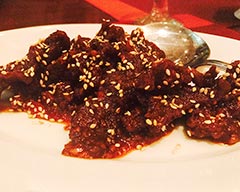 Food Review: Yum Chinese and Thai Restaurant
(July 14, 2017)