Kalajun: A 'Paradise' in the Mountains
Written by: Feng Yang
Posted on: October 03, 2017 |

Comments | 中文 (Chinese)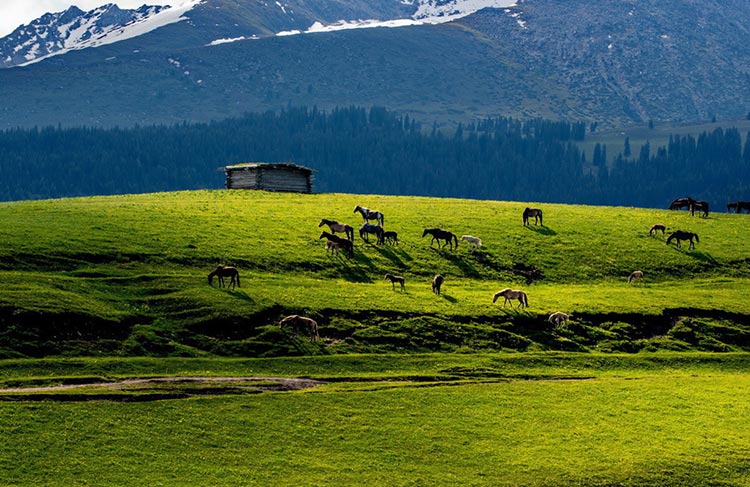 Kalajun, A Paradise in the Mountains (Source, Trover)
Kalajun Scenic Spot lies deep in the midst of Tianshan Mountains. Forests, grassland, snow-capped mountains, glaciers, canyons, rivers, lakes, all come together here, as if in a painting. The scenic spot lies under blue skies; with slowly moving white clouds passing over snow-capped peaks, white yurts of herders, flocks of sheep and goats moving in green pastures, dark green primeval forests and deep canyons.
"This is surely one of those places worth visiting once in a lifetime. The blue sky washes away sorrows, and gives my mind clarity. Lying on the grass, I look at the quiet and beautiful lake, and looking up at the sky, I feel the peace of Kalajun." In contrast to the slightly monotonous color and scenery in winter, the spring and summer of Kalajun turns out to be more favorable for visitors, who can enjoy the beautiful scenery, since the grasslands are greener, with wild colourful flowers.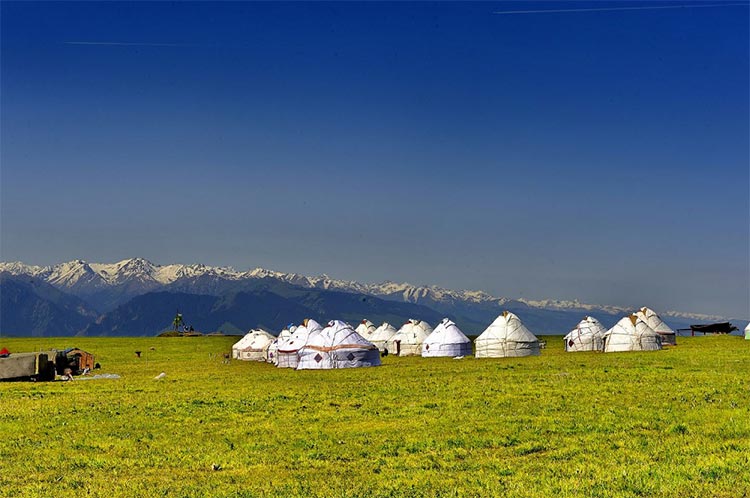 White Yurts in West Kalajun (Source: XjKalajun)
Kalajun is located in Tekes County of Yili Prefecture, Northwest Xinjiang. The county is famous for its eight-diagram-shape. 'Kalajun' means "wild grassland on the ridge" in Kazakh language. It has become one of the four key sites of, "Xinjiang Tianshan World Natural Heritages," in UNESCO's list and one of the national 5A-level scenic spots. It consists of five parts: East Kalajun, West Kalajun, Koksu Grand Canyon, Heavenly Forest, and the snow peaks of middle Tianshan Mountains.
Snow-capped peaks and canyons in East Kalajun are in stark contrast to the forests and grasslands. The grasslands and shrubs form an unparalleled artistic pattern, at sunrise and sunset, with distinct gradations and blooming flowers. Such natural sights are rare in the rest of the world, which makes East Kalajun one of the iconic landmarks of Xinjiang Tianshan Mountains.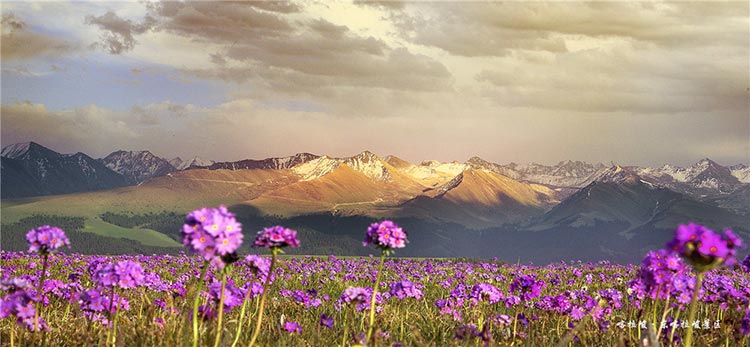 Spring in East Kalajun (Source: XjKalajun)
The grasslands ecosystem in West Kalajun is well preserved, and the natural landscape and cultural landscape continue as they once were; a rare occurrence in present-day China. The landscape consists of grasslands, snow-capped peaks and river valleys, with local horse culture at peak during spring and summer. Not only is the beautiful grassland scenery of Xinjiang Tianshan Mountains enjoyable, but a ride on a strong trekking horse is also possible.
The Koksu Grand Canyon landscape consists mainly of canyon landform, water landscape and alpine meadows. It has a combination of high-mountain lakes, snowcapped-peaks, vegetation, bold cliffs, ravine streams and rare rocks.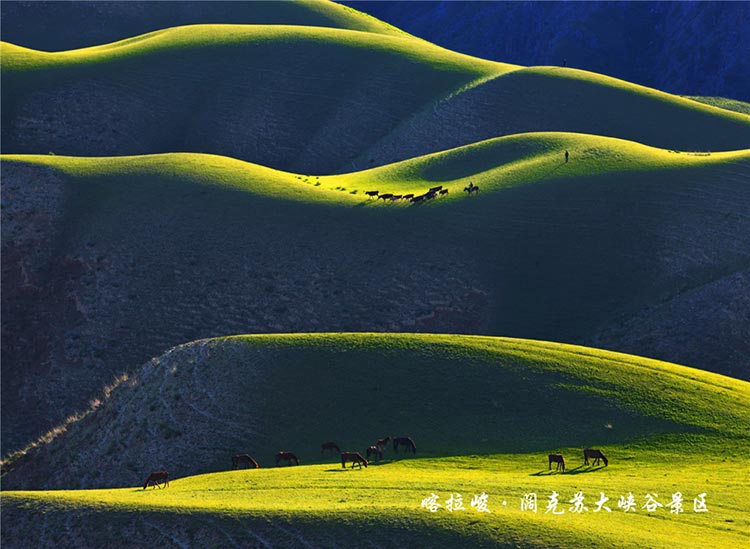 Koksu Grand Canyon (Source: XjKalajun)
The Heavenly Forest is primitive, quiet and inaccessible, with dense forests. The canyons are full of ravine streams, small-leaf trees and shrubs. Half way up, the mountain gets covered with clouds and tall trees. From the top of the mountain you can see the Asusai meadow, which looks like a green carpet extending to the foot of the Asusai Snowcapped Peak. The meadow is a good place for hiking, horse riding, and outdoor camping for adventurers.
The Qiongkushitai National History and Culture Village is located on the snowcapped peaks of middle Tianshan Mountains, and it is a place for tourists to experience the Kazakh folk customs.

Kalajun with Tianshan Mountains in the background
In the summer, the Kalajun Scenic Spot is no doubt at its most gorgeous, with blooming flowers in the meadows, a beautiful falcon-hunting terrace, the magnificent Koksu Grand Canyon, the Green Wave Valley which has layers of tender green pasture, and the surrounding mountains winding roads. The white yurts are surrounded by flocks of sheep, goats, cattle and horses. The smoke from kitchen chimneys curls upwards, while lambs, calves and foals run about nearby. Taking a walk in such a wonderful place is both relaxing and refreshing.
Nowadays, many herdsmen are engaged in tourism services through the help of local tourism cooperatives in Kalajun Tourist Service Center.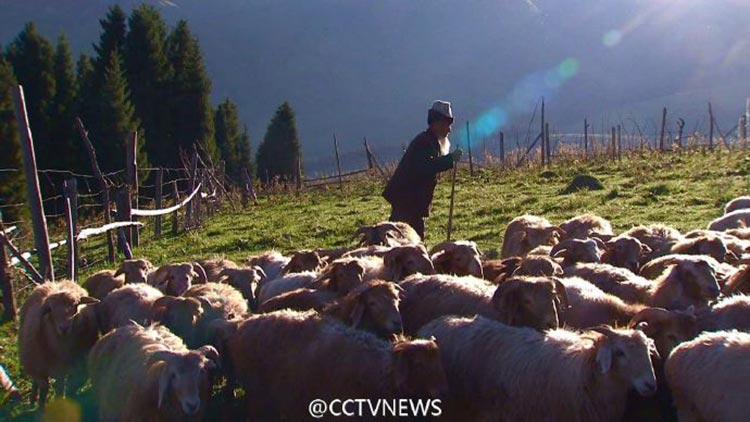 Qiongkushitai Village (Source: CGTN)
Translated by Yang Keli
You may also like: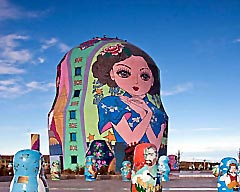 Manzhouli: A Blend of Three Cultures
(October 18, 2017)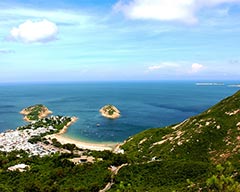 Hiking Trails in Hong Kong
(October 12, 2017)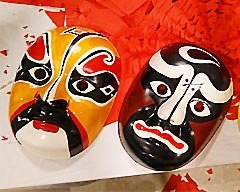 'Happy Mid-Autumn Festival' at Confucius Institute, Islamabad
(October 05, 2017)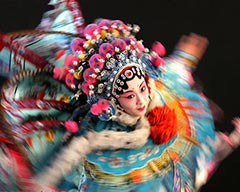 Saving the Classics: Oral History Project of Peking Opera Artists
(September 26, 2017)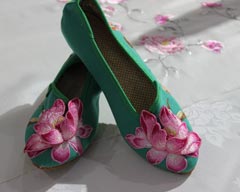 Exhibition of Traditional Chinese Costumes at PNCA
(September 25, 2017)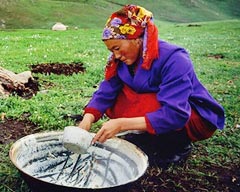 Organic Food of China
(September 21, 2017)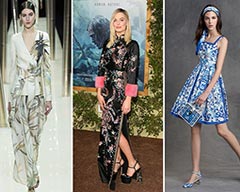 Chinese Cultural Influence on International Fashion
(September 14, 2017)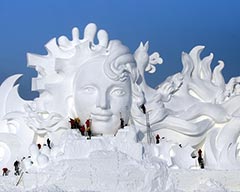 Harbin - A Summer Ice City
(September 06, 2017)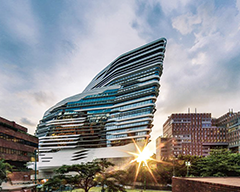 Modern Architecture in Hong Kong Universities
(August 31, 2017)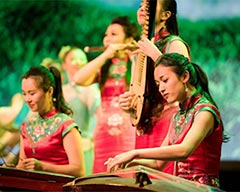 Travel around China with Folk Songs
(August 24, 2017)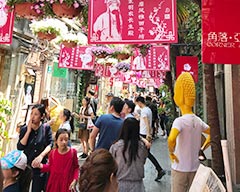 Walking Through Tianzi Fang, Shanghai
(August 21, 2017)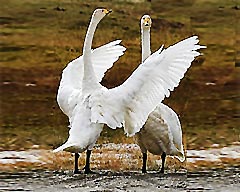 Bayanbulak: The Beautiful Homeland of Swans
(August 18, 2017)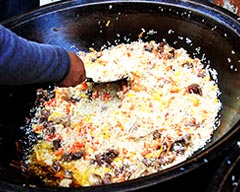 Pilaf: A Taste of Xinjiang
(August 08, 2017)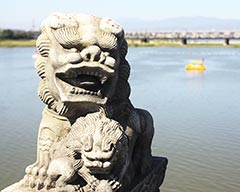 The Stone Lions of Lugou Bridge: When were they carved?
(August 03, 2017)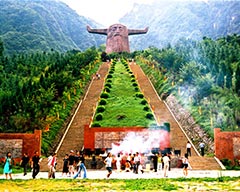 Shennongjia: Land of Colours
(July 26, 2017)