My Xinjiang: A Micro-Documentary by a Student
Written by: Staff Report
Posted on: July 19, 2017 |

Comments | 中文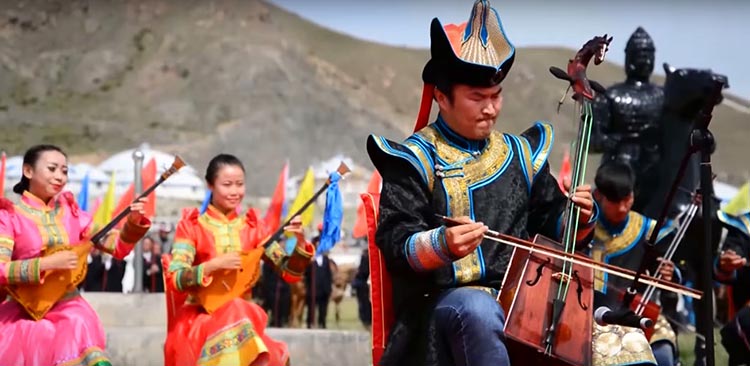 The Xinjiang people
Without a production team, expensive equipment or an established script, Shui Zheng, a student from Xinjiang Arts University, completed a five-minute micro-documentary called, "My Xinjiang." His two tools were a digital SLR camera and a selfie stick. As soon as the documentary was uploaded, in just a few days, the views were in six figures. Perhaps the reason was that the images of the vast and beautiful Xinjiang, with the background of Shui's simple narration, are genuinely touching.
Shui Zheng's soliloquy in the documentary speaks of his intention to make this micro-documentary: "When I first came here four years ago, Xinjiang was an unknown place for me, but I was fascinated by it. My friends, who had never been here, had warned me about personal security. However, I believe misunderstandings cannot be done away with through words. Thus, I decided to embark on this journey with my camera, to record the land I love. And show it to those who have not had the opportunities to look at it."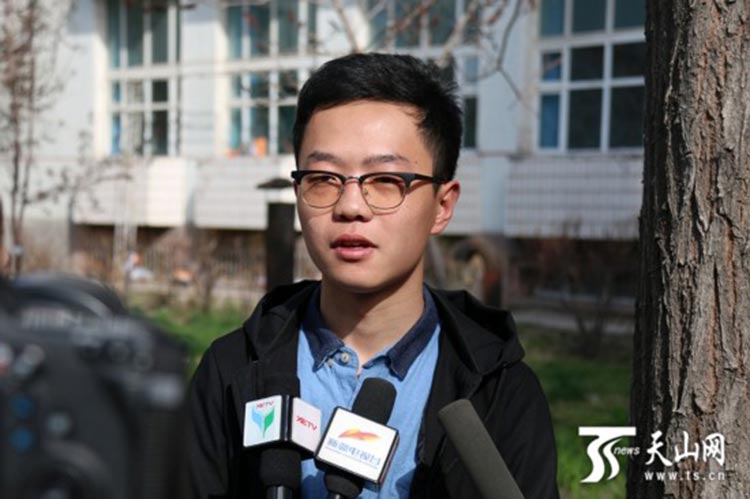 Shui Zheng (source: CCTV)
The journey covered about 10,000 kilometers in 2 months. Shui left his footsteps in over 20 cities and counties in Yili, Turpan, Kashgar, Aksu and Hotian, and experienced Xinjiang with all his heart through photography. Despite facing unexpected difficulties and challenges, such as heavy rain when shooting the starry sky, falling rocks due to landslides and highland hypoxia response, he persisted and completed the shoot.
When it was released last year, the micro-documentary 'My Xinjiang' witnessed a click rate of more than 10000, within 3 hours of its upload. In only 5 minutes and 40 seconds, this documentary was widely spread through the WeChat Circle of Friends. Since it offered audiences with a completely new view of Xinjiang, within 2 days, the views went up to 35000. Internet friends in China, from places beyond Xinjiang, were amazed: "He gave us a diverse and international Xinjiang. It is worth visiting." "What a beautiful Xinjiang!" Other compliments praised his professional spirit, admired his courage and perseverance, and encouraged him to hold onto his dream.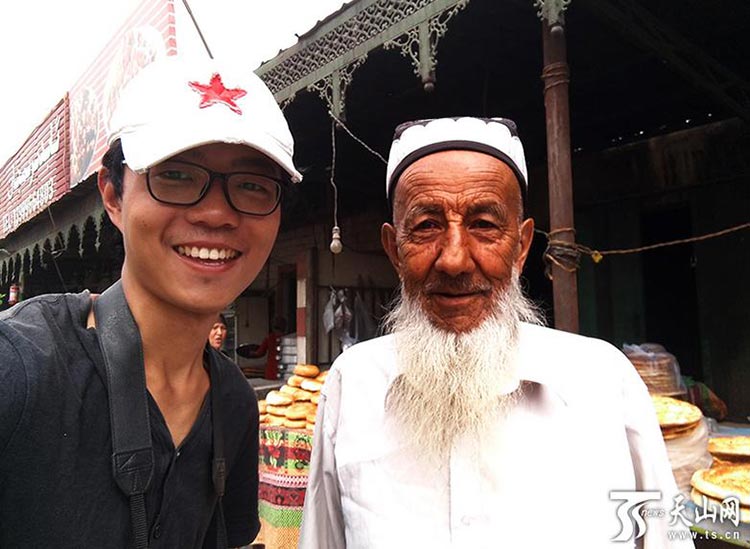 Shui Zheng with a local (source: CCTV)
In 2012, Shui Zheng, a senior high school student from Zaozhuang City in Shandong Province, was admitted to Xinjiang Arts University, Urumqi. Like many others who had never been to the region, Xinjiang was a mystery for him. However, four years of university life led him to appreciate the land and its people.
"As an ordinary person, I want to tell others about Xinjiang from my eyes," said Shui Zheng. "Four years of university life have left me with warm and beautiful memories. Teachers and students at the university belong to different ethnic groups, but they live and study as closely as family members." It's this real life experience that gave Shui Zheng such affection for Xinjiang.
With his love for Xinjiang, Shui Zheng's documentary also tells the stories of the Xinjiang people. Both natural scenery and interaction among different ethnic cultures are vividly displayed in his short film. Through the 'eye of his camera,' Kalajun Steppe under a blue sky, winding river bends against the sunrise, yellow cole flower fields in Zhaosu of Yili, and Sarim Lake against white clouds are spectacularly presented. What is most touching, are the friendly and charming smiles of people of different ethnic backgrounds. More pictures record local customs and the kind help Shui Zheng had from the people he encountered on his journey.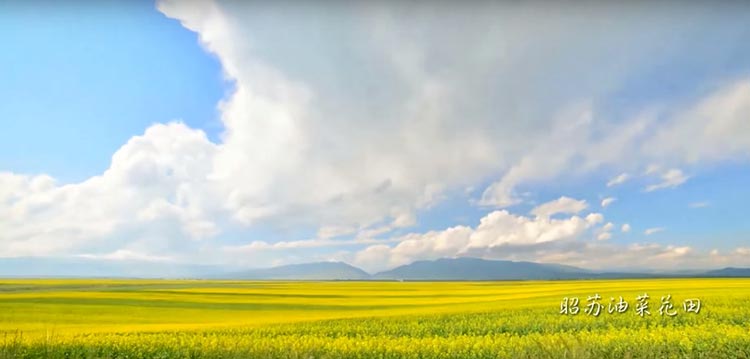 The yellow cole flower fields of Zhaosu, as captured by Shui Zheng
Shui Zheng said that unexpected difficulties didn't baffle him during the filming. He still remembers a Kazakh man gave him local dry milk cheese as food, a Hui brother rolled down his car window after seeing that Shui Zheng could not cycle any further, and "little translators" (school pupils of different ethnic groups) voluntarily translated conversations for him. He recorded all of this with his camera and clipped them together in his documentary.
Shui Zheng says that he plans to further improve the film, by adding the stories and expectations of people he met on his journey. In a village in South Xinjiang, a small Uyghur boy said his dream was to become a football star as famous as Cristiano Ronaldo while a Kazakh sister wished to open a restaurant for a better life. "It is the ordinary people with their dreams, who have built Xinjiang into a large harmonious family," said Shui Zheng.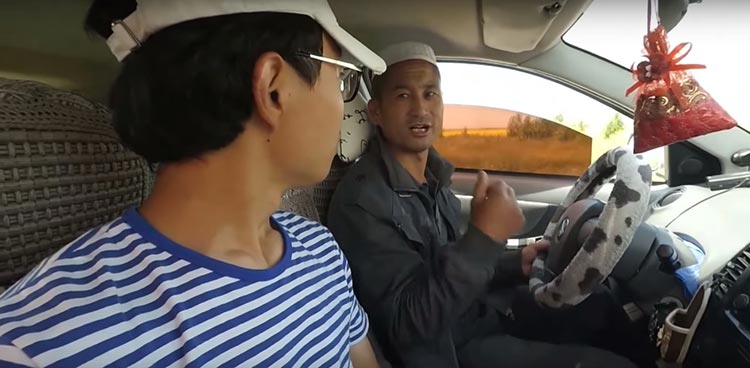 The Hui businessman
My Xinjiang not only records Shui Zheng's journey in Xinjiang of over two months, but also shows his affection and understanding of Xinjiang, which he has acquired over his four years. According to the documentary, "Xinjiang, like a charming girl, is sometimes bold, and sometimes gentle. There are many puzzles for me to explore. Xinjiang, misunderstood by many, needs people to see its genuine past and present. My journey and experience in shooting the film tells me that Xinjiang is close to all of us who live outside of it. Its people, like many of us who have dreams for a better life, are kind. Though far from my home town, the people here have the same dreams as we have."
(source: CGTN America)
Translated by Xin Yuan
You may also like: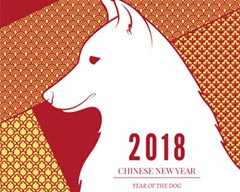 Significance of the Year of the Dog in Chinese Astrology
(February 16, 2018)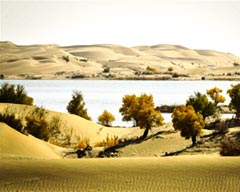 The Restoration of Taitema Lake
(February 13, 2018)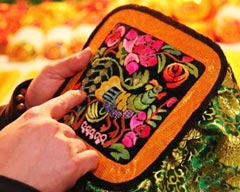 Female Embroiderers of Xinjiang
(February 08, 2018)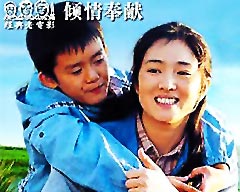 Chinese Film Month begins in Islamabad
(February 08, 2018)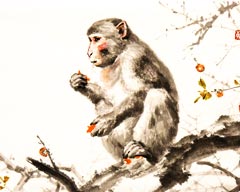 The Monkey in Chinese Culture
(January 31, 2018)
Etles Silk from Tianshan at China Fashion Week
(January 24, 2018)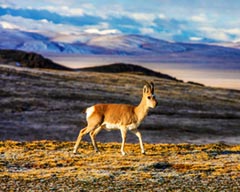 Hoh Xil: Kingdom of Wild Animals
(January 18, 2018)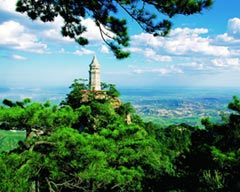 Panshan Mountain of Ji County
(January 11, 2018)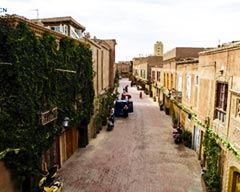 Stories from the Old Town of Kashgar
(January 04, 2018)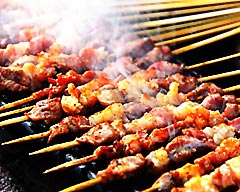 International Cuisine in Urumqi
(December 27, 2017)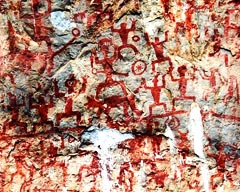 Zuojiang Huashan Rock Paintings, Guangxi
(December 19, 2017)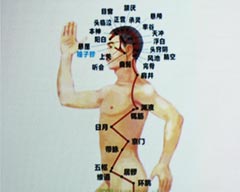 Seminar on Chinese Outlook on Life and Contemporary Value of Chinese Medicine
(December 15, 2017)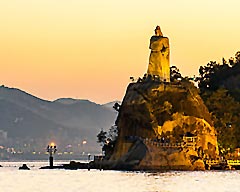 Gulangyu Island: The Island of Music
(December 13, 2017)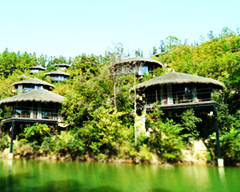 Mogan Mountain Farm Villas
(December 06, 2017)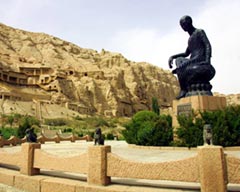 Kuqa: The Old Town on the Silk Road
(November 29, 2017)