Ningbo: A Seaport City in East China
Written by: Wen Jing
Posted on: February 07, 2014 |

Comments | 中文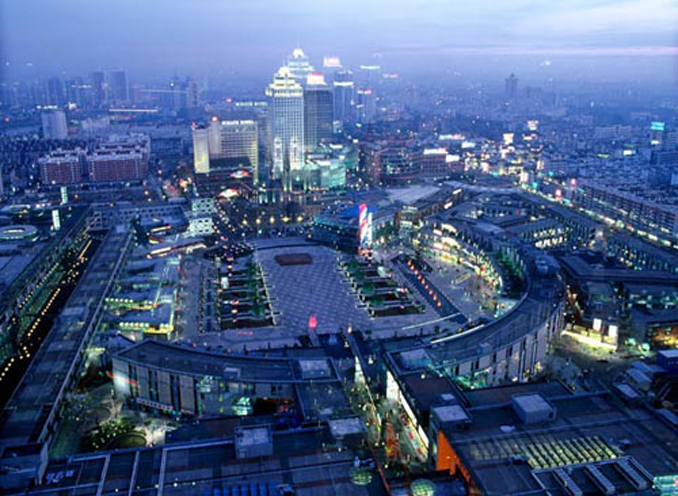 The name of the city Ningbo literally means "serene waves." Situated in the east of Zhejiang Province, to the south of the Yangtse River Delta, the city covers an area of 9,365 square kilometers. It is one of the country's most famous historical and tourist cities, and is also one of the three economic centers of Zhejiang Province. As a seaport of China that opens to the whole world, the city is endowed with favorable trade, commerce, and foreign investment introduction policies. Since 2008, the city has been successively elected as China's top cities of a happy living.
Ningbo has a long history. It was the birthplace of the Hemudu culture dated back to 7,000 years ago. It also has given birth to many great men of letters, e.g. Yu Shinan, the great philosopher Wang Shouren, the influential ideologist Huang Zongxi, etc., and some famous schools of thoughts, e.g. Si Ming School, Yang Ming School, and Zhe Dong School etc. Ningbo has a rich culture of book collections. Many pavilions there have collections of over thousands of books. Tian Yi Pavilion, for example, is the most ancient one. Its 400 years of history made it a symbol of the Chinese book collection culture.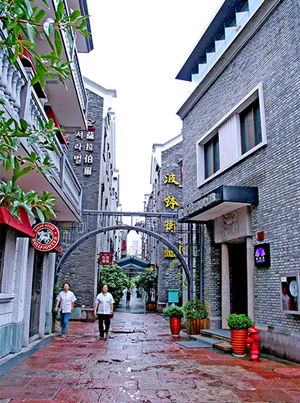 A Ningbo street
In modern times, the city has also witnessed the growth of many celebrities, such as Shao Yifu, the Hong Kong media mogul and the man of financial donations for supporting education in China, the world-known cello player Yo-Yo Ma, famous comedy actor Stephen Chow, the very famous Chinese scholar Yu Qiuyu, Chinese painting master and art educationist Pan Tianshou, and Chinese calligraphy and seal cutting master and art theoretician Sha Menghai. There is one person that cannot be ignored, that is Chiang Kai-Shek, the party, political, and military leader of the KMT government.
Born in a rich cultural reserve, traditional Ningbo handcraft art, such as wood inlay, Ningbo style furniture, wood carving, Ningbo embroidery, etc., carefully selects its material and processing with delicate workmanship and unique style. The Buddhist culture in Ningbo is also world-known. Temple of King Asoka has the true Buddhist relics of Sakyamuni, the founder of Buddhism. Xuedou Mountain is one of the five famous great Buddhist mountains of China. Baoguo Temple has the oldest wood building structure south of the Yangtse River. Tiantong Temple is one of the five great Zen mountains of China.
The city is the transportation hub of East Zhejiang. Its land, sea, air, and water transportations are all developing very fast, especially Beilun Port, the world-famous "big seaport of the East."

Tianyige Museum
It is also a trade center for home and abroad. In the Tang Dynasty (7th-10th Century A.D.), Ningbo was one of the starting points of "the Sea Silk Road," connecting Japan, Silla (now the DPRK and the republic of Korea), and some other countries of Southeast Asia. Together with Yangzhou and Guangzhou, it is called the biggest foreign trade port of China. In the Song Dynasty (10th-13th Century A.D.), it is, with Guangzhou and Quanzhou, one of the most important ports for foreign trade. After the Opium War, it is one the country's five grand trading passes. In 2000, Beilun Port, as China's significant sea port, it was among the top 2 in China and he top 4 in the world with a turn volume of more than 10 million standard containers.
Ningbo is the most economically developed city in Zhejiang Province, hence it is on the list of the 14 sub-provincial level municipalities. It has the country's No. 4 annual income per capita and No. 2 as in the level of consumption. Ningbo Airport is a significant part of the international air transportation pivotal port of Shanghai. It has opened air routes with 400 airports of an altogether of 79 countries and regions around the world.
It is also a city of class-one markets, e.g. plastic products, light industry products and moulds, fur products, nonferrous metal products, and lamps and lanterns markets, etc. The city is literally a shopping paradise. Tianyi Square is the huge garden CBD in Ningbo. It includes ten business districts and a central park, in which the luxury brand section has all the first-class luxury brands open their stores there, making it the commercial center of the city. Wanda Square also has almost 200 brand companies' stores from home and abroad. Chenghuang Temple Business District is a famous place for trade, delicious food, and tourists. The Old Bund Business Circle is the oldest bund of China and also the top social circle of China. It is enriched with cultures and humanism, providing a classic and multi-cultural commercial service. And finally, the Drum-Tower business circle is surrounded by various kinds of characteristic stores and special snacks.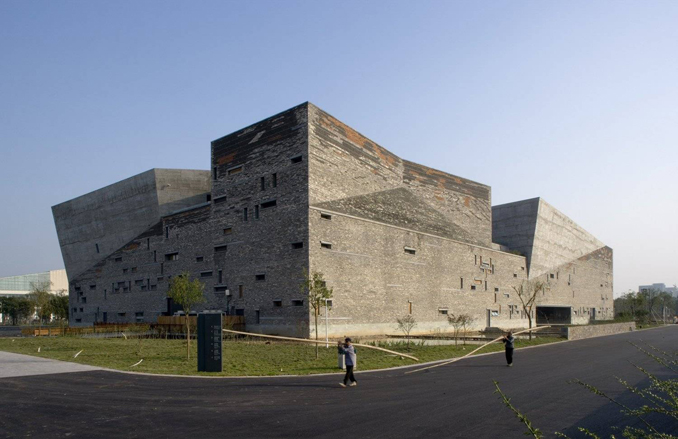 Wangshu History Museum
Ningbo is known as the birthplace of Chinese businessmen. A quarter of the so-called "the shrewdest Chinese" Shanghai people were born here. But compared to Wenzhou businessmen, these men are more interested in big business. For example, Bao Yugang, "the world's shipping tycoon," and many other internationally famous commerce giants were all from Ningbo.
It is also famous for its fellow countrymen who live abroad. Over 300,000 Ningbo people are living in 50 foreign countries and regions. Their connections have become a bridge between Ningbo and the whole world.
The city has a humid subtropical climate. The beautiful mountains and waters in Xuedou Mountains made it a national landscape and famous scenery spot. And the magnificent woods in Tiantong Park made it a national forest park.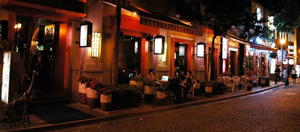 Laowaitian Street
When one thinks of Ningbo, the four scents must have come into his mind --- the scents of rice, fish, book, and ink, which symbolize the abundant products of this place. Seafood, dried sea food, local snacks, fruits in season, traditional art works, and fashionable clothes are on the list of local must-buys. Situated on the east estuary of the Yangtse River, it has a long coast where salty seawater joins freshwater. Therefore, the microorganisms in the waters made the sea products rich in taste and nutrients. Famous for its seafood, Ningbo has all kinds of products, e.g. yellow croaker, hairtail, inkfish, jellyfish, sea-tangle, sea sedge, etc. And for dried products, sea snails, dried shrimps, dried prawns, jellyfish heads, sea-tangle, sea sedge, and dried fish fillet are the most well-known and are often sent as gifts by local people.
Unique Features of Ningbo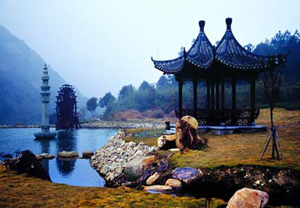 Xikou, an ancient town in Ningbo
The Phoenix Mountain Theme Park: It is a modernized international grand hi-tech theme park. Approximately 100 million US dollars were invested in the first session of its construction. The park covers an area of 260,000 square meters and was designed by the US's top designing company IRA with the most advanced techniques. Recreation facilities were imported from Germany, Switzerland, America, and Italy. Some of the recreation facilities are the world's or Asia's biggest.
Gold-Silver Embroidery: Also known as "antique imitating embroidery", it is the top product of Ningbo embroidery. Xiang (Hunan), Su (Suzhou), Jing (Nanking), Yue (Guangdong), Shu (Sichuan), and Ning (Ningbo) embroideries are considered as China's finest. It adopts various silk-made materials and embroiders with gold and silver threads, creating a classic and wealthy look. It is usually stitched onto items of daily use, such as pajamas, cushions, tablecloths, bedcovers, purses, etc.
Straw Hats: The women in Ningbo are good at making straw hats, which has become a part-time job for most of them. The finest handicraft comes from Cixi River Village. The hats made there are light as air, bright as snow, beautiful and of top quality. After a series of procedures, e.g. bleaching, coloring, painting, embroidering, and decorating, the hat can go with fashionable garments. It not only protects from the sunshine but is also a stylish accessory. It is made of golden threads, wheat-straw, papyrus, etc. And its annual production output is over 2000, most of which are exported as semi-finished articles for the foreign companies to change its style accordingly.
Bamboo Weaving: Ningbo is the hometown of bamboo weaving. The technique dates back to very ancient times. In Ningbo, there are dozens of bamboo weaving companies. The workers there can make cute miniatures of animals out of bamboo yarns and strips. Some are later processed into jars, plates, and boxes, which are very popular as export products.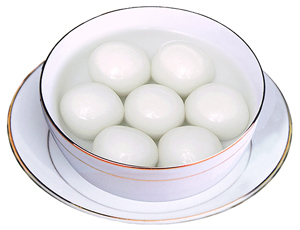 Ningbo Tangyuan
Ningbo Cuisine: since Ningbo is famous for its seafood, the steamed, baked, and stewed dishes of fresh seafood are very popular. For example, steamed turtle in crystal sugar soup, steamed pork wrapped in lotus leaf, and yellow croaker and sea cucumber soup are among the great ten dishes of Ningbo cuisine.
Tangyuan: During the Spring Festival, Ningbo people enjoyed tangyuan on the very first day of the Chinese New Year. The round sweet made with rice symbolizes harmony. Ningbo tangyuan have very thin and soft wrappings. White and shiny, the tangyuan are glutinous but sticky. The sweet fillings melts in your mouth as the hot sugar are fragrantly sweet. The frozen Ningbo tangyuan has been exported to Hongkong, Macau, and Europe in recent years.
Yuyao Bayberry: The Ningbo bayberry is tender and sweet. It has a rounded pearl shape and agate red color. There are generally four categories --- white, pink, red, and brown. Bayberries can be made into sweetmeats, juices, jams, and can be preserved in tins and cans. Their juice can quench one's thirst and drive away summer heat. Bayberry wine is a great cure for summer heat. Yuyao bayberry is one of the "famous, special, quality, and rare" products admitted by the Agriculture Ministry of China. Besides, Cixi is another important place of bayberries production.
You may also like: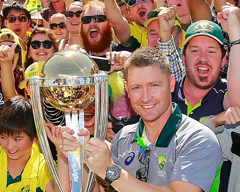 Australia Pulverizes New Zealand to Bag World Cup 2015 Trophy
(March 30, 2015)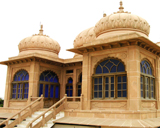 The Undying Grandeur of the Mohatta Palace Museum
(March 29, 2015)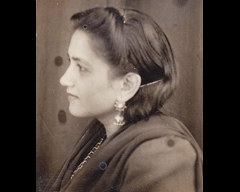 Ada Jafarey: A Tribute
(March 27, 2015)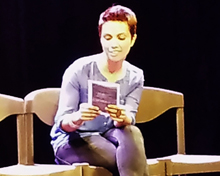 Me, My Mom & Sharmila: Fawzia Mirza and the Brown Woman
(March 26, 2015)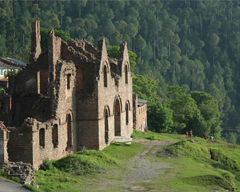 Silk Road: The Picturesque Mansehra and Abbottabad-VI
(March 25, 2015)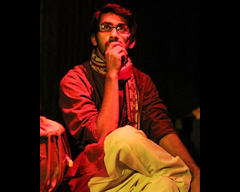 Azeem Hamid and the Independent Theatre Company
(March 25, 2015)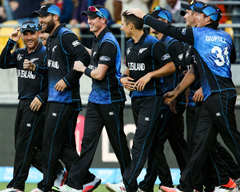 New Zealand to Choke South Africa and India to Overpower Australia?
(March 24, 2015)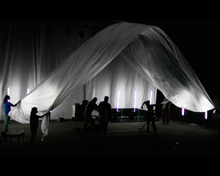 NAPA International Theatre Festival 2015: 'Among Fog'
(March 20, 2015)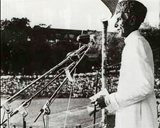 Pakistan Resolution Revisited
(March 20, 2015)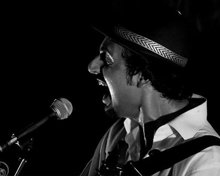 Faizan Tirmizi - The Ideology of an Aspiring Musician
(March 12, 2015)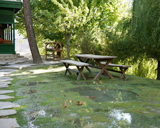 Hunza Valley: A Fine Balance between Tradition and Modernity
(March 10, 2015)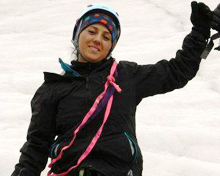 Samina, we are proud of you!
(March 06, 2015)