Stories from the Old Town of Kashgar
Written by: Yuetiker Nijiati
Posted on: January 04, 2018 |

Comments | 中文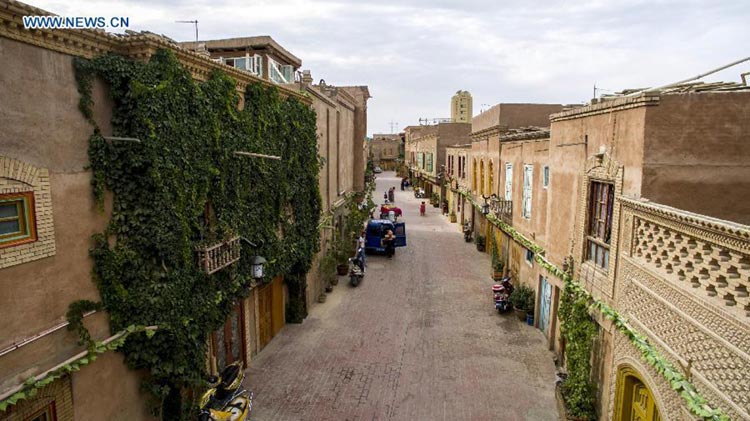 The Streets of the Old Town (Source: ChinaDaily)
Kashgar is located in the south-west of Xinjiang, China. The summer temperature is rather high in daytime but cool and comfortable in the evening. When the sun sets down in the west, tourists from different corners of the city like to walk around its Old Town.
Mr. Abdumijit Aabdurexit, the owner of a coffee house, is busy grinding coffee, the sweet smell spreading around the coffee house. An American tourist, Mike, and his wife, sit on the carpet, playing a Hawaii mini-guitar song, with it's native popular country tune. His son is playing football with others in the tidy and wide space. Glancing at them every once in a while, events from his own past flash through Abdumijit's mind.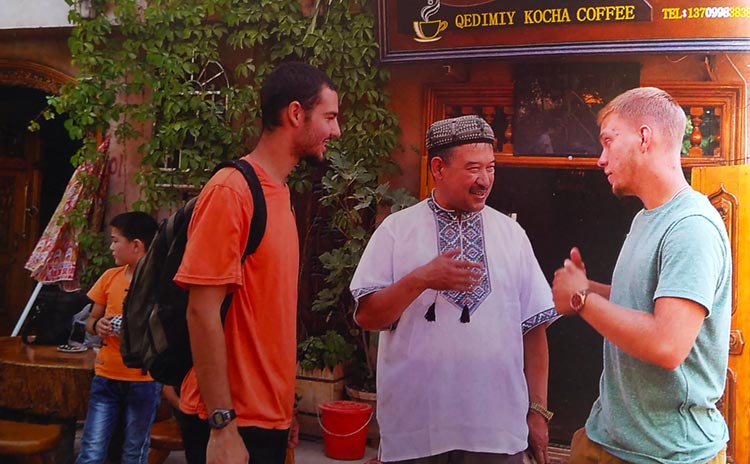 Abdumijit talking to foreigners
Forty years before, when Abdumijit was young boy, he often played football in the narrow muddy lanes with his friends. The local people always described their old town as a place with "poor living condition" where "garbage was cleaned by wind, while domestic sewage was evaporated by hot temperature."
Since the year 2010, the local government has carried out a project of rebuilding Kashgar. The policy of the project is based on maintaining historic features, with their traditional and special local characteristics. The whole city as well as the Old Town in particular began to change into a clean, beautiful and even attractive place.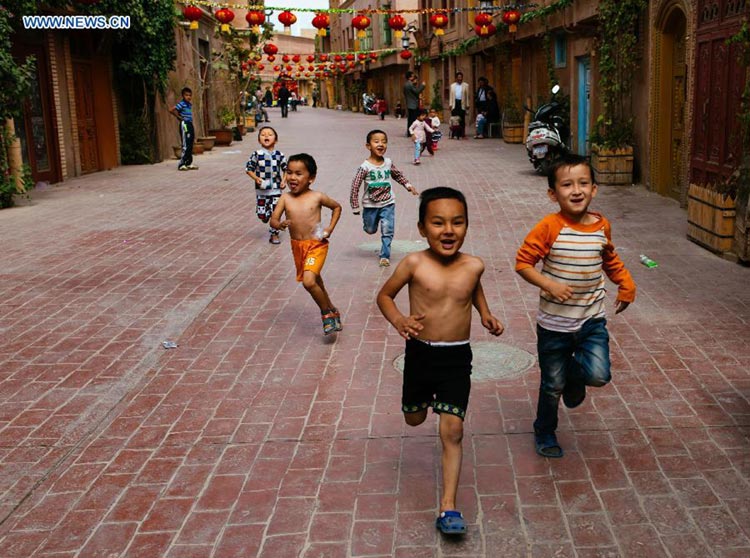 Children run through the streets of old town (Source: ChinaDaily)
Along with developments in city construction, great change has taken place in Abdumijit's family life. He moved to a three-storey building from a clay-brick house. After residing in these new living conditions for some time, he realized that he could utilize the opportunity right before him, since increasingly more and more tourists now come to visit the Old Town.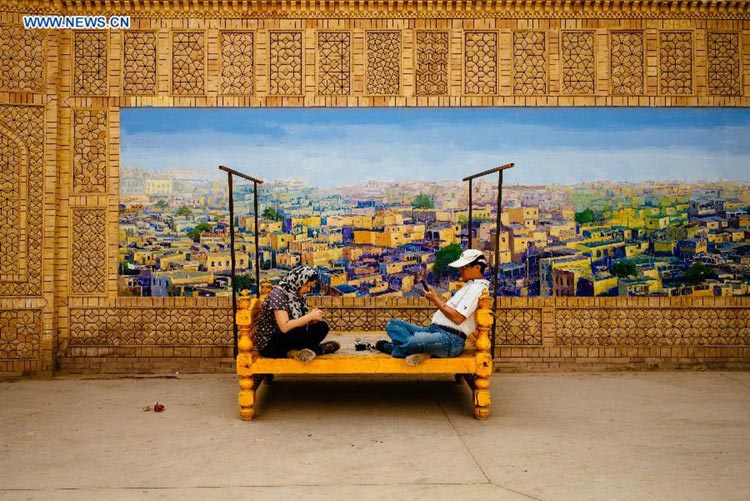 Tourists rest in the old town (Source: China Daily)
He decided to go to Urumqi to attend a coffee making training course, and turned the first-floor of his building into a coffee house. He registered "Guxiangdao" ("old lane" in Chinese language) as the trade mark for his coffee house. The coffee house ended up being officially nominated by local tourist department as an "Old Town tourist reception site."
Now, Abdumijit has started to re-fit the second floor into a family showroom, to display his collection of Uygur costumes, tools and musical instruments. He hopes to offer tourists more and more, and further enhance mutual understanding between people.
Not far from "Guxiangdao" Coffee House, there is a gallery named "Tupurak" ("native place" in Uygur language) which is managed by the oil-painter Mr. Kaisaer Abdula.
Abdula was absorbed in painting an oil-painting, "Old Town Street," when I visited his gallery. Kashgar Old Town Scenic Administration Committee has provided free galleries to 12 local painters. They may paint and display their paintings in these places.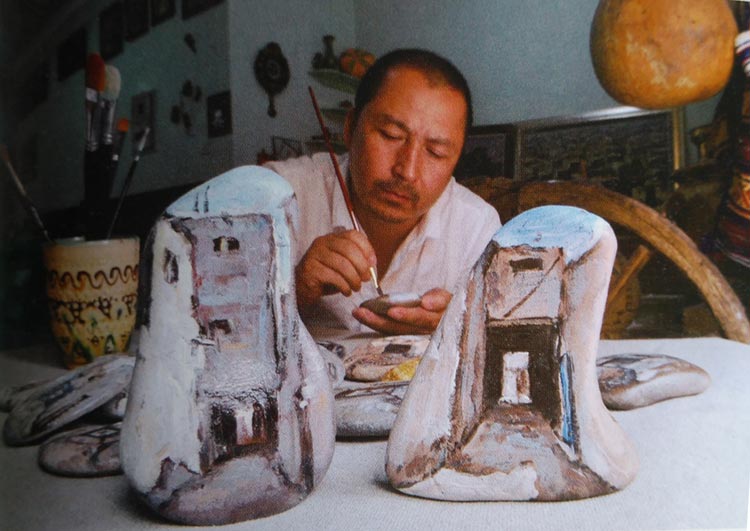 Kaisaer Abdula painting stones
Abdula also paints on stones besides painting on canvases. His paintings are warmly appreciated by tourists from both home and abroad. He said to me, "These paintings can tell people about the development of Kashgar, and draw more and more visitors to Kashgar."
Translated by Helime
You may also like: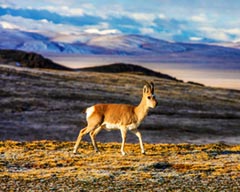 Hoh Xil: Kingdom of Wild Animals
(January 18, 2018)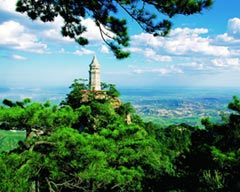 Panshan Mountain of Ji County
(January 11, 2018)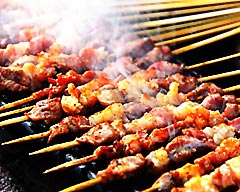 International Cuisine in Urumqi
(December 27, 2017)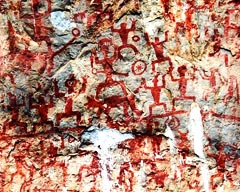 Zuojiang Huashan Rock Paintings, Guangxi
(December 19, 2017)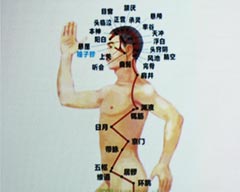 Seminar on Chinese Outlook on Life and Contemporary Value of Chinese Medicine
(December 15, 2017)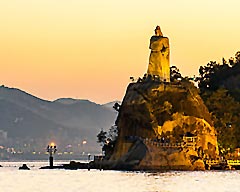 Gulangyu Island: The Island of Music
(December 13, 2017)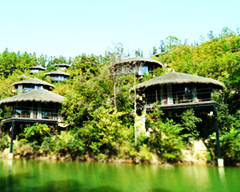 Mogan Mountain Farm Villas
(December 06, 2017)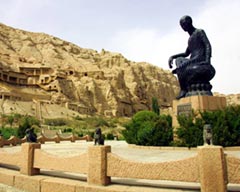 Kuqa: The Old Town on the Silk Road
(November 29, 2017)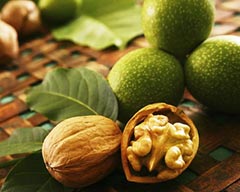 The Walnut Trees of Xinjiang
(November 23, 2017)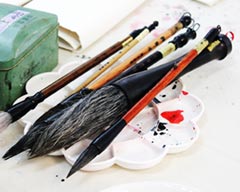 Chinese Ink-Wash Painting at China Cultural Centre, PNCA
(November 23, 2017)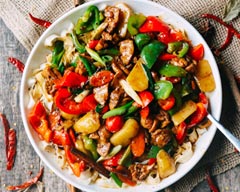 Famous Xinjiang Delicacy: Big-Plate Chicken
(November 16, 2017)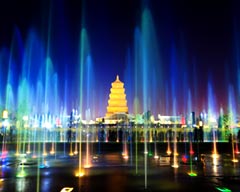 Shaanxi: New Glories on the Silk Road
(November 08, 2017)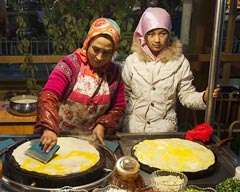 The Bustling Moyu Night Market
(November 01, 2017)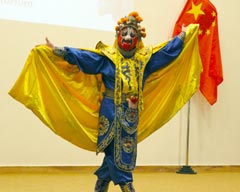 South-Central University for Nationalities Art Troupe performs in NUML, Islamabad
(October 25, 2017)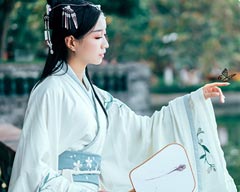 The Traditional Chinese Dress: Gowns
(October 24, 2017)