The 2nd Xinjiang International Art Biennale, China: The Perfect Blend of Art and Science
Written by: Mayiguli Eyithaz, Zhu Kaili and Zhang Xinjun
Posted on: November 03, 2016 |

Comments | 中文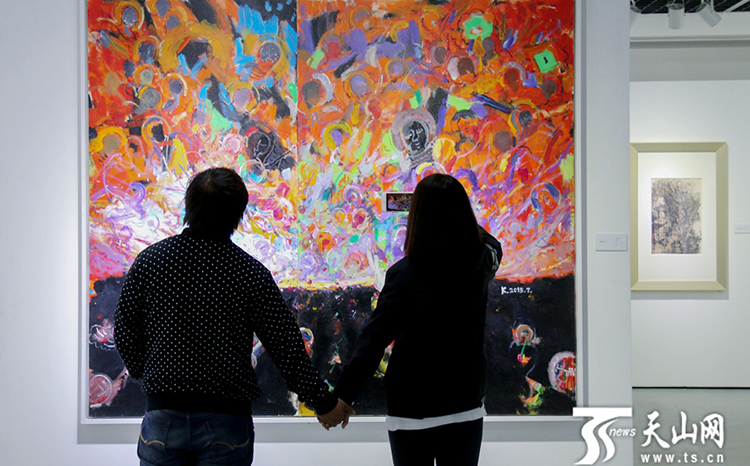 The 2nd Xinjiang International Art Biennale in Urumqi
"So, this is how you are in Avatar. With blue skin and huge eyes. So cute and fun." On Oct. 9, 2016, viewers enjoyed a visual and artistic feast that merges science and art perfectly at the Hong Art Gallery in Urumqi. At the displaying section of "Morph Mirror", within a few seconds, one may find himself become a member in the world of Avatar when standing in the designated area and seeing the change of his or her face on the screen. As a mysterious tour like this, it is a must-see for all visitors; no wonder they line up to see how they look in "another world".
From Oct. 9 to Oct. 31, the 2nd Xinjiang International Art Biennale, hosted by the Ministry of Culture of the People's Republic of China and the government of Xinjiang Uyghur Autonomous Region, was held in Urumqi.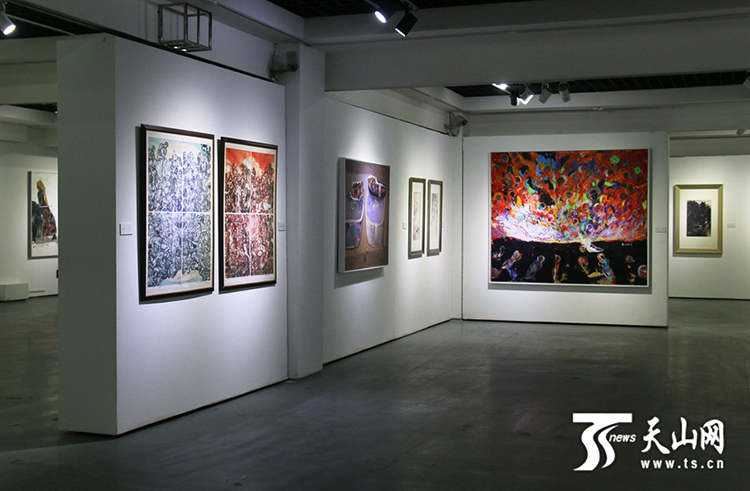 Themed "Dialogue between Art and Science", the exhibition presents new concept and new ways of thinking in social development and progress brought about by the merging of culture and science through modern art. It consists of four sections, namely "Sci-tech and smart manufacturing"?"Ecology and human settlement"? "Information and intelligence"?and "Nature and life". Twenty-eight pieces of art from seven countries including the UK?France?Canada?the Netherlands?Austria?Greece and Luxembourg were displayed. They were closely connected with daily life and drew public attention with the interactive design related to information?thus presenting diversity and originality of modern art in the international arena.
"Magic Mirror", the interactive video installation designed by Wang Zhigang from Tsinghua University, who was around to teach viewers how to interact with it, drew wide attention. Once you stood in front of the installation?a fire ball appeared on the left. As you kept touching the ball, a small bird appeared and kept growing. Finally?you were surrounded by fire and others saw you as a "phoenix" experiencing transformation. Wang said?"Illusion and reality are defined and interpreted in the digital age in different ways. My work is to enable viewers to see themselves in the mirror and feel as if they were in a magic world. When some naughty yet shy spirits are around to interact with them?they are brought into a world of conversion between reality and imagination."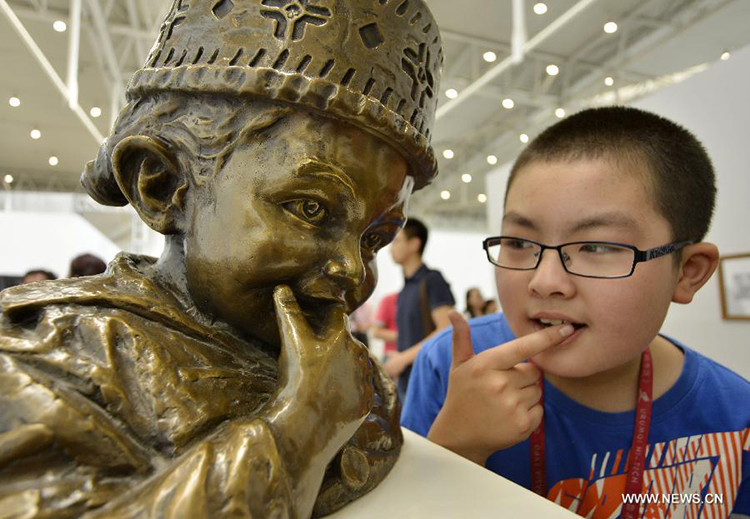 (source: CCTV)
"Aeon" by Michael Harboun from Luxembourg also attracted a large audience. Inside the self-serving car on the screen?the driver was operating the 3D visual and audio information with ease. Reyilam Yusein who came early for the exhibition, started to record it with his smart phone.
"Meeting the Tang Dynasty: Dunhuang" was a virtualization of Cave No. 159 in the Buddhist Mogao Caves based on its present condition. Viewers experienced it by using the VR equipment?which enabled them to transcend the real world?go inside Mogao cave and watch the murals. Huang Jiming watched it and said, "It is like walking inside the cave and watching closely the murals and sculptures. Thanks to the high-tech installation, the ancient art has been perfectly presented." "Poetic Writing for Nature" interpreted in three chapters of China's oriental way of nature?structural artistic features of Chinese characters and the relation between calligraphy and nature. Meanwhile?camera sensors detected viewers and brought them into the screen which was like a maze of calligraphy, and they interacted with the magical world of ink and brushes.
"Vase #46" by Franois Brument?a 3D designer in France, was an installation composed of a set of voices. After being collected, decoded and then coded, the given voice captured was converted into shapes like vases. The moment the soundtrack ended?the model was fixed and the program automatically created the file that produced on the screen the structure or making of the model. After that, a text of vase was generated and you could print your 3D work.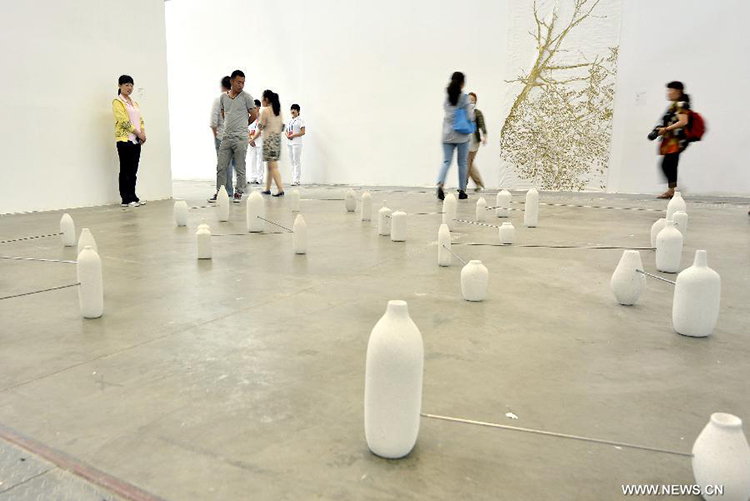 Li Zetang took pictures of every exhibit for his child and said, "I'm so pleased to watch the exhibition. The exhibits are great gifts and inform me of future developments in science."
The 2nd Xinjiang International Art Biennale, designed and organized by Academy of Arts & Design, Tsinghua University was composed of four parts?namely the main exhibition?key-note symposium, workshop and parallel exhibition. The parallel exhibition titled "Time Lag in Mirror Image: Xinjiang and Guangzhou Art Exchange Exhibition", available from Oct.10 to Nov.10, presented 90 pieces of art by artists in both places to enhance mutual exchange.
The 2nd Xinjiang International Art Biennale, presented every other year, is an important platform for cultural exchange to contribute to the implementation of China's "One Belt and One Road" Initiative and the construction of the core zone of the "Silk Road Economic Belt".
You may also like: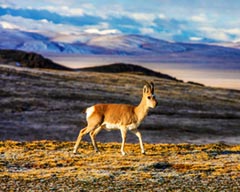 Hoh Xil: Kingdom of Wild Animals
(January 18, 2018)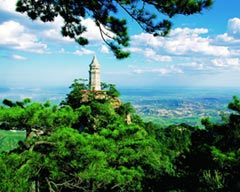 Panshan Mountain of Ji County
(January 11, 2018)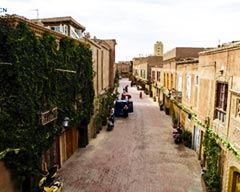 Stories from the Old Town of Kashgar
(January 04, 2018)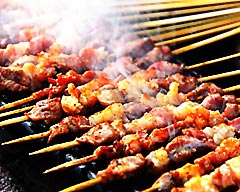 International Cuisine in Urumqi
(December 27, 2017)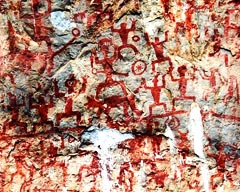 Zuojiang Huashan Rock Paintings, Guangxi
(December 19, 2017)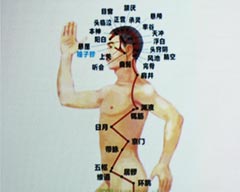 Seminar on Chinese Outlook on Life and Contemporary Value of Chinese Medicine
(December 15, 2017)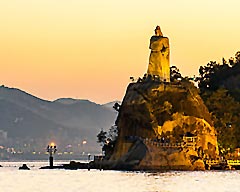 Gulangyu Island: The Island of Music
(December 13, 2017)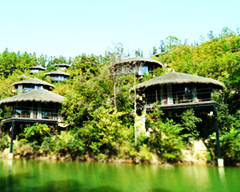 Mogan Mountain Farm Villas
(December 06, 2017)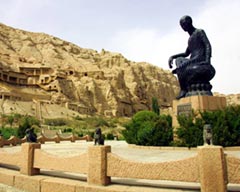 Kuqa: The Old Town on the Silk Road
(November 29, 2017)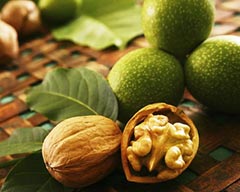 The Walnut Trees of Xinjiang
(November 23, 2017)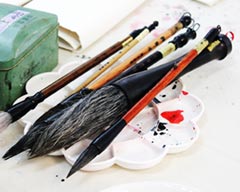 Chinese Ink-Wash Painting at China Cultural Centre, PNCA
(November 23, 2017)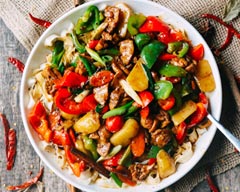 Famous Xinjiang Delicacy: Big-Plate Chicken
(November 16, 2017)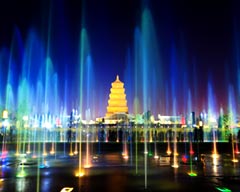 Shaanxi: New Glories on the Silk Road
(November 08, 2017)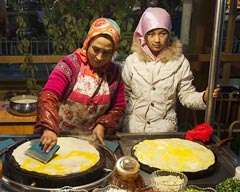 The Bustling Moyu Night Market
(November 01, 2017)