The Behbud Bazaar, Islamabad
Written by: Staff Report
Posted on: November 07, 2017 |

Comments | 中文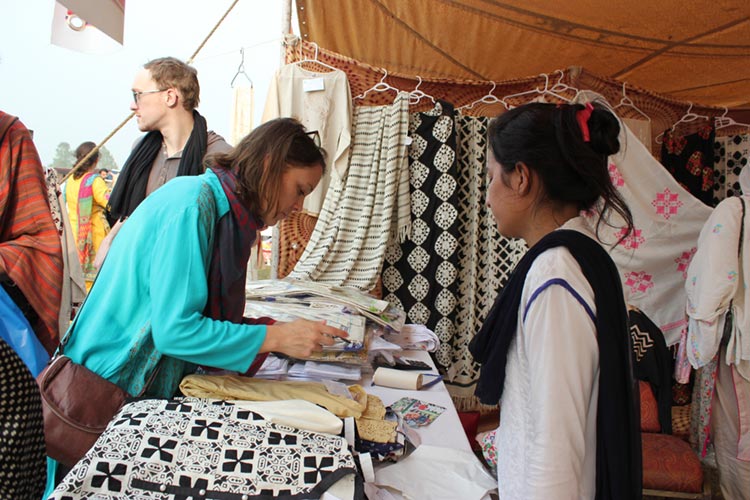 The Behbud Association Stall
The Behbud Bazaar, a two-day festival organized by the Behbud Association of Pakistan, kicked off in Islamabad on Saturday, 4th November 2017. On Sunday afternoon, while trying to locate the bazaar in F-9 Park, I witnessed numerous families, accompanied by elderly women and young children, making their way to the enclosed area.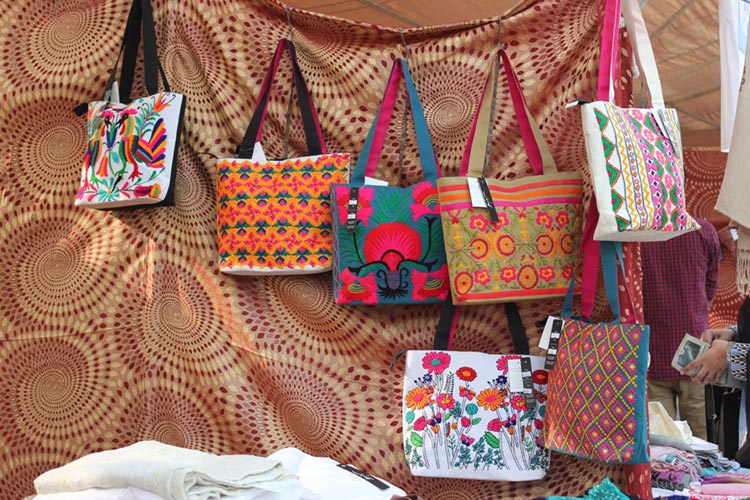 Embroidered bags
For those of us who have lived in Islamabad our whole lives, Behbud is a household name. Founded by Mrs. Akhtar Riazuddin in 1967, the non-profit aims to support and strengthen women, through engaging in their socio-economic development. Over the years, its projects have evolved from a single showcase boutique in Super Market, which displays the works of women from its vocational centres, to a café, high school and health care services for women.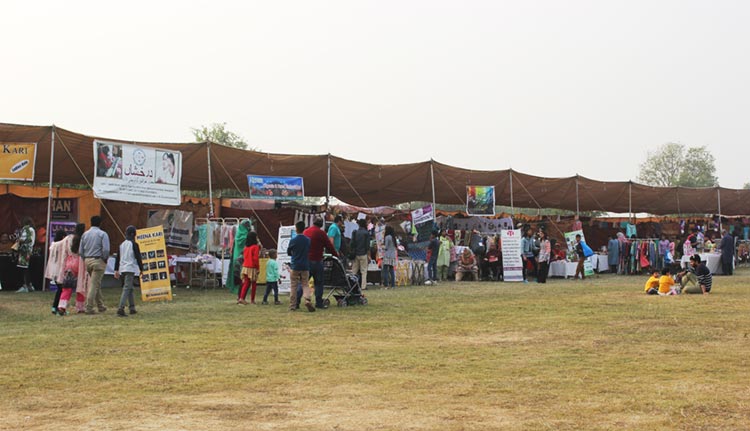 After paying a 200 rupee ticket, I entered the designated area. The stalls, which lined the entire square area, were mostly of clothing. With hand-knitted frocks for children, embroidered chiffon, shawls and lawn replicas for women, and leather jackets and sweaters for men, there was great variety. Bazeecha Trust, Darakhshan Association and Sarhad Rural Support Programme were displaying the products created by women of each venture. Other items included toys, organic produce, jewellery, wall-hangings and books. With brands like Esajee's, Craftsy Mom and Amna's Organics, visitors were being offered novelty items. Two palmists had also set up their stalls, as had the Islamic Community Centre.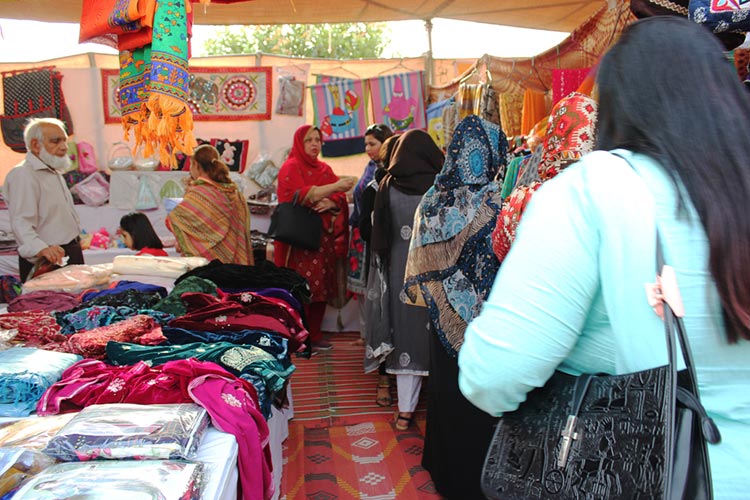 Customers at one of the clothing stalls
A stage had been set up for children to sing songs and dance on. When there was a lack of volunteers, the D.J. would play upbeat music. This area was also used to make any announcements, such as motivating customers to buy the raffle tickets from the Behbud stall. A jumping castle and trampoline had also been set up.
For food, Hanif Rajput, Islamabad's most reputable caterer had been allotted a huge stall. They served desi meals of chicken tikka, halwa puri, and aloo bhujia for nominal prices. Behbud also had their own food stall, which was serving snacks like spaghetti and chicken corn soup. In the centre, a marquee had been set up with round tables so that everyone could enjoy their food peacefully.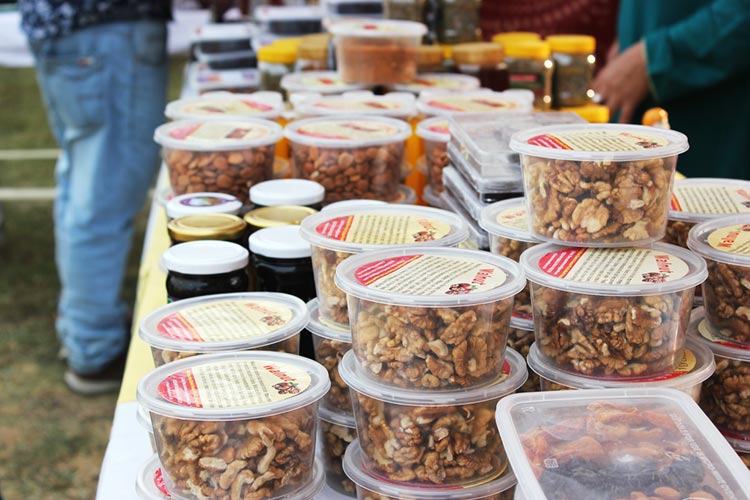 Organic Hunza products
One aspect that stood out was the presence of 'Saaf Suthra Shehr,' an Islamabad based initiative, promoting environmental responsibility through their animated character 'Pappu.' The curly haired Pappu was displayed on various posters, which declared, 'Pappu recycles, do you?' On each side of the seating area, four dustbins had been placed, with notices marking whether the bin was for food, cans and glass, plastic or paper and cartons. This motivated all individuals to be careful about picking up their trash and disposing it.
While speaking with Saima Jawwad, who was managing the stall 'Female Planet' under Bazeecha Trust, we learnt that it was a learning experience for those arranging the event. "It was wonderful to meet people from every area of Northern Pakistan, since those are the associations mostly displaying their products here."
USAID's stall of products from Baltistan
However, those who merely attended the bazaar may not have fully appreciated the effort that had gone into organizing the bazaar. One of the women leaving the bazaar remarked, "There's nothing new inside." Perhaps, the traditional products of Pakistani craftsmen and women could benefit from some innovation. Behbud's own stall was exemplary in how traditional motifs had been combined with contemporary designs. Other organizations could learn from Behbud and produce clothing which would result in greater revenues for their charitable purposes.
You may also like: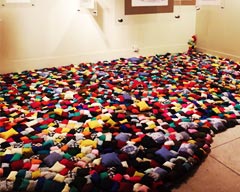 NCA Rawalpindi Degree Show 2017
(January 17, 2018)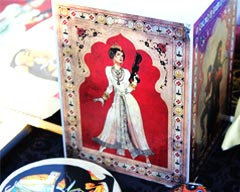 Winter Fete, Islamabad
(January 09, 2018)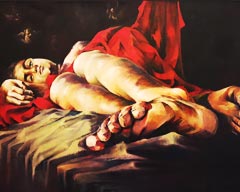 Review: 9th National Exhibition at PNCA
(January 02, 2018)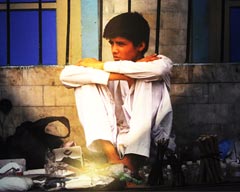 Yeh Hai Karachi 2: Photography and Film Exhibition
(December 20, 2017)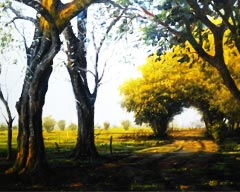 Art Review: Punjab Romanticism by Zulfiqar Ali Zulfi at Tanzara Gallery, Islamabad
(December 18, 2017)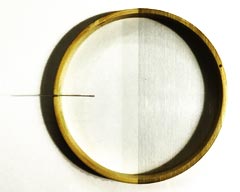 Art Review: Reading Between the Lines at Sanat Initiative, Karachi
(December 05, 2017)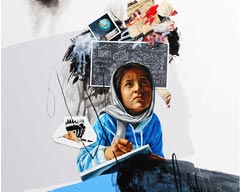 Art Review: The Onrushing 2 at Gallery 6, Islamabad
(December 04, 2017)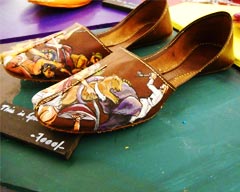 Daachi Arts and Crafts Exhibition 2017
(November 13, 2017)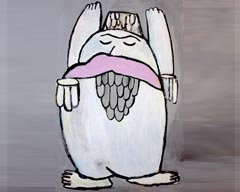 Art Review: 'Loompaland' at Studio Seven, Karachi
(November 09, 2017)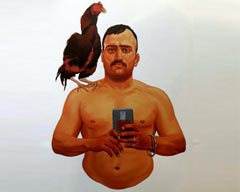 The Karachi Biennale 2017 (KB17)
(October 27, 2017)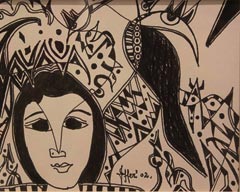 Wahab Jaffer Exhibition Opens at Tanzara Gallery, Islamabad
(October 20, 2017)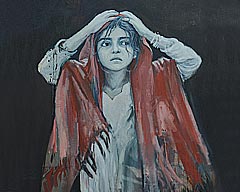 Art Review: Socio-Domestic at O Art Space, Lahore
(October 11, 2017)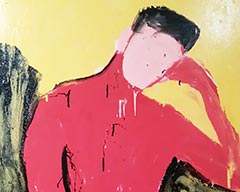 Art Review: 'Insta Loves II,' by Abdullah Qureshi at Satrang Art Gallery
(October 06, 2017)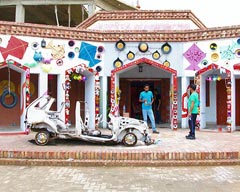 Munaqqash: I Am Karachi's New Initiative for the Community
(September 20, 2017)