The Shoton Festival
Written by: Wei Liming
Posted on: March 04, 2014 |

Comments | 中文 (Chinese)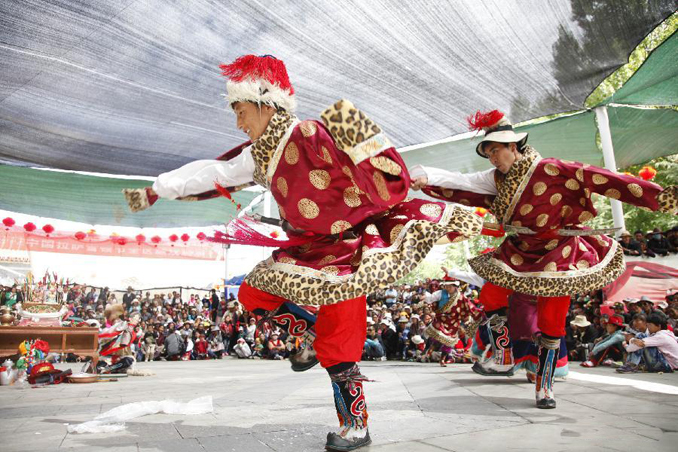 Performing Tibetan Opera ta the festival
The Shoton Festival, also known as the Tibetan Opera Festival, is one of the grandest traditional festivals in Tibet. In the Tibetan language, "Sho" means yogurt and "Ton" means banquet. Therefore, the Shoton Festival is a festival of yogurt banquet. However, as time passed, the Shoton Festival evolved in to a festival of traditional Tibetan operas. It is mainly celebrated in Lhasa and Xigaze.
The festival was a purely religious event prior to the 17th century. The founder of the Gelugpa (Yellow Sect of Buddhism), Tsongkhapa held that lamas can cultivate themselves only in monasteries between the 15th and 30th of the sixth month in Tibetan calendar by completely avoiding treading on and killing tiny lives. The ban gets lifted on the first day of the seventh month according to Tibetan calendar after which all lamas go outdoors, accept yogurt served by local people and then enjoy entertainment of folk songs and dances. This is said to be the origin of the Shoton Festival.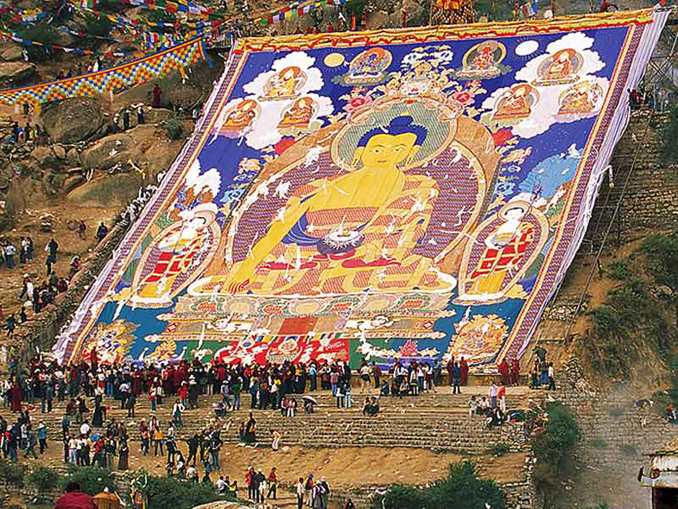 Unveiling the thangka, a religious embroidered tapestry, before the festival
In the early days, Drepung Monastery was the center of the Shoton Festival. This is the reasonit was also called the Drepung Shoton Festival at that time. In the middle of 17th century, the Fifth Dalai Lama moved his residence from Drepung Monastery to the Potala Palace and added opera performance to this festival. At that time, Tibetan operas were first performed at Drepung Monastery on the 30th of the sixth month according to Tibetan calendar and moved into the Potala Palace to perform for Dalai Lama on the next day.
However, after Lhasa's Norbulingka was built in the early 18th century as the summer residence of the Dalai Lama, it soon became the main venue of the Shoton Festival. Ordinary people have since been permitted to visit Norbulingka during the festival days and the very same rituals remain in place even today.

Performing traditional sports on horseback
During the festival, stage performances and other recreational activities last for days in Norbulingka, creating an extra-vibrant scene. Tibetan opera troupes or folk dance groups from Tibet, Qinghai, Gansu, Sichuan and Yunnan all come to perform. Tens of thousands of people, carrying colorful bundled wrapped in cloth and buckets of highland barley wine , rush to the tent-dotted Norbulingka. On carpets under green trees or beside multi-colored tents, the people enjoy themselves with wine, food and desserts in front. tThey chat, drink, sing and dance all day.
In recent years, major cultural events, academic seminars and commodity exchanges are also held during the Shoton Festival, giving it a more comprehensive and influential role in Tibetans' social life.
You may also like: