Bringing About Change with Ali Moeen Nawazish
Written by: Adeel Wahid - Posted on: May 22, 2014 |

Comments | 中国 (Chinese)
Google Translation: اُردو | 中文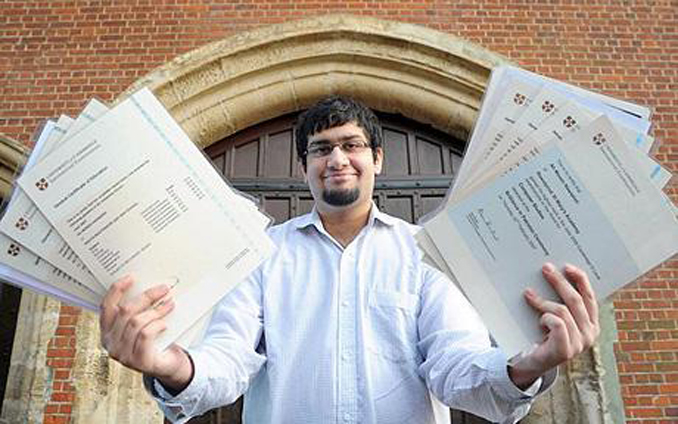 Ali Moeen Nawazish
22 As. The talented youth, who was asked to look up to his cousins for inspiration since he wasn't doing so well back in school, had outperformed not only his cousins but all the rest of the world. He set a record with 22 As in his A-levels. Who knew that there were these many subjects being offered in Pakistan; but being offered they were, and someone from Pakistan nailed every one of them. That somebody is Ali Moeen Nawazish.
The popular myth is that Ali achieved this feat in many years and that it took him ages to set this record. Not true. He did his A-levels in two years like many other students. But unlike most of them, he was diligently preparing to take not only the examinations of the subjects he was good at but was studying all those courses he could get his hands on.
"The experience of learning so much benefited me a lot. I suddenly found myself taking part in intellectual conversations with the smart ones around," remembers Ali Moeen.
He wanted to go to a university where the smartest thrive, and got into his dream place, Cambridge University. While the intention was to graduate in Computer Science, a field in which Ali has a natural knack, he decided to switch over and study political science after his first year.
"A computer scientist has a limited scope, and a good CS major can always get hired to do the work, but what Pakistan lacks are individuals who can generate and spread original ideas," says Ali.
Ali Moeen decided to opt for journalism as a profession, to create a difference in the opinions of the people. He has worked as a youth ambassador for a news network, addressing issues pertinent to the youth of Pakistan. He is already on his way to becoming the General Manager Innovation and Strategy where his tasks would entail figuring out core issues to appropriately address and bring to the notice of the public. Currently, he writes three articles a week, both in English and Urdu, in his attempt to highlight crucial societal problems and their solutions.
This fall, he is set to sail to the United States where he has gotten admission in the prestigious Columbia University for a Masters in Journalism. It is a future in journalism that he aspires to seek since writing is one of the passions he has harbored since childhood.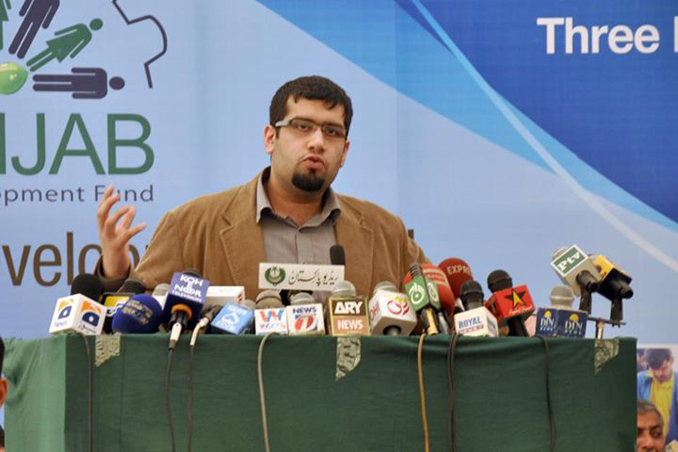 Speaking to youth at Bahawalpur
"I feel vulgar living in Pakistan at times. When you dine out with your friends, when you go out in your cars and when you come across so many deprived people who are struggling to attain basic amenities in life, one cannot help but feel vulgar," says Ali.
The brutal inequality that exists and a system that thrives on inequality have made Ali realize that one of the most important things is to reduce the differential between those who have and those who don't. Appropriate education that instills essential values of brotherhood and fraternity can be one of the solutions, and hence came in to existence AMN School in F-10 Islamabad, a venture by Ali Moeen to produce a cadre of youth who not only have an academic edge but also develop the much needed sensitivity towards society.
There have been many other attempts made by Ali to try to come up with viable solutions for the people of Pakistan. He has tried to work out programs such as Step Up Pakistan and Dost. In the latter project he developed a free counseling system for anyone who may require help of any kind, be it academic, social or employment issues. Counseling could be sought via SMS. But now Ali Moeen says that small projects, well intentioned though they may be, are not the way to go. There have to be drastic changes and the requirement of the day for Pakistan is widespread reforms. There have to be more engaging ways of tangibly touching people's lives and this is perhaps why he chose to leave the coveted computer science degree to move to journalism. He believes that once he has reached a certain point in life with his business, Twenti3 Group, he might want to pursue a career in politics since change has to come through legislation and implementation of the right policies - people centric policies.
From a kid who didn't even know about mainstream journalism programs to a young adult who plays an influential part in shaping opinions, Ali Moeen has had quite a journey already. From a kid holed up with his books to a guy with whom intellectuals and socialites both like to hang out, the transformation has been immense. Eventually good grades, or awesome grades or beyond awesome grades in themselves have no value, its only when inner potential begins to translate into shaping reality in accordance with certain values and principles, that there is worth to be found in those countless hours which have gone in to learning and relearning stuff from books. Ali Moeen realizes this and there are great expectations from him in the future as well.
You may also like: