For the Love of Art: In Conversation with Hina Haider Fancy
Written by: Sarah Khan - Posted on: May 29, 2014 |

Comments
Google Translation: اُردو | 中文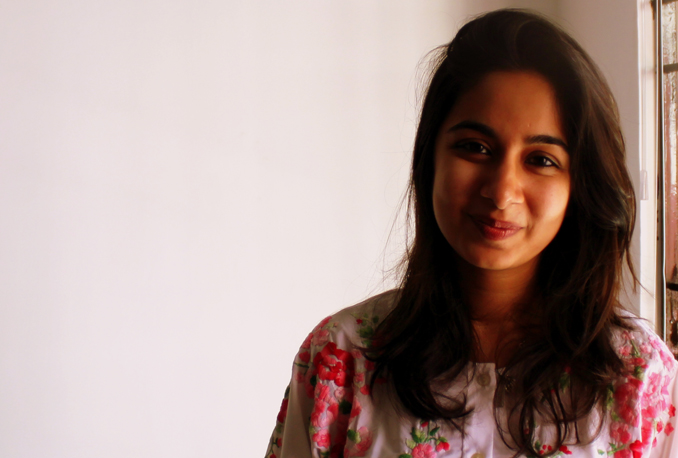 Hina Haider Fancy
It's not a dull and hopeless time we are in; it's not a sluggish and stagnant place we belong to. It is an exciting place where the hopeful and the talented, brimming with new ideas, continue to come to the fore and create ripples. Hina Haider Fancy is an apt illustration of such freshly emerging talent which brings out for us the bright side of life. She is, indeed, good news.
Hina continues to insist that she is mainly a textile designer and not a fine artist. We, however, maintain that her art is finer than anything else we have seen lately.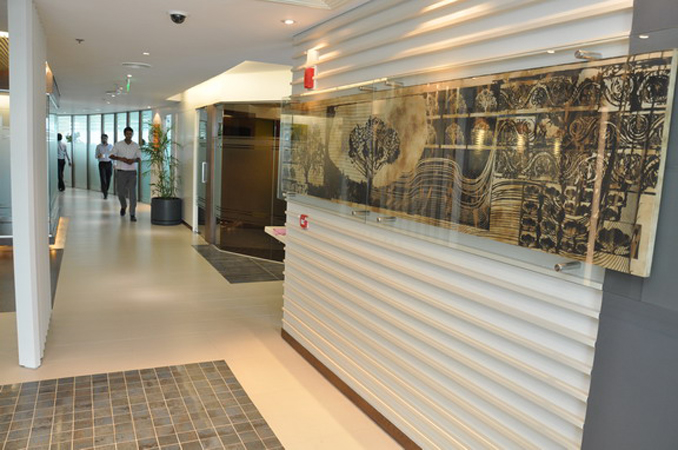 Hina's Artwork displayed in Engro Corp.
In a conversation with Youlin Magazine, the vivacious Hina Haider shared her personal thoughts about art, her own motivations, and the challenges that artists are bound to face in Pakistan.
Hina believes that art is a vital component in people's lives. It expands the mind and soul of an individual who embraces it with open arms and an open mind. However, she stresses that, ideally, art is not supposed to be esoteric. It is certainly not the exclusive domain of a few. "Art is everywhere; art is in everything. Anyone who can visualize is an artist. And so there's an artist in everyone. It's just that art holds different meanings for different people. If a painter with a paint-brush is an artist, a doctor with a scalpel is an artist too. Imparting knowledge in a classroom involves an art and so does selling ideas," reflected Hina.
She holds a strong attachment to her work because it brings her contentment. Hina believes that being an artist brings with it the immense pleasure of working primarily for yourself instead of others. "If you are working for others, you are selling products to please them. When you are made to do something you don't enjoy, you find yourself in a constant state of listless dissatisfaction. It limits your potential. But if you are pursuing art for art's sake and out of your own interest, you are free; you are your own boss. It doesn't matter what you do or how you do it; you just have to let your creativity run its course."
As a child Hina loved lego, and dreamt of becoming an architect. As time passed, she felt that the insides of homes, the colourful interior design for instance, had begun to fascinate her more than the building structures. When she started studying art and design, she got to experiment with a variety of mediums and materials. At this point she discovered that textile art captivated her the most. She wanted to create something that could appeal to everyone. Hina deems herself fortunate that she found buyers who appreciated her textile prints as art pieces.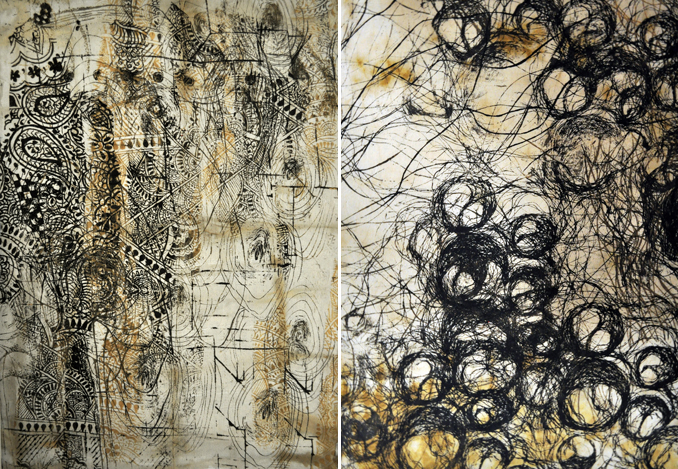 Hina's Artwork from her exhibition in Pennsylvania
The idea of using henna in her art brought to her the infinite possibilities for discovering enthralling beauty in tones of sepia.
Talking about 'Silent Birds', her successful maiden exhibition in Pakistan, Hina revealed her lifelong fascination with birds: "You cannot miss the inspiring beauty of these creatures; they are always there, free and happy." Hina did her A level Art project on pigeons for which she found inspiration in Jamil Naqsh, her favourite artist from Pakistan. Birds, for Hina, symbolize freedom, and her artwork's scope and style also reflect her fascination with freedom; she refuses to restrict herself to a particular genre or theme. What is art if it's not infinite? Hina maintains that there is no social or political agenda latent in her work. Abstraction is a powerful language in which her art expresses nothing but itself. The message behind her work has no predetermined limit. "There could be an infinite number of interpretations of my art, depending on how the audience perceives and imagines."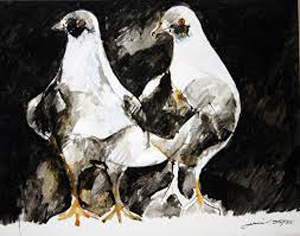 Painting by Jamil Naqsh, Hina's inspiration
Humbly rejoicing in the acclaim her exhibition continues to receive, Hina expressed that it came as a surprise to her. "I only met with the curator of Nomad Gallery to show my work and she gave me a date to display it. I just got lucky, thankfully."
Hina wished to dispel the general notion that lawn is the only fabric that can be used in aesthetically appealing ways. She has used other fabrics such as cotton and muslin, but it was silk that gave her the best results. She printed, stenciled, painted and dyed henna to form gorgeous patterns over silkscreen for which she got increasingly positive reviews. "It's because people had not seen anything like this before." The henna she used was completely chemical free in its natural state, not only because she finds beauty in originality and pureness, but also as a way to support the go green culture, she added.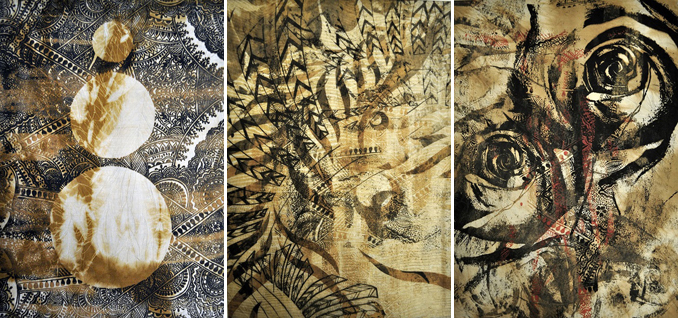 Hina's Artwork from the exhibition 'Silent Birds' in Nomad Gallery
Hina recalls the encouragement of her teachers that she was fortunate to receive at art school: "The support of your instructors matter a great deal at every stage of your training; it keeps you motivated so you don't give up".
We got Hina to reminisce about her school days when she jovially lamented the memory of having to study sciences at high school. "I was terrible at those subjects. And math was just… horrible. Numbers never made any sense to me." Being the natural artist that Hina is, this revelation does not come as a surprise. Chemical formulae, laws of Physics, and numbers never brought to her soul the kind of satisfaction that colours did. She wanted to study art and literature, but the electives were pre-decided and art was neither recognized nor offered as a regular course. By this time she knew she wanted to pursue art as a profession. "Children should be given a chance to study what their hearts desire. Forced curricula, to an extent, defeat the purpose of education, which is growth and learning," Hina remarked.
Nature vs. nurture? Hina believes that everybody is creative, and unless creativity is recognized, encouraged and channeled into different forms of expression, it gradually erodes. Nature places creativity in everyone's constitution, in her opinion, but it has to be nurtured with ample opportunities and good quality instruction.
We were curious to know what inspires Hina and enhances her creative process. "It comes naturally; I don't have to force it," she responded, "Everything around us is ready to inspire us, even the things we generally tend to overlook." Hina observed that most of us are sucked into the standard 9 to 5 routine, so much so that we forget to connect with our creative sides. For herself, she expressed a strong desire to always remain in touch with hands-on art.
Hina disapproves of the prevalent narrowly utilitarian approach towards education, which views its benefits only in terms of economic returns. Social pressures make it difficult for art to be accepted as the sole source of livelihood, and act as a serious challenge that local artists continue to face. "For aesthetically oriented men pursuing art as a profession, it's an entirely different struggle," noted Hina, "People dish out all sorts of condescending terms at them. It's just sad. This mindset needs to be changed."
However, Hina remains optimistic that, against all odds, the contemporary art scene in Pakistan is going in a positive direction. "A lot of young artists are doing incredible work, and many art galleries are readily giving them opportunities where they can showcase their talent on a formal platform."
Food for thought! There lies another significant challenge in the way of professional artists: the local public's lack of appreciation and aesthetic interest in paintings for the purpose of purchase. Hina shared with us that more than half of her displayed pieces have been purchased by foreigners. It worked out for her but it's an unfortunate trend. "I set the prices between Rs. 10,000 and Rs. 32,000 which is a fairly modest amount in comparison to the Rs. 5 to 9 lacs that I have seen people readily spend on one bridal costume, that will be worn once and last a year. A piece of art, on the other hand, is of a uniquely remarkable value. It's priceless. It transfers from one generation to another, and gains more value in the process."
Schools, teachers and galleries do promote art but these only target a specific section of society, Hina observed. She suggested that the government should give enough support to artists in the form of, for instance, sponsoring and training programs. These measures would help art reach out to masses, hence garnering wider audiences. They would gradually develop more evolved tastes and an ability to appreciate finer things in life.
Talking about her professional aspirations, Hina shared that she is absolutely fascinated by Marimekko, a Finnish design company known for its original graphic prints, and she would love to work for it someday. For her upcoming project, she looks forward to displaying her henna-silkscreen artwork in Sri Lanka this fall.
We would like to wish Hina all the best in the future, for all the new projects that she decides to undertake. Her success will give us all the more reason to celebrate and be proud.
More power to her!
Click to view picture gallery
You may also like: