The 'High' of Mountaineering
Written by: Adeel Wahid - Posted on: April 18, 2014 |

Comments
Google Translation: اُردو | 中文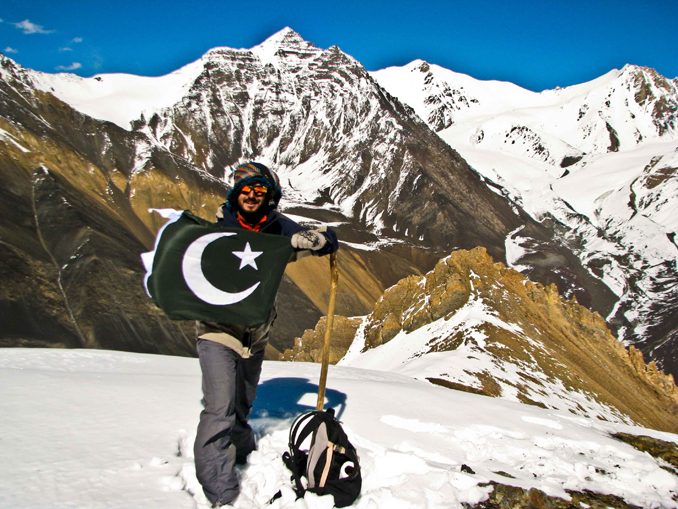 Mariya Seema Peak 5,350m in autumn of 2010
Those on the plains do not get to see what can be seen from the summit of a peak. On a climb, the altitude changes but with it also changes the vision, the perspective. Scaling a mountain is an excruciating journey that takes you high, and gives you a "high" in the process. For all enlightening experiences, the crux of understanding lies in experiencing the whole process first hand rather than hearing stories from those who went, and conquered.
But if the conqueror's story is not told, then there would be no more conquerors. The experience lives again, at a much baser level, in words - for others to notice and derive inspiration. Sa'ad Muhammad is a budding professional mountaineer who is established in Islamabad. He has plenty of stories to tell, and wants to be a part of bigger and greater stories in the times to come.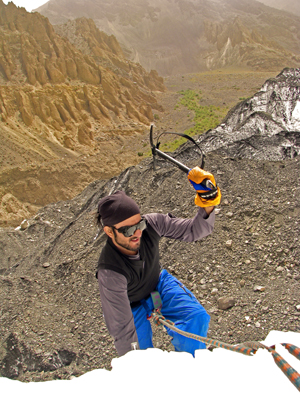 Ice Climbing training on the Yazghil Glacier in Shimshal in 2008
Born in Karachi and raised in Islamabad, Sa'ad hails from a family which loves travelling. "By the age of 10, I had had the opportunity to travel the length and breadth of this beautiful country since travelling is my father's passion," says Sa'ad. "While my brothers slept or vomited as we undertook long and arduous journeys, I remained animated, absorbing everything".
Those childhood vacations were, perhaps, a preparation for longer and bigger journeys that Sa'ad had to undertake later in his life. He has been a member of the Adventure Foundation Pakistan since 1996 and a member of the Alpine Club since the year 2000, being involved in outdoor activities such as skiing. But the greatest moment came when he was selected by the club to be a member of an expedition which, along with a team from China, planned to summit Spandik (Golden Peak), in 2012, to celebrate 60 years of neighborly friendship. The peak, which is just over 7,000 meter, is the same one that Samina Baig, the first Pakistani woman to climb Mount Everest, failed to conquer due to adverse weather conditions. The experiences that Sa'ad had, however, with the senior and more established members of the team, changed his outlook of his own self. Surviving in the wild often provides one with the fearlessness which, in essence, comes with the realization of the awe of the majestic, overpowering nature, and man's helplessness in front of its forces. Interaction with colossal mountains helps one in realizing ones place in the great macrocosm of this world, and nature in its rawest forms teaches Man the greatest of all lessons – humility.
"The mountains have an aura of their own, and have a capacity to overwhelm and move your soul," says Sa'ad. "Climbing mountains gives you a "high", a kind of a nirvana, where man feels liberated".
Those who experience the "high" once, have trouble staying away from it. Hence in 2013, Sa'ad participated in the expedition, Gecko, to scale Kooksil V through a route, which according to him, had not been used before. Then in February of this year, he went as a team leader along with a 19 year old Sikander Khan, to scale KuzzSer, which, he tells, was the first such expedition to Shimshal in winters.
Pakistan has been blessed in ways other countries have not been. "There are in total 14 peaks above 8,000 meters in the world, and 5 of them are located in Pakistan only", Sa'ad informed me. With such splendor present in the North of Pakistan, it is slightly disheartening to notice that mountaineering is not as established an activity as it should be, where serious mountaineers, like Sa'ad, have to struggle to receive finances to scale mountains.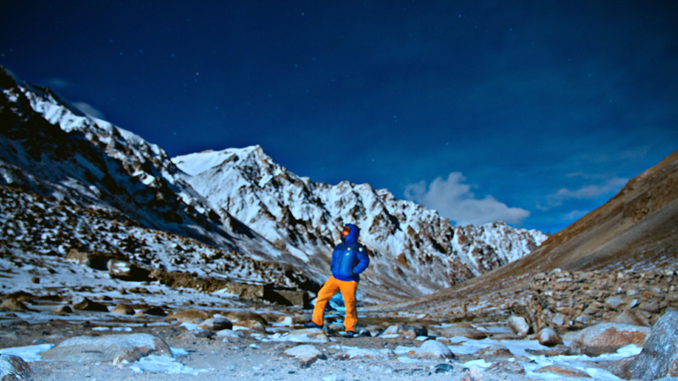 Last campsite before Shimshal Pass in Feb 2014
"It is all very expensive, the equipment, the travelling cost, the porters; one needs to have a very substantial amount of money to go on big expeditions," says Sa'ad. While some expeditions such as those of Mirza Ali and Samina Baig, the two well known mountaineers, get sponsored by international companies, others have a hard time convincing potential sponsors that it is an activity which needs to be promoted, and can be helpful in propagating a positive image of Pakistan internationally. Mountaineers have a potential to be great ambassadors for the country.
Sa'ad plans to become the fourth Pakistani to climb Everest, and the first one to climb it after the monsoon, when the weather is more calamitous. But his dreams do not stop there; he has his eyes set on K2, the second highest peak of the world, and the highest of Pakistan, which presents a much more dangerous challenge than the highest peak of the world.
"There are many peaks in Pakistan, which are still unexplored, and there has to be someone who takes up the challenge," says Sa'ad.
Mountaineering is not a sport which brings cheers from huge crowds. It has more to do with personal gratification, and letting nature inspire. "Mountains are not stadiums where I satisfy my ambitions to achieve, they are the cathedrals where I practice my religion," said Anatoli Boukreev, who died in an avalanche, having conquered seven of the fourteen 8,000 m peaks, and remains an inspiration for mountaineers across the world.
Mountaineering gives a "high", and very often that high leads one to untraversed spiritual journeys. As Sir Edmund Hillary, the first one to scale Mount Everest, expressed it: "It is [after all] not the mountain we conquer, but ourselves."
Related articles:
You may also like: