The Power of Youth: Hanan Ali Abbasi
Written by: Adeel Wahid - Posted on: March 26, 2014 |

Comments
Google Translation: اُردو | 中文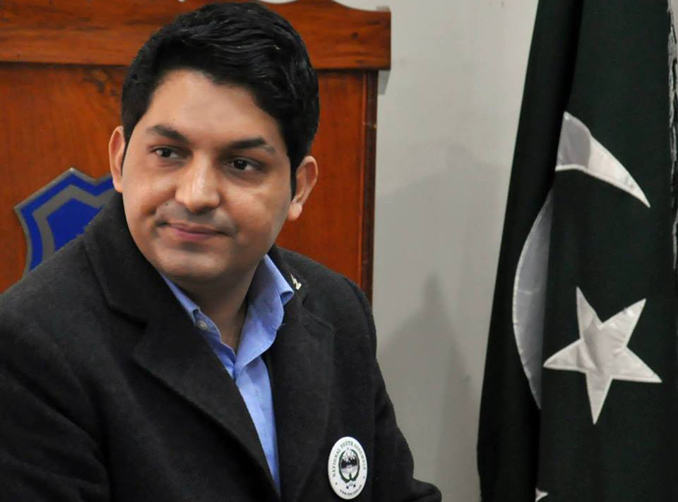 Hanan Ali Abbasi
A nation's bulwark is its youth. It is the young who dare to challenge the status quo, the established traditional practices, and help forge a new way forward. It is the young who have in them the energy and fortitude to render sacrifices for a belief or an ideology. It is the audacious young who dare to dream, and then work towards attaining it.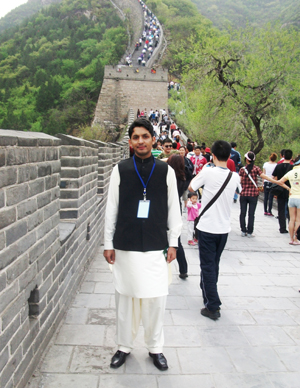 At the Great Wall of China
Pakistan, a country with little belief in meritocracy, accommodates only the powerful and their progeny. In such a state it takes unswerving spirit to channel one's way forward from the oblivion of rural life, to establishing a name as a leader of youth not only in Pakistan but around the globe.
Hanan Ali Abbasi can boast of such an achievement. Born in a neglected region of Bakhot Sharif near Abbotabad, Hanan is fortunate to have been slightly better placed than many in his immediate surroundings because of the fact that he was raised in a literate, educated family. Even though his father's failed investment in Kohsar College of Education brought Hanan's family to the pits of financial hardships, the family still managed to make ends meet by availing greater opportunities of teaching in the federal capital, Islamabad.
The popular quotation of Friedrich Nietzsche tells us: "That which does not kill us makes us stronger". In the words of Hanan, the financial struggles eventually developed in him those survival instincts which eventually helped him in attaining the prestige he has today. But while he may not have had all the luxuries with which the rich are adorned, he had the greatest of wealth in terms of love and support from his father and grandmother.
When Hanan was fourteen, his father bought him a small shop in the village to serve as an office. He did this because Hanan, on one of his visits to Islamabad, noticed that famous, influential people sit behind large desks and offer tea to their guests and he wanted to do the same. Hence for three years after school, Hanan would sit in his "office" and have all kinds of guests over.
"Those three years gave me a tremendous amount of confidence. They helped me garner people skills, where I learned to communicate effectively, a skill which has paid huge dividends for me in my life," he shares.
A curious mind finds itself satiated in books and learning, and in his teens Hanan became an avid explorer of books, developing special interest in literature and poetry. With time, he ventured in to writing as well, a journey which started off from his first article, "Mera Gawoun" (My Village), which was published in the children's section of the newspaper, Nawa-i-Waqt. From then on, he became a recognized columnist writing about current affairs of Pakistan and the world at large. At the age of 19, in 2006, he published his first book, "Zameeni Sitaray" (Worldly Stars), a detailed analysis on the influential personalities who have managed to create a difference in this world.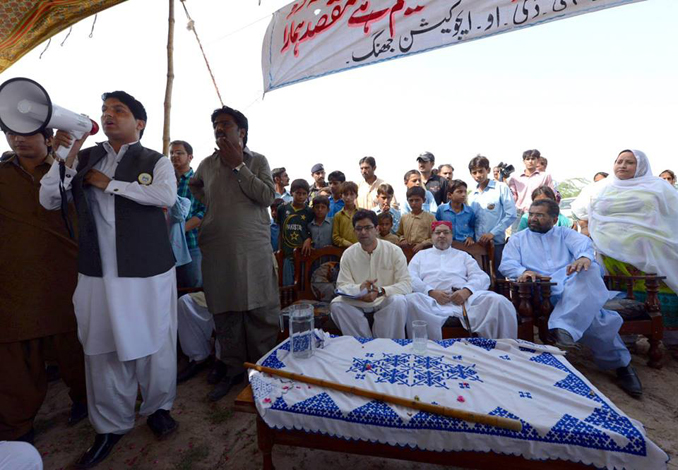 Hanan on his Education Campaign
Understanding the courageous will power of the people who managed to make a difference, is the crux of the effort to developing that will power in oneself, a force that can question the rooted prejudices and injustices of the society, and can envision a better reality based on ethical principles rather than mere tradition. In 2010, after PILDAT had dissolved its youth parliament in 2009 due to lack of funds, Hanan helped establish the Pakistan Youth Assembly, with the purpose of creating a forum for the young to collectively devise a course to take Pakistan out of the quagmire it has been stuck in. "I want the National Youth Assembly to become an organization which is similar in its dynamics to Sir Syed's Ali Garh Movement," Hanan says.
In 2010, Hanan was awarded the prestigious National Youth Award for the year 2010 by the Government for his erudite columns and his services under National Youth Assembly. He was also nominated by the government for the Pak-China student exchange program and had an opportunity to visit China. In another such nomination he visited Britain, representing the youth of Pakistan, after which he wrote his second book, which came out on the 23rd of March 2013, "Cheen se Bartania Tak" (From China to Britain). It is an account of his travels from the emerging great power to the super power of yore, and his individual experiences in the two nations.
In 2013, Hanan received recognition from the international community when he received the Commonwealth Youth Award in the field of Democracy and Human Rights, awarded to him in Britain. He is also recognized for various welfare projects undertaken by the National Youth Assembly. In one of such programs, "Umeed Manzoba" (Hope Project), he helped provide food and clothes to the deprived and undernourished flood stricken fellow countrymen with the help of funds provided to the Assembly by Red Crescent, UAE. He is also an education ambassador working alongside Alif Ailaan to bring awareness about education in rural parts of the country, where education is still more of a luxury. Realizing the need for environment protection, the National Youth Assembly has also launched its "Go Green Campaign".
"There have been millions of people who were filthy rich in their times but are forgotten now whereas the true spirit of genuine leaders remains for generations to be venerated," says Hanan. Fire in an individual which can help transform beings, communities and whole nations, is the need of the hour, especially for a country such as Pakistan which is dire need of more torch bearers for genuine reform. Would Hanan be one such torch bearer? Only time will tell.
You may also like: