The SAAZ of Activism!
Written by: Zahra Belal - Posted on: April 24, 2014 |

Comments
Google Translation: اُردو | 中文
Syed Ali Abbas Zaidi
Syed Ali Abbas Zaidi cites his favourite movie to be "Perfect Sense" because it depicts a world where senses are dying one by one. This, he acutely feels, is very symbolic of what is happening to the Pakistani society. Perhaps this is why his own story is about a struggle to revive the dying senses among the people of Pakistan.
Growing up, Ali Abbas had faced discrimination owing to the name he bore. Those were the impressionable years which instilled in Ali the importance of tolerant social norms, and individual freedom and rights. Years later, while he was studying aeronautical engineering at NUST, he witnessed the unfolding of the Lawyer's Movement and the subsequent Emergency of November 3, 2007. Even as a young student, Ali simply couldn't stomach the idea of suspension of the basic human rights stipulated in the constitution. This led to the conceiving the notion of a youth movement which could be a platform for youth activism - the Pakistan Youth Alliance.
This pro-democracy youth movement soon became a mass platform for disaster relief, awareness workshops, peace walks and community services. Ali, as the Founder and President, has mobilized around 17,000 youth volunteers from all across Pakistan and even beyond in countries like the the USA, Canada and the UK. He categorically calls it a movement, and not an NGO. "An NGO, you see, is a government registered organization that works in the development sector of a country", says Ali. "We are simply a movement by group of individuals who are 'activated' to change all such social norms that hurt individual freedom and give rise to extremism and counter-insurgency".
After his graduation, Ali was hired by the Siemens Company on a lucrative post; yet it failed to content him as wave after wave of violence and instability hit the country. As his restlessness grew, he took off on a leave for one month to brainstorm about what he actually wanted to do. The resounding answer was social mobilization full time and nothing else. "When I told my parents, they thought it's either drugs or a girl", Ali laughingly recalls.
From that point, everything was paradoxically simpler as well as confounding. At the age of twenty-seven, Ali has been there and done that. From facing restive gangs in perilous areas of Korangi and Lyari and conducting awareness workshops in war torn areas of Swat, to studying 'Social Innovation' on a Swedish university fellowship and addressing a UN Conference in Geneva (the only young Pakistani there).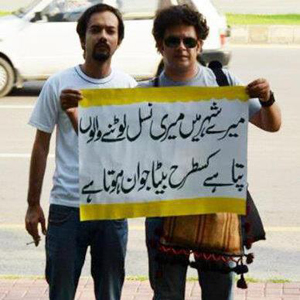 Ali with Irfan Khudi
Almost nothing seems to disconcert Ali. His Korangi workshop, for instance, started with the participants passing blanket-statements against the Shia community and the gathering becoming vociferous and strained. That didn't stop Ali from standing up to declare point blank: 'I am a Shia, my brothers!' And just like that the fizz went out of the crowd. The same workshop ended with the participants making graffiti saying "Shia Sunni bhai bhai hain! (Shias and Sunnis are brothers!)".
It has not, however, been roses all the time. Ali went through an excruciating time when his close friend and fellow activist, Irfan Khudi Ali, was martyred in one episode of the bombs targeting the Hazara community in Baluchistan. He himself continues to receive threats on his phone and cannot travel to many parts of Pakistan without a security guard: "Just a few days back I received a call from someone who said, 'We will burn you alive and cut you into pieces.'" Moments like these are harsher than all sticks and stones. "I sometimes find it so painful that there are people out there who want to wipe out my or any other person's existence without any reason other than the differences in beliefs and ideas."
These instances do make Ali feel hopeless, intermittently, yet he takes them in stride and even considers them an indication for him to bring out bigger guns (no pun intended). "After all conflict resolution or social mobilization can only take place if there are conflicts or untoward social norms", explains Ali. "And despite everything, I love this country, I love its people; this is my country and these are my people, and this is how it will always be."
This is why Ali feels equally responsible for its state and wants to play his part in every way possible to make a difference. On the path he has chalked for himself, he sees no turns or returns. There is not an ounce of regret nor is there envy for the "normal" life that his peers have. In a forceful yet complacent voice, he says; "Every individual is unique with a unique destiny, and mine is to live for others."
You may also like: