Yasir Jaswal: Unleashing Creativity
Written by: Adeel Wahid - Posted on: March 05, 2014 |

Comments | 中国 (Chinese)
Google Translation: اُردو | 中文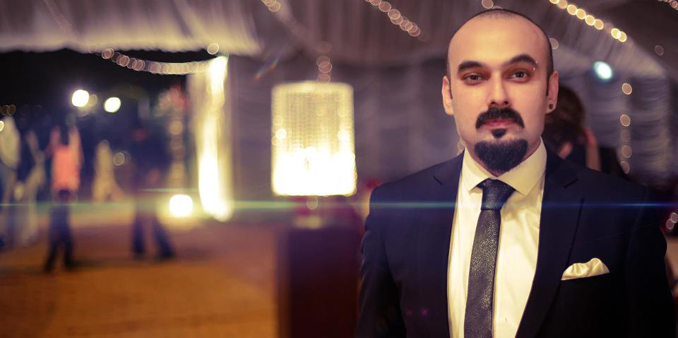 Yasir Jaswal
"Every story has already been told, it's the just the way you tell it that makes the difference," says Yasir Jaswal, the man behind one of the most anticipated movies of the year - Jalaibee.
"Since childhood, I used to tell stories to my brothers and sister. I infused energy even in an ordinary incident while narrating it. I was the Kahani Baaz (story teller)," Yasir candidly tells me.
But prior to starting his stint with direction, Yasir told stories with the help of his friends with guitars and drums, as a part of a band - Irtaash. Formed back in 2001, Irtaash came to dominate the Islamabad music scene for around a decade, creating singles like "Kaali Raatein" (Dark Nights), which became the rock anthem of its time, at least for the people of Islamabad.
"There weren't many bands back then," relates Yasir. "Apart from Lahu, Soul Slide and Zeejah, it was only us". He remembers that initially when he took to stage for singing, his legs used to tremble but then encouragement and support from Junaid, the lead vocalist of Lahu, made him discover his voice and himself.
The release show of the sole album in 2011, Kaala Safaaid Aasman, was also the farewell show for Irtaash. "The album was prepared for 5 years, but the band members were all scattered, so we had to wait for all of us to be together to finally release the album," Yasir says.
"It was a hard time," says Yasir. "Irtaash was about friends playing together, who shared each other's vision, who played together not for money but for the sake of making music". But then the friends got busy with their lives, and Irtaash had to be disbanded. The band which in a year and a half did a 100 show at one time was not even doing a single show, and the logical end, perhaps, had to be to call it all off. "Session players can not be a replacement for band members who collectively make the magic happen," Yasir says.
Highly creative Yasir then landed himself with a job in the advertising agency, learning the mechanisms of advertisement making. But that longing desire to create, to put his unhindered imagination at work, led Yasir towards his childhood passion – moviemaking.
During his time at work, however, he had already directed a couple of videos for his brother, another talented young musician, Uzair Jaswal. "He didn't have money to have his songs directed from mainstream directors, while I had no one to direct videos for," says Yasir. The brotherly symbiosis saw Uzair's videos of "Tere Bin" and "Maa", saw daylight, with "Tere Bin" eventually making it to the Coke Studios.
Yasir's recent most video, for Uzair's upbeat, "Bolay", has received widespread acclaim. The song has been written and composed by Yasir, who apparently just needed a drive around in his car to have it all written out. The more than two minute preamble of the song, is another indication of how much Yasir enjoys story telling.
On one bright, sunny day (I like to imagine it that way) a friend of Yasir, Murtaza of Redrum Films, averred the words which Yasir's ears hadn't heard before but which his heart already had: "Let's make a film". The words lighted the fire in Yasir, bringing him face to face with his years' long passion for film making. He resigned from his job, and founded Jaswal Films.
"The stories were in my head, I sounded them out to Murtaza who gave me a go ahead for the one he liked," says Yasir. And hence the work started on the film in 2013. A teaser of the movie has just been released this past December.
Jalaibee is a caper story, involving action, humor, adventure and thrill with significant amount of turns and twists. "The works of Guy Ritchie and Quentin Tarantino inspire me a lot," says Yasir. If you are inspired by the right things, you end up creating the right stuff, and there is hope Jalaibee is going to be a treat for viewership who long to watch original stories coming out from Pakistan.
Even though Yasir would not tell me much about the movie itself, but I could see that he is enjoying himself making it. "Everyone involved in the project share my enthusiasm and everyone has been really helpful," says Yasir. "Even people who could not directly help, led us the right way". Yasir, however, has surrounded himself with people who are industry professionals, yet have not been a part of the old way of making films. It's that fresh blood which geniunely believes in the Renaissance of the film industry in Pakistan.
There are certain preconceived biases that ordinary mortals like me have towards the celeb types; that they d be arrogant and superficial. But after having met Yasir Jaswal, I have realized what a great sin it is to generalize.
You may also like: