Faiz International Festival Part I
Written by: Mahnaz Shujrah
Posted on: November 21, 2016 |

Comments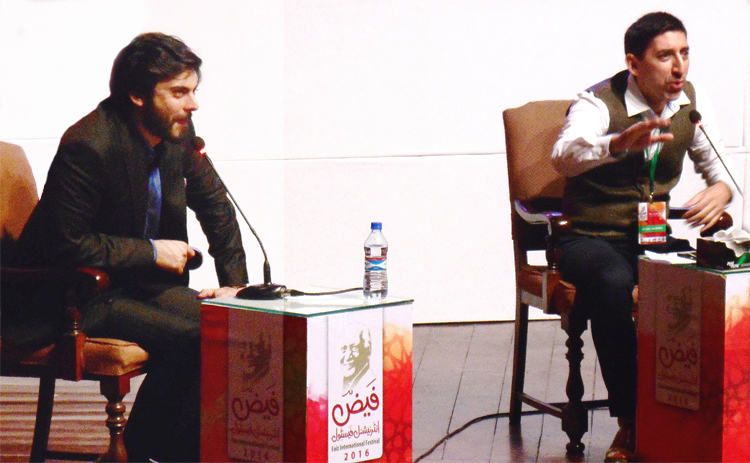 Fawad Khan and Adeel Hashmi at Faiz International Festival 2016
"Medicine, law, business, engineering – these are noble pursuits and necessary to sustain life. But poetry, beauty, romance, love – these are what we stay alive for."
The second Faiz International Festival took off in Lahore this weekend at Alhamra Arts Council, the cultural heart of the city. As a young person with a zest for poetry, I was excited to be a part of this revival, and it pleased me to see so many people gathered here to honour one of the most brilliant poets that our nation, and the world, has ever witnessed. Walking in, I could hear Noor Jahan's voice in the background, singing the iconic Mujhse pehli si mohabbat, and I couldn't help but be amazed at how Faiz's verses continue to be relevant, even in this day and age.
The writings of Faiz Ahmed Faiz are timeless; the way he builds a bridge between classical thought and contemporary society is remarkable. In the words of author Mahmood Jamal:
"In Faiz's poetry we get a sense of a mission which is unrealizable, a search for a goal which recedes as you near it, and most important of all, a hope that this goal will nevertheless be reached. Ultimately, the power of his poetry lies in the magic of his words, and his genius as a poet – a mystery that can be grasped in moments but escapes the net of words".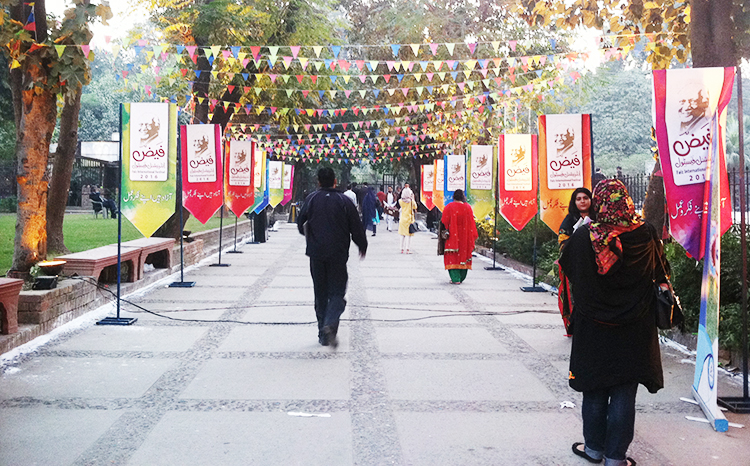 The festival was organized by the Faiz Foundation Trust and Faiz Ghar, a non-profit initiative that was started in 2009 to highlight Faiz's revolutionary message and work. Located in Model Town, the historic home has been transformed into a museum preserving the personal artifacts of Faiz Ahmed Faiz, and has played a major role in providing a space to foster art, culture and heritage.
The event included a wide variety of activities, ranging from panel discussions and lectures to live performances, recitations and exhibitions. The event was very well set up, with stalls of books, CDs and food, and outdoor theatre performances that added to the engaging atmosphere. Day 2 of the festival consisted of a number of workshops, including 'Musicians of Today', 'Portrayal of Women in TV and Film', 'The Battle of Ideas in Pakistan' and the book launch of Over My Shoulder as well as Dear Heart by Alys Faiz. The gathering brought together many intellectuals and renowned personalities such as Dr. Syed Jaffer Ahmed, Samina Peerzada, Seemi Raheel, Ali Noor, and Samiya Mumtaz, to name a few. Highlights included a panel discussion with Fawad Khan and a live performance by the lovely Tina Sani.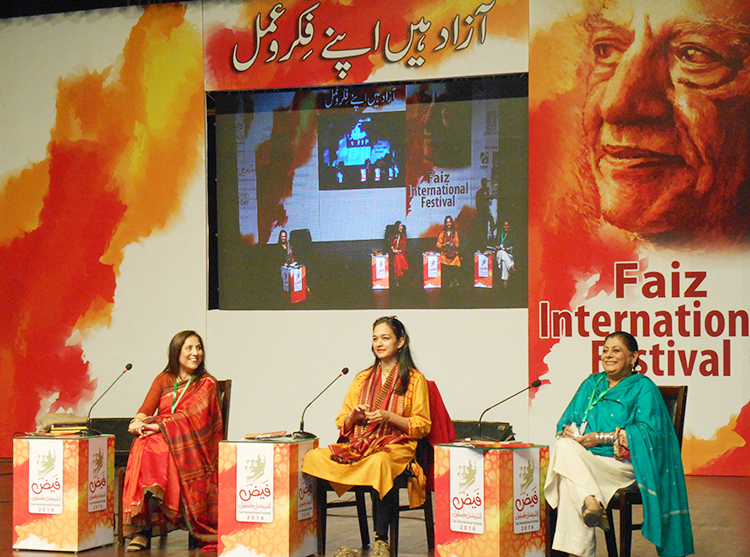 Samina Peerzada, Samiya Mumtaz and Seemi Raheel
A panel discussion titled 'Sibte Hasan: Shaping Our Minds' was particularly interesting. Sibte Hasan was an activist, journalist and scholar who was very active during the pre-Partition era, as well as afterwards. In 1942, he joined the Communist Party of India, but after Partition he moved to Pakistan, and was considered the pioneer of socialism and Marxist thought. The discussion highlighted topics such as freedom of speech, the difference between creation and dissemination of knowledge, impact of class politics, and the side effects of nationalism. Some of Sibte Hasan's most famous works were remembered as well, such as Musa se Marx tak and Mazi ke Mazar. Those who truly understand his message talked about how the notion of him being a dogmatic Marxist was false; rather he was a very well read, open-minded individual. The panel discussed how Pakistan's history has been written to portray a single, acceptable narrative, evidenced by the fact that forward-thinking people such as Sibte Hasan, who represent new ideas, are pushed to the outskirts of history.
On a lighter note, 'In conversation with Fawad Khan' with Adeel Hashmi was a treat to attend – first, because we got to see the star himself as an ordinary person, and second, because it was interesting to witness Fawad Khan reciting Faiz's poetry. Not surprisingly, the hall was fully packed. Fawad talked about his journey, inspirations and struggles. Adeel Hashmi, the grandson of Faiz and a very amusing personality, asked Fawad what was the best advice he would give to all those present. Fawad responded, "No advice is the best advice"; we should discover our own passions and callings, all the while keeping our hopes alive. He linked this back to Faiz, who had a very optimistic personality. When asked about his happiest moments in life, Fawad talked about the birth of his two children, and how as a dad he hated missing out on their life at times, due to work. Adeel Hashmi related this to the years that Faiz spent in jail. In one of his letters to his wife Alys, he had said that the worst thing about being in jail was that he was missing out on the different stages of his children's lives. Fawad Khan also read two of Faiz's poems, Kuttay and Hum ke thehre ajnabi; Faiz wrote the latter on this way back after the Fall of Dhaka in 1971. The last line of the poem says Ankahi hee reh gaye wo baat, sab baaton ke baad. The session was brought to a perfect ending with Adeel reciting the famous Kuch ishq kia kuch kaam kia.
Overall, it was a splendid event that had something in it for people of all backgrounds and ages. One thing that I learned on this day and would like to share is a couplet by Faiz which goes:
Dil Na-Umeed Nahi Nakaam Hi To Hai
Lambi Hai Gham Ki Shaam Magar Shaam Hi To Hai
RELATED ARTICLES:
You may also like: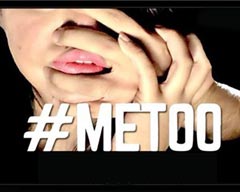 Theatre Review: #MeToo by BlankPage Productions
(January 12, 2018)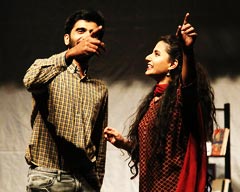 Theatre Review: Bol Kay Lubb Azad Hain Teray
(December 21, 2017)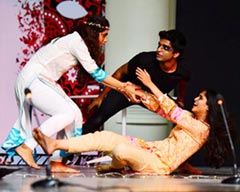 The Fringe 2017 – Intra-IBA Theatre Competition
(December 15, 2017)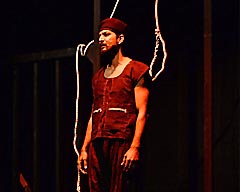 Theatre Review: Ajoka Theatre's 'Intezaar'
(November 30, 2017)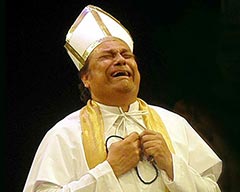 Theatre Review: 'Yahudi ki Larki' by NAPA at National Theatre Festival 2017
(November 02, 2017)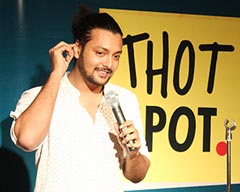 Bachay Panch Hi Achay (5 Kids are Enough) - A Saturday Night Comedy Show
(October 17, 2017)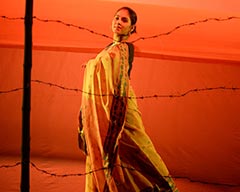 Ajoka Theatre's 'Shehr-e-Afsos - A City of Sorrow'
(October 13, 2017)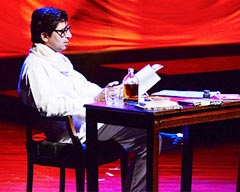 Theatre Review: 'Kaun Hai Yeh Gustakh' - Ajoka's Play about Manto
(October 12, 2017)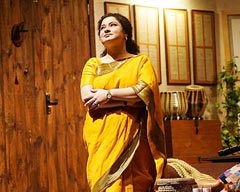 Theatre Review: 'Mushk - Fragrance' in Lahore
(October 10, 2017)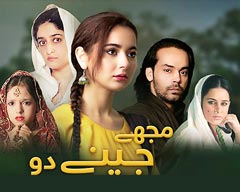 Drama Review: 'Mujhay Jeenay Doh'
(September 22, 2017)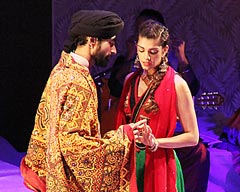 Heer Ranjha – Retelling Kaifi Azmi's Script in an Urdu Musical
(September 11, 2017)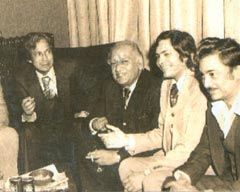 70 Years of Theatre: A Flashback Through the Ages
(August 30, 2017)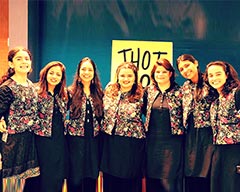 'The Khawatoons' Celebrate their First Anniversary!
(August 02, 2017)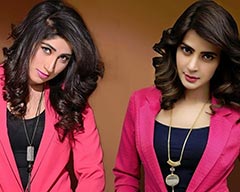 'Baaghi', a serial inspired by Qandeel Baloch
(July 31, 2017)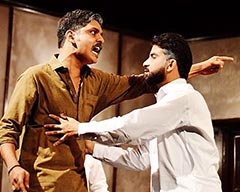 'Mulzim Ya Mujrim' – A Theatrical Production
(July 25, 2017)