Desert Life in Sindh: The Case of Umerkot, Mithi and Nagarparkar
Written by: Momina Mindeel
Posted on: October 30, 2020 |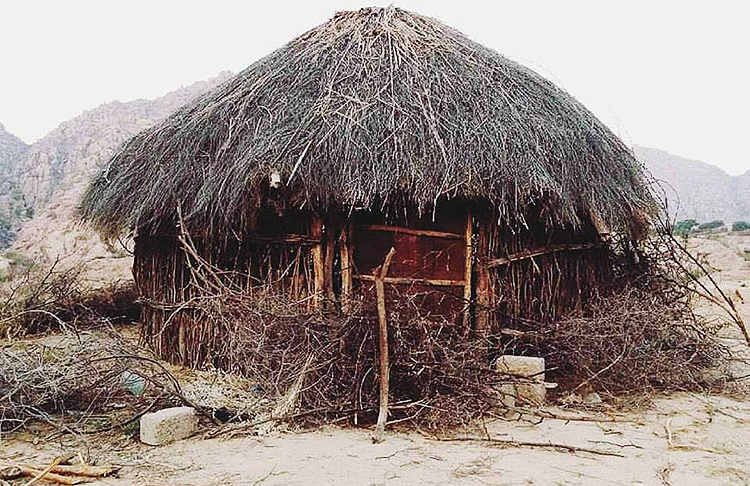 The moment you get accustomed to the ghostly silence of the Thar Desert, it becomes vividly clear that this place harbors a diverse array of colors, life, multiplicity…and, unfortunately, utmost misery. Umerkot, located at a distance of approximately 400 kilometers from Larkana, is where I began my journey across Tharparkar. A relatively small district in Sindh, Umerkot is famous for the age-old saga of Umar and Marvi and for being the birthplace of the Mughal Emperor, Akbar the Great.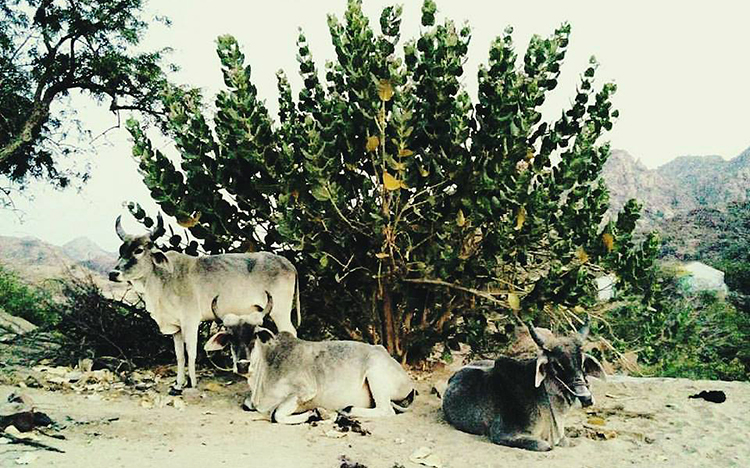 Majestic creatures of the desert
As far as my acquaintance with the district is concerned, due to an unfortunate mix of events, we were unable to find a suitable place to live. Fortunately, the Soomro family of Umerkot heard about our sorry plight and was generous enough to provide us with a cozy place to live, when we had nowhere else to go. However, I soon came to learn that hospitality is not just confined to those who can afford it. From a police constable to Baray Soomro Saien Jee, every Sindhi was an epitome of generosity. We all sat down at the Soomro residence to listen to the decades-old story of Umar and Marvi, as narrated by one of our group companions, Mehlab Jameel:
"The story of Umar and Marvi appears in Shah Abdul Latif Bhittai's Shah Jo Risalo. Bhittai's version is considered the most famous and authentic one. This is the 13th century I am talking about. Marvi, a beautiful maid in the village of Malir in Tharparkar, was betrothed to a local villager, Khet, whom she loved dearly. His rival tried to impress Marvi, overcome as he was by her beauty, but she chose Khet over him. Stung by jealousy, he went to the court of the local ruler and spoke of Marvi's beauty. Sindh was being ruled by Umar Soomro at the time, with his capital in Umerkot. Umar visited Marvi's village in Malir, and upon setting his eyes on her as she drew water from a well, he was so struck by her beauty that he asked her to marry him. He offered her jewels and the temptations of life in a palace, but Marvi refused. Umar abducted Marvi from that well and imprisoned her in his palace in Umerkot. Marvi, who was used to the majestic sand dunes and vast skies of Thar, was grief-stricken with a life in the king's palace. Like a caged bird, she would weep everyday and long for her home. Every day Umar would try to convince Marvi to marry him. With each passing day, Marvi's memories of her homeland grew more painful, and she continued to refuse. Overwhelmed by grief, she stopped eating and bathing and was living in utmost misery.
Upon hearing of her melancholic state, Umar visited her and begged her to marry him so he could make her his queen and deliver her from her pain. She replied: "If looking to my native land, with longing I expire; carry my body home, that I may rest in desert-sand; if my bones reach Malir, in the end, though dead, I'll live again."
Moved by her unwavering love for her homeland, Umar let Marvi go after a year of imprisonment. His men escorted Marvi to her village with due protocol and a message that she was being returned in the state that she had been taken. When she reached her village, the elders cast doubts about her chastity. On the night of her marriage, as she waited for her husband, she thought of what she would say if her husband questioned her chastity. This thought was too much for her to bear, and she breathed her last at that very moment. Regardless of the circumstances of her death, Marvi was immortalized because of her strong-willed and determined character, and her pure love for her homeland. She is remembered today as one of the bravest women in Sindhi history."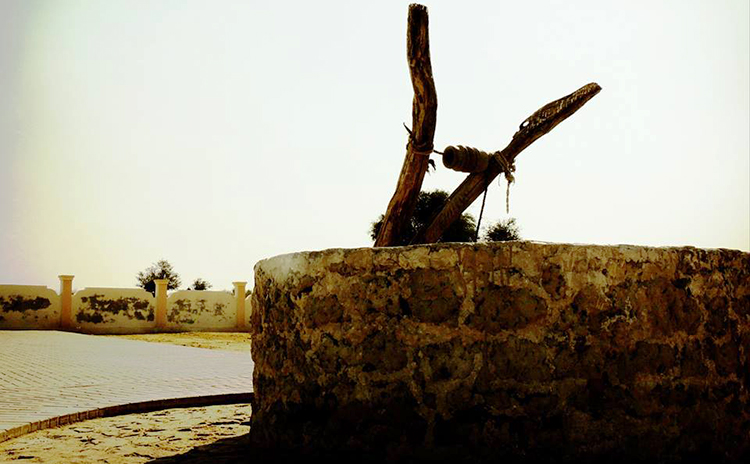 The well where Umar first laid eyes on Marvi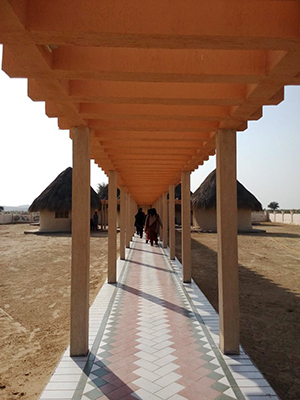 Pathway leading to the Marvi Cultural Complex
Today, Marvi's well, located in the Bhalwa village of Nagarparkar, is considered as one of the foremost cultural standpoints of the Thar Desert. Nagarparkar, a town in Tharparkar, is situated at a distance of almost 200 kilometers from Umerkot. Marvi's well has now been extended into a Marvi Cultural Centre. This idea was conceived, planned and launched under the supervision of Senator Sassui Palijo along with Mr. Abdul Aziz Uqaili, Secretary to the Government of Sindh Cultural Department on March 8, 2013. There is a pathway connected to the well that leads up to the Ghopa-shaped structures of the magnificent Marvi Cultural Complex. Ghopa is an ingenious structure that lowers the temperature inside the mud houses during summers. Each Ghopa at the Marvi Cultural Complex contains a distinct assortment of desert objects. One of them harbors some beautifully crafted sculptures of Marvi, her friend and King Umar Soomro. The rest of them house the quintessential desert cutlery, dresses, jewelry, and similar objects. A seating area has also been set up for the guests with special privileges.
A few kilometers ahead of Bhalwa, Bodesar Mosque looms large. This is a remarkable structure built entirely in white marble, by the side of Bodesar Dam. The mosque consists of a semi-perfect square, with each side measuring about 9.2 meters. Sitting on the cold floor of the mosque, a warm sensation moved up my spine, suddenly making me aware of how immensely welcoming this place was.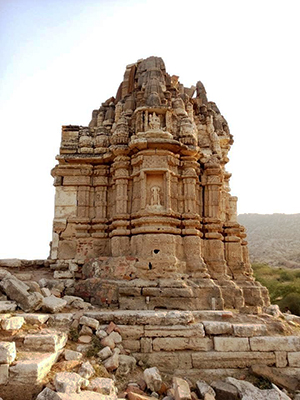 An abandoned Jain Temple near Bodesar Mosque
When you come out of the mosque, turn right. Move straight on the rugged, stony path and eventually up Bodesar Dam, which has hardly any clean water (or water, for that matter). A patchy green area with scanty grass covers the dam from all sides. From here, you can see the ruins of an old, abandoned Jain Temple, somewhere in the Karoonjhar Range Mountains. The temple is an embodiment of remarkably crafty architecture. Unfortunately, nothing has been done to preserve it, because apparently the local authorities are of the view that if the structure survived for so many centuries, it would not just fall off so easily. As one of our group companions said, "When you run your hand on the withered stones of a structure this old, you can feel the multiple histories that it has survived through, etched deeply on its stones."
The horrendousness of the situation does not end here. There is another Jain Temple, towards the end of the Nagarparkar market, weakening and deteriorating with every passing day. Regrettably, the faces of all the authority figures of the Jain Dharam have been smudged, and there is absolutely no electricity in the entire area surrounding the temple. However, this is partially true of the Nagar market as well. All markets shut down by 7 pm. The place turns into a 20th century bazaar that has little or no connection to the outside world. The entire scene is surreally enchanting.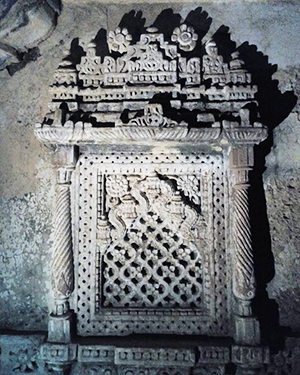 Remains of an old Jain Temple in Nagarparkar
Located 2.5 hours away from Umerkot and approximately 150 kilometers from Nagarparkar, Mithi is considered as the main headquarter of the Tharparkar. Hindus form a majority of the desert population. The desert women, living in Ghopas – their hands full of gorgeous white plastic bangles – earn their livelihood by making handmade clothing and jewelry items. The hand-woven Sindhi dresses, Ajrak, embroidered shawls, quilts, and jewelry adorn the markets of Mithi. I frantically searched the entire market in hopes of finding a Bindi (a red dot-shaped accessory worn in the centre of the forehead by Hindu women). I eventually succeeded in finding them at a local cosmetic shop (two full-fledged boxes for 20 rupees). Once you enter the market, it is hard to leave the place without a myriad of shopping bags containing all sorts of embodied shawls, shirts and jewelry. However, the shopkeepers can quickly sense your lust for the desert objects and charge you a lot more than the actual rate, as is the norm in almost all parts of the country.
If you don't have plans of heading up to the northern areas during your vacations, you need to, at least once in your life, travel through the only fertile desert in the world and absorb it in its supreme grandeur.
All images have been provided by Soha Tariq.