A LITTLE DETOUR - DAY 4
Written by: Amna and Yaver - Posted on: June 27, 2013 |

Comments
Google Translation: اُردو | 中文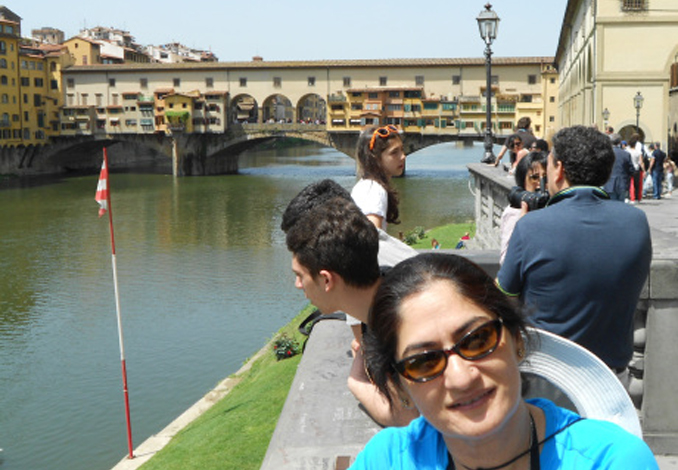 With Amna's knee becoming increasingly swollen and painful, we decided to rent a car but as you will see Sigeric's spirit made sure that this wouldn't work out as we had planned. First, there were no cars to be had, we later heard that there were three times as many rentals this year as last year. Eventually we found one with a company called 'Sicily by Car' in Florence (those of you that read the Economist will know that the Cosa Nostra has recently taken over parts of Lombardy and Tuscany).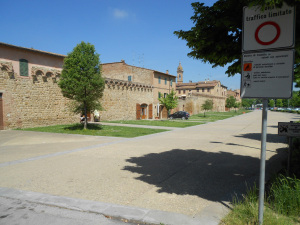 We went to Florence by bus and discovered that the car wouldn't be available until after dark (I exaggerate, but only a little). So we did a rapid tour of the Uffizi. I realised now why my impressions of it as a gallery were always so dim. The museum is laid out exactly as the founder had done in the 18th century some of it, especially the sculptures fairly randomly. Modern curatorship is not anywhere in evidence – the gallery is the museum piece. There is also an earnestness about the labelling of the incomparable works of art; focussing on the provenance of each piece more than providing context or commentary. Yet the incomparable Caravaggio Venus and Primavera, Fra Fillipo Lippi's and Fra Angelico's brave ventures into humanism and new colour palettes that opened the door to the Renaissance as well as the the few works of Giotto, Raphael and Leonardo that haven't been taken elsewhere, are beautiful beyond compare. A new wing is being built onto the Uffizi, lets hope it will also lead to a modernisation of how these great works are presented.
Back to the car. We finally left in the evening and drove to a lovely country bed and breakfast near Ponte d'Arbia where we had a lovely dinner and night. Next day, Yaver walked until midday. The plan was that Amna would drive and meet for lunch. Unfortunately the car broke down with a burnt out clutch.
We managed to get to a small village called Torrenieri and a tow truck took us to Buonconvento, the nearest town with a garage. We called the incredibly surly and rude youth who had rented the car to us, who promptly advised us that the breakdown was our fault, that we would be charged for the repairs and that since we had caused the problem, they would not give us a replacement car. The conversation was heated to the say the least. We await the outcome.
Determined not to let this ruin our holiday, we caught the only bus that day to our next destination. We would now proceed on foot and by bus.
Link to Amina's blog: http://amnaabidi.wordpress.com/2013/05/13/a-little-detour/
RELATED STORIES:
You may also like: